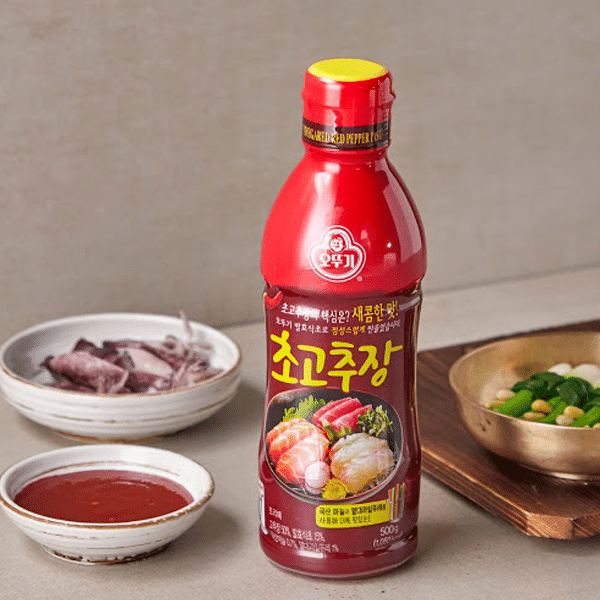 1 Day shipping
Ground shipping
Free shipping on 1 Day shipping items over $169
Free shipping on Ground shipping items over $99
[Ottogi] Red pepper paste 500g
It is an all-purpose seasoning sauce that uses fermented vinegar to enhance the sweet and sour taste.
California Proposition 65
WARNING: Consuming this product can expose you to chemicals including lead and cadmium which are known to the State of California to cause cancer and birth defects or other reproductive harm. For more information go to www.p65Warnings.ca.gov/food
| | |
| --- | --- |
| Allergy Info | |
| Manufacturer | Ottogi Co., Ltd. |
| Origin | Anyang, Gyeonggi-do |
| Ingredients | Red pepper paste 55% [wheat flour (wheat: American, Australian), starch syrup, mixed seasoning (China) (red pepper powder 4.63%), powder mixed seasoning (Chinese product) (red pepper powder 1.57%), refined salt], sugar, purified water, 2 apples Vinegar 10.4% [Alcohol, Apple Concentrate (Domestic), Fermented Nutrient Source, Apple Essence], Red Pepper Powder (Chinese: Made in China), Oligosaccharide, Frozen Garlic, Plum Extract, Citric Acid, Stir-Fried Sesame, Xanthan Gum |
235 kcaL
* 1 day nutrient
ratio to reference value
sodium 1,900mg
95%
carbohydrate 52g
16%
saccharide 29g
29%
fat 1.1g
2%
transfat
0%
saturated fat
0%
cholesterol0mg
0%
protein4g
4%
Storage Method: Keep in a cool place avoiding direct sunlight

It is a representative food company in Korea that is doing its best to improve human health and dietary life with 'better quality, better nutrition, and more advanced food'.
Shipping Information
Refund Policy
Exchange or refund requests must be made within 7 days of receiving your product and should be initiated by contacting us through email (help@wooltariusa.com) or phone (310-933-8648) with a photo.
Please note that exchange or refund requests made on review boards or other platforms are not accepted.
A 30% restocking fee plus shipping charges apply for returns due to a change of mind, and refunds are not available for non-defective refrigerated/Korea-US direct delivery items.
오뚜기 식품은 다 믿고 사는 데 울타리에 있어서 쇼핑하기 더 수월해졌어요.
처음 먹어보는데 다른브랜드보다 상큼하고 깔끔하네요
연속2번째 구매입니다...
여름엔 비빔밥, 비빔면, 고기쌈 등등 특히 자주 필요한데, 세일할땐 딱1개만!, 보통때는 딱2개만! 한정 수량이 있어서, 불편함이 있네요.
VIP 고객에겐 한정수량 좀 없애주셨으면... 아쉽네요