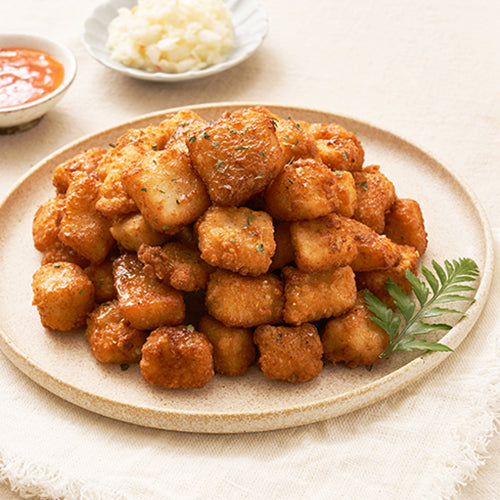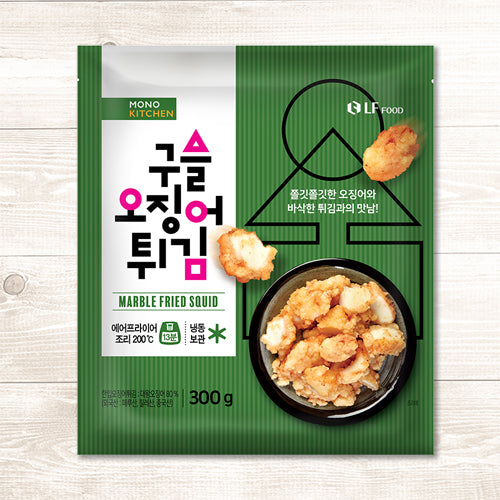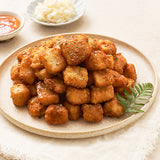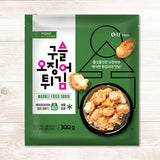 Mono Kitchen Pop Corn Squid Fry 300g
1 Day shipping
Free shipping on 1 Day shipping items over $169
[LF Food] Mono Kitchen Pop Corn Squid Fry 300g 
Easy squid tempura to enjoy in a bite size!
For those who want to enjoy squid fries more differently, we introduce Monocin's bead squid tempura.
Cut fresh squid into the right size, put fried clothes, and then fried in a round bite. If you warm it up in the Airfryer, you can taste the fried squid fried squid.
Production and Distribution
가벼운 맥주나 와인과 함께 어떠세요!
쫄깃쫄깃한 오징어와 바삭한 튀김이 만났습니다. 크런치파우더를 더해 바삭바삭한 식감 또한 한층 살렸죠. 바삭하고 부드럽게 씹혀 아이들이 조금씩 먹기에도 좋으며, 어르신들도 부담없이 드실 수 있습니다.
Manufacturing Process
라이트한 간식이나 안주가 필요한 순간을 위해!
칠리소스, 케챱 등 기호에 맞는 소스에 찍어서 드세요.(물론 그냥 드셔도 맛있쥬!)
떡볶이와 함께 드시면 환상의 맛을 느끼실 수 있어요.(떡볶이와 오징어튀김은 진리쥬?)
상추와 함께 드시면 또 다른 맛을 느끼실 수 있어요. (광주 상추튀김 Style-)
How to Use
간편하게 조리하세요!
1. 에어프라이어 조리 : 냉동 상태의 오징어튀김을 에어프라이어에 넣고 200°C에서 약 13분간 조리해 주세요.(에어프라이어 종류와 용량에 따라 조리시간이 달라질 수 있습니다)
2. 프라이팬 조리 : 팬에 적당량(종이컵 약 1컵 정도)의 식용유를 두르고 중불로 예열해 주세요. 냉동상태의 오징어튀김을 넣고 약 5분간 뒤집어가며 조리하면 됩니다.
Verified Quality
세상의 미식을 당신의 식탁으로~ 모노키친!
세상의 미식, 모노키친으로 만나보세요. 모노키친은 LF푸드의 홈다이닝 간편식 브랜드입니다. 탄탄한 기반을 바탕삼아 전문 적이고 깊이 있는 간편식을 제안하지요.
전국 2만 곳 이상의 파트너에게서 수집한 메뉴 선호도, 평가 피드백을 자체 R&D센터에서 분석하고 고도화하죠. 모노키친의 맛과 품질을 신뢰할 수 있는 이유랍니다.
California Proposition 65
WARNING: Consuming this product can expose you to chemicals including lead and cadmium which are known to the State of California to cause cancer and birth defects or other reproductive harm. For more information go to www.p65Warnings.ca.gov/food
LF FOOD는 고객에게 세상의 미식 경험을 제공하며 수준 높은 식(食)문화를 선도하는 글로벌 종합식품기업입니다. 글로벌 생활문화기업 LF가 전신인 LF FOOD는, 지난 2014년 LG 계열사로부터 분사했으며, 식문화를 선도하며 고객의 삶을 향상시키는 다양한 식경험을 제공합니다. LF는 'Life in Future'를 의미하며, 새로운 시각으로 고객 개개인에게 맞는 라이프스타일을 창조함으로써 꿈과 감동을 주는 미래 생활문화 기업을 지향합니다. 라이프 스타일에 맞는 다양한 미식 경험을 제공하며 고객의 삶을 향상시키는 LF FOOD가 되겠습니다.
Shipping Information
Refund Policy
Exchange or refund requests must be made within 7 days of receiving your product and should be initiated by contacting us through email (help@wooltariusa.com) or phone (310-933-8648) with a photo.
Please note that exchange or refund requests made on review boards or other platforms are not accepted.
A 30% restocking fee plus shipping charges apply for returns due to a change of mind, and refunds are not available for non-defective refrigerated/Korea-US direct delivery items.
질기지 않고 짭조름해서 안주로도 좋고 맛있어요
오징어 튀김은 골고루 먹어 보었는데 모두 실망
오 맛있어요~!! 짭쪼름하니 에어프라이기에 구워서 먹었어요 떡볶이국물에 찍어먹어도 좋을거 같고 안주로도 딱입니다
에어프라이기에 넣어 돌려서 먹었는 데 겉은 바싹, 속은 촉촉해서 맛있어요. 간식으로 좋은 것 같아요.
한입에 쏙들어가서 먹기편해요~ 재구매상품이에요~