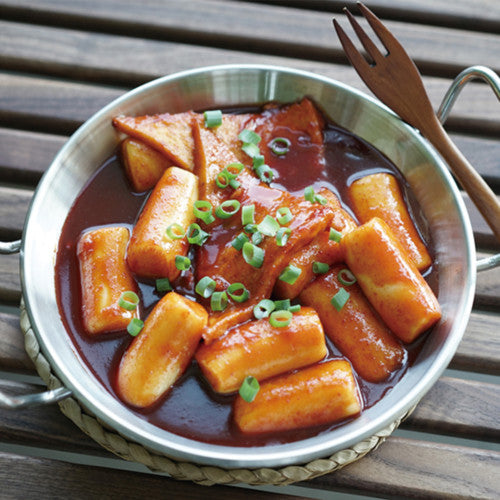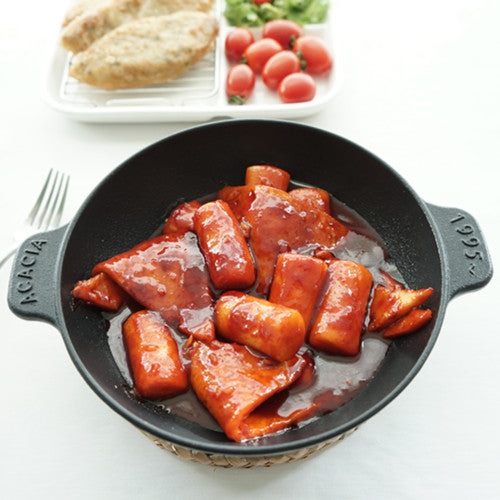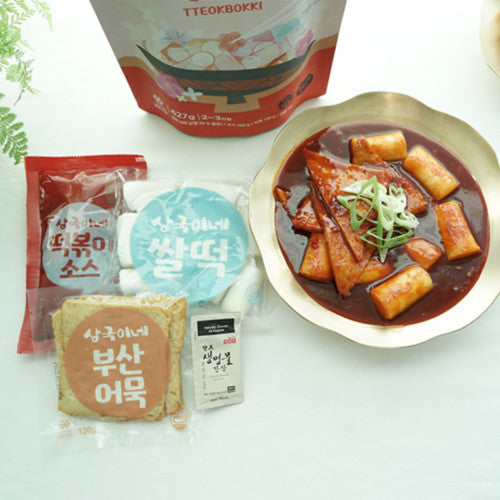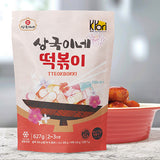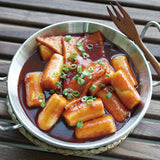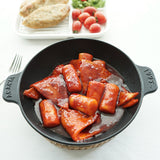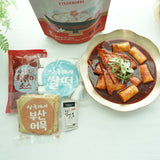 1 Day shipping
Free shipping on 1 Day shipping items over $169

 [Sangguk] Sangguk's tteokbokki 627g

 Sangguk's TTeokbokki, the representative menu of Busan's best restaurants, is characterized by thick rice cakes and chewy Busan fish cakes with spicy and sweet rich sauce.



It contains the taste of traditional Busan TTeokbokki.
Production and Distribution
 It's  sangguk that used to make and sell tteokbokki in a small handcart in Haeundae Market in Busan!

 As more and more people like Sangguk's TTeokbokki, many people from all over the country and abroad came.

More than 500,000 customers eat Sangguk's TTeokbokki every year.

 If you want to eat Sangguk's TTeokbokki in Seoul or the United States to repay your support and love, we made it so that you can eat it at home at anytime.






Manufacturing Process
 It's Sangguk's TTeokbokki that only insisted on domestic ingredients!
Fantastic collaboration between fish cakes and soy sauce.

The combination of chewy thick rice cakes and chewy high-quality Busan fish cakes with spicy and sweet rich sauce.


 With domestic Cheongyang red pepper powder, the most delicious spicy taste to Korean's tastes and the savory taste of 100% brewd soy sauce created the unique taste of Sangguk's


The secret to this addictive taste is the choice of good ingredients.
How to Use

Remenber 5-3-2 when you cook!



[How to cook]


1. Add soy sauce to 500ml of water, mix it, and leave 100ml of soy sauce water separately.

2. Put rice cake and fish cake in 400ml soy sauce water and boil ir for 5 minutes.

3. Throw away the boiled water, add the sauce to 100ml of the remaining soy sauce water, and boil it over high heat for 3 minutes.

4. Boil it for 2 minutes on midium heat.




Tip : I prepared plenty of sauce. You can put noodles in the remaining sauce or make fried rice.




California Proposition 65
WARNING: Consuming this product can expose you to chemicals including lead and cadmium which are known to the State of California to cause cancer and birth defects or other reproductive harm. For more information go to www.p65Warnings.ca.gov/food

 Sangguk is a snack bar that started in Haeundae, Busan in 1978, and is loved as Korea's representative's restaurant visited by more than 500,000 people every year. Under the slogan 'putting in the heart', I would like to become a 'happiness restaurant' for the whole nation with good ingredients and sincerity.
Shipping Information
Refund Policy
Exchange or refund requests must be made within 7 days of receiving your product and should be initiated by contacting us through email (help@wooltariusa.com) or phone (310-933-8648) with a photo.
Please note that exchange or refund requests made on review boards or other platforms are not accepted.
A 30% restocking fee plus shipping charges apply for returns due to a change of mind, and refunds are not available for non-defective refrigerated/Korea-US direct delivery items.
아직먹어보진않았는데 양이 많은것같아요! 추천이가장많아서 구매해봤습니당
여러번 재구매하는 제품입니다. 울타리몰에서 판매하는 떡볶이 중에서 상국이네 떡볶이가 가장 맛있는거 같아요. 소스도 맛있고 넉넉히 들어있고 떡도 맛있어요. 가격이 너무 비싸다는게 유일한 단점이네요.
상국이네 떡복이가 최고로 맛있네요.
원픽입니다.
상국이네 떡볶이는 진짜 떡볶이중 최고에요. 울타리몰 주문할때마다 항상 포함해서 주문해요!! 저 굵은 쌀떡 보이시나요? 엄청 쫄깃 쫄깃하고 시장에서 먹던 그 떡볶이맛이에요. 이렇게 좋은 상품 계속 판매해주세요
떡볶이는 상국이네죠!! 매콤 달달한 소스가 일품인데다 떡이 살아있습니다,,,강추합니다!!!