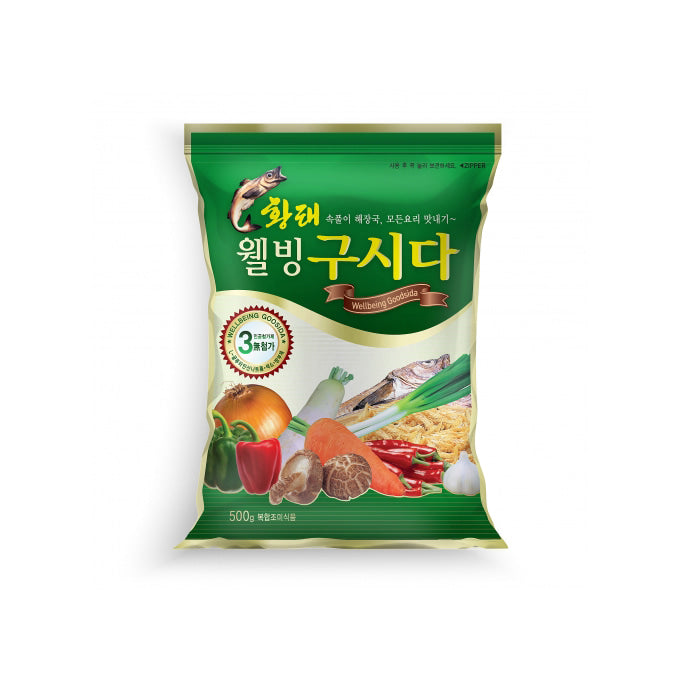 Grilled Dried Pollack Well-Being Goodsida 500g
1 Day shipping
Ground shipping
Free shipping on 1 Day shipping items over $169
Free shipping on Ground shipping items over $99
[BukSeolak] Grilled Dried Pollack Well-Being Goodsida 500g
It is a high-quality natural seasoning that does not contain sodium glutamate, color, or preservatives, to capture the coolness of the sea.
How to Use
Simple Hwangtae Hangover Soup Recipe
Fry yellow pollack in perilla oil, add an appropriate amount of water, add shredded radish to your liking, and bring to a boil. When the water starts to boil, season it with kushida and you are done.
Premium Ingreidents
100% domestically selected yongdaeri
It is a product carefully made with various kinds of seafood and seasonings after grinding into a powder using yellow pollack from Yongdae-ri, Inje-gun, which is considered to be the best yellow pollack in Korea.
Exclusive Contract
America exclusive brand
Bukseorak products produced in Inje-gun, Gangwon-do are the American exclusive brand of Wooltari Mall.
California Proposition 65
WARNING: Consuming this product can expose you to chemicals including lead and cadmium which are known to the State of California to cause cancer and birth defects or other reproductive harm. For more information go to www.p65Warnings.ca.gov/food
| | |
| --- | --- |
| Allergy Info | Contains pollack |
| Manufacturer | Bukseorak |
| Origin | Inje-gun, Gangwon-do |
| Ingredients | Yellow pollack seasoning powder 85% [refined salt (domestic production), pollack pollock powder 24% (Pollock: Russia), soy sauce powder (soybean, wheat), corn starch, refined sugar], pollack powder 8.3% (Pollock: Russian product), anhydrous crystals Glucose, Refined Salt (Domestic), Refined Sugar |
Storage Method: Avoid direct sunlight and keep it in a moisture-free place.

For the past 29 years, Bukseorak has been recognized as a local company through its regional specialties such as Hwangtae, Bellflower, and Injin Mugwort. Located in Bukseorak of the Seoran Mountains, which is characterized by its rough and steep terrain, 'Bukseorak' finds wild herbs, such as rare medicinal herbs created by nature like Korean red ginseng, and detoxifies them and present them to customers.
Shipping Information
Refund Policy
Exchange or refund requests must be made within 7 days of receiving your product and should be initiated by contacting us through email (help@wooltariusa.com) or phone (310-933-8648) with a photo.
Please note that exchange or refund requests made on review boards or other platforms are not accepted.
A 30% restocking fee plus shipping charges apply for returns due to a change of mind, and refunds are not available for non-defective refrigerated/Korea-US direct delivery items.
다시다가 다 떨어졌는데 마침 세일중이길래 구입했어요. 멸치 비린내를 안 좋아해서 멸치 다시다는 사용을 안하는데 이건 황태라서 좋네요. 유통기한 임박제품 저렴하게 구입한거라 여기저기 팍팍 넣어서 빨리 쓰려구요 ㅎㅎ
음식맛이 2% 부족할땐 다시다 잖아요 ㅎㅎㅎ
황태로 만들어서 그런지 음식맛이 깔끔하네요
두번째 구매..콩나물국 북어국 오뎅국
만능이ㅖ
요 시원한 국물맛
리뷰보고 주문했는데 이렇게 음식맛이 달라질 줄 몰랐네요. 다음 주문에 더 구매할거에요
북설악 제품은 믿고 구입합니다. 강원도 인제 제품 판매하셔서 넘 좋아요^^