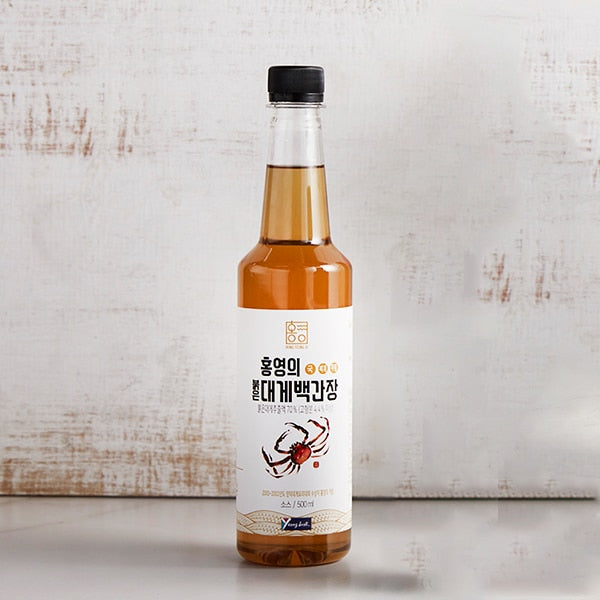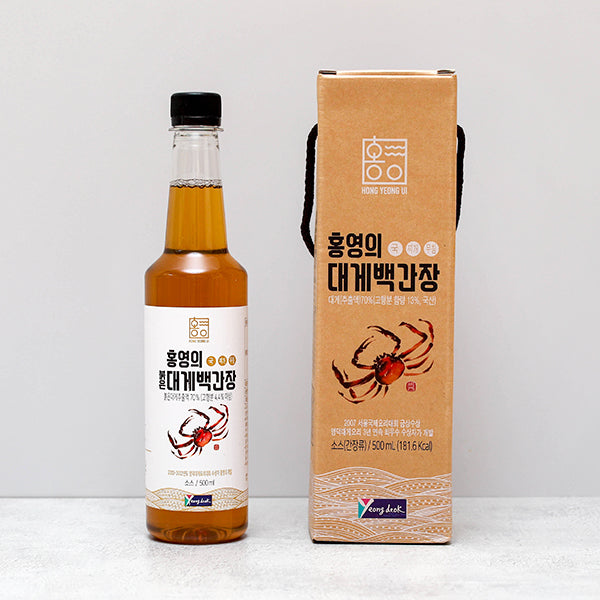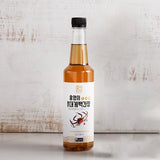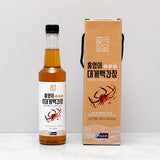 Hongyoung Red Snow Crab White Soy Sauce 500ml
1 Day shipping
Ground shipping
Free shipping on 1 Day shipping items over $169
Free shipping on Ground shipping items over $99
* It is a product that requires refrigerated storage after opening.


[The road to the sea] Hongyoung's red sewage crab white
Hongyoung's red crab white crab is a high -end soy sauce that manufactures and aged with more than 95% of the raw materials based on the best recipes developed for high -quality raw materials.
Manufactured Environment
Ingredients extracted and manufactured directly from the pure East Sea
Our products are manufactured by directly extracting raw ingredients produced in the pure East Sea, and having them undergo a certain period of maturation (15 to 30 days), to truly complete the product.
How to Use
Use this product in multiple ways!
This white soy sauce can be used in dishes like egg soup, dried pollack soup, and clear soups for flavor without changing the original color of them. This is an all-purpose sauce that adds flavor to various dishes and makes it easy for anyone to enjoy.
Premium Ingreidents
Jam-packed with high-quality ingredients
Flavored with crab, shiitake, anchovies and kelp, adding this soy sauce to water alone creates a flavorful broth and enhances the quality of the food. With more than 95% domestic ingredients, it is very trustable.
California Proposition 65
WARNING: Consuming this product can expose you to chemicals including lead and cadmium which are known to the State of California to cause cancer and birth defects or other reproductive harm. For more information go to www.p65Warnings.ca.gov/food
| | |
| --- | --- |
| Allergy Info | Contains soybean, crab |
| Manufacturer | The East Sea Road  |
| Origin | Yeongdeok-gun, gyeongsangbuk-do |
| Ingredients | Red snow crab extract 70% [red snow crab (domestic production), solid content of 4.4% or more], refined salt (domestic production), onion (domestic production), dried anchovy, green onion, dried radish, dried kelp, dried shiitake mushroom, alcohol, black comb, garlic, Red pepper seeds, sage, black pepper, grapefruit seed extract, glycerin, Korean angelica, licorice. |
36.32kcal per 100ml
* 1 day nutrient
ratio to reference value
sodium 4567.15mg
228%
Carbohydrate 5.65g
2%
saccharide 0g
fat 0.08g
1%
0g transfat
0g saturated fat
0mg cholesterol
0%
protein 3.25g
* The ratio (%) to the daily nutritional standard is 2,000 kcal, so it may vary depending on the individual's required calories.

The East Sea Road is a company that manufactures, distributes, and sells high-quality processed seafood using seafood produced in the clean East Sea. We are doing our best to produce the highest quality products that are healthy and reliable.
Shipping Information
Refund Policy
Exchange or refund requests must be made within 7 days of receiving your product and should be initiated by contacting us through email (help@wooltariusa.com) or phone (310-933-8648) with a photo.
Please note that exchange or refund requests made on review boards or other platforms are not accepted.
A 30% restocking fee plus shipping charges apply for returns due to a change of mind, and refunds are not available for non-defective refrigerated/Korea-US direct delivery items.
말해뭐해요~
국끓일때 간장넣을때 까맣게 변하는게
싫어서 백간장 써요. 맛나요
간장 색이 맑고 향이 좋아서 맑은국 끓일때 사용하기 딱 좋은 것 같아요! 감칠맛 부분에 있어서도 대게 간장이라 맛도 깊어지고, 요리를 하다보면 점점 이런저런 조미료가 늘어가는데 앞으로 자주 사용할 것 같네요~
남창희씨가 진행하는 "실비집" 에서 백간장을 이용하는거 보고 맛이 너무 궁금했는데 울타리에서 주문할수있어서 다행히에요! 요리할때 감칠맛을 확! 올려주는 간장이네요. 구매만족입니다!
맑은 국 간할때 최고!!
백간장덕에 음식맛이 업업!
국간장 대신해서 사용해요. 어느 요리에 넣어도 맛있고 맛이 깊어지더군요. 추천해요!
국물요리 끝에 살짝 넣어주니 일품입니다. 많이넣으면 살짝 비려요. 암튼 기존의 간장이나 젓갈에비해 아주 깔끔한 맛을 줍니다 :)