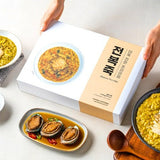 Premium Abalone Porridge 1410g
1 Day shipping
Free shipping on 1 Day shipping items over $169
[Dasimajeonboksusan] Premium Abalone Porridge 1410g
Premium abalone porridge Meal kit that is easy to enjoy at home!
With plenty of clean abalone from Wando, we washed domestic rice cleanly and prepared the abalone porridge. Put all the ingredients in the rice cooker and cook them in 'porridge' mode. When you want to maintain your health, you want to eat a healthy meal, and the premium abalone porridge is the way to do that.

Manufactured Environment
청정 완도의 다시마와 미역을 먹고자란 최상의 전복!
일년 내내 7C-28℃ 사이의 수온을 유지하며 대한민국 최고의 청정해역을 자랑하는 완도 바다에서 다시마와 미역을 먹여 정성껏 키웠습니다. 바다에서 갓 건져 올려 급냉한 최상의 전복을 깔끔하게 발라내었습니다.
How to Use
프리미엄 전복죽을 가장 맛있게 먹는 방법!
1. ①씻은 쌀 ②내장 소스 ③육수 ④참기름 ⑤전복살 ⑥소금을 조리 전 해동해 주세요.
2. 냄비에 육수와 쌀을 넣고 약불로 끓여 밥을 불려 주세요. 조리 중 냄비 바닥이 눌어붙지 않게 육수가 끓어오른 후, 약불로 줄이시고 계속 저어 주세요.
3. 밥을 충분히 불린 후 약불로 내장소스와 전복살을 넣고 죽을 저어주세요.
4. 조리 완료된 후 기호에 따라 참기름, 소금을 넣어주세요.
5. 완성된 전복죽을 그릇에 옮겨 담아 주세요.
❉ 초간편 조리방법 : 전기밥솥에 재료를 모두다 넣고 '죽' 모드로 밥을 지으세요. 밥솥에 따라 다르지만 약 40분 정도면 조리가 됩니다.
California Proposition 65
WARNING: Consuming this product can expose you to chemicals including lead and cadmium which are known to the State of California to cause cancer and birth defects or other reproductive harm. For more information go to www.p65Warnings.ca.gov/food
다시마전복수산영어조합법인은 최고 품질의 완도 다시마전복을 양식하고 불필요한 유통과정을 없애 정직한 산지와 소비자의 관계를 맺는 기업입니다.
Shipping Information
Refund Policy
Exchange or refund requests must be made within 7 days of receiving your product and should be initiated by contacting us through email (help@wooltariusa.com) or phone (310-933-8648) with a photo.
Please note that exchange or refund requests made on review boards or other platforms are not accepted.
A 30% restocking fee plus shipping charges apply for returns due to a change of mind, and refunds are not available for non-defective refrigerated/Korea-US direct delivery items.
엄청~ 맛있어요. 아들 입맛이 꽤 까다로운 편인데, 오랜만에 양껏 먹는 모습을 봤습니다. 양이 적다는 리뷰가 있어서 밥 한공기 추가해서 조리했는데 세식구 먹기에 꽤 넉넉했어요. 그리고 밥한공기 더 추가해도 여전히 진한 맛이었습니다. 비싼가 싶어 한국 본죽싸이트 들어가서 봤더니, 비슷한 가격이더군요. 재구매 의사 많습니다.
바쁜 아침이라 조리법 간단하게 밥솥으로 해봤는데요
다른 후기들 처럼 너무나 고급진 전복죽으로 하루 출발했네요.간도 적당히 되어있어 같이 동봉된 소금은 쓰지 않았고 약간의 밥 추가해서 우리 가족 맛있게 아침식사했어요.또 구입하려구요.
재구매에요. 고급 일식집에서 주는 전복죽 같아요. 양은 3-4인분 보다는 2인분 양이에요. 조리하기도 편하고 맛도 좋아 강추해요.
죽 안좋아한다는 딸이 두 그릇 싹싹 비웠어요. 남편도 제주도 성산일출봉 앞 죽집 생각날만큼 맛있다고 해요.
전복내장소스가 양이 많아서 밥 1-2공기 추가하시면, 4인 가족 배불리 먹을 수 있는 양입니자. 재구매 의사 있습니다.
비리지 않을까 걱정했는데 깔끔하고 맛있어요. 재구매 의사있습니다.
잘 먹었습니다. 색상이 초록색이여서 애들이 좀 먹기 싫어했는데 한입 먹고는 오!!! 이러면서 다 먹었어요