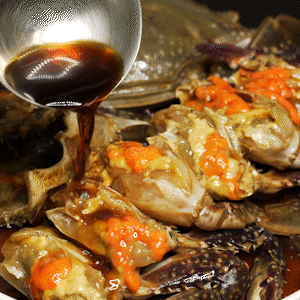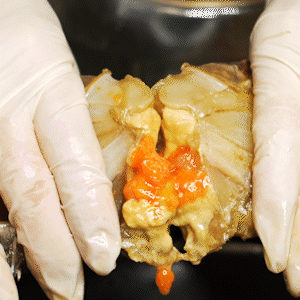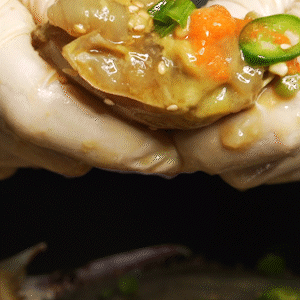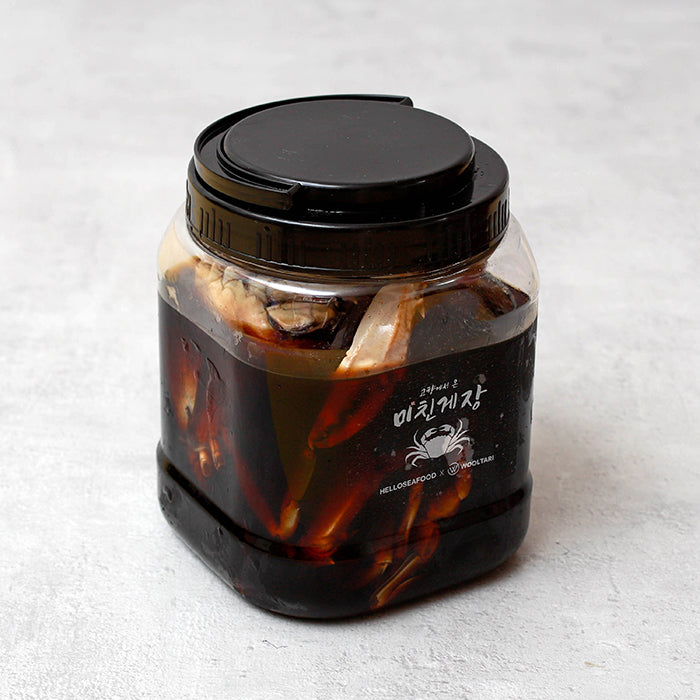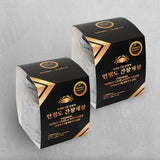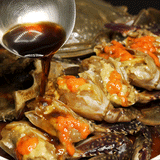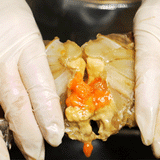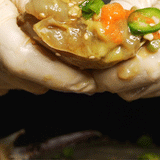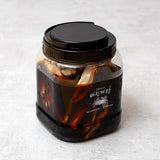 Premium Soy Sauce Marinated Crab 1.5kg (female crab 280~320g) x 2
1 Day shipping
Free shipping on 1 Day shipping items over $169
[OJ SEAFOOD] Premium Soy Sauce Marinated Crab 1.5kg (female crab 280~320g)
It is a female crab with roe which has a rich flavor. Catch it just before spawning addition to flesh, as well as eggs and intestines, it is a product with a harmonious flavor with brewed soy sauce.

❉ composition
May female crab: 280 ~ 320g and 2
1L of decoction soy sauce
Raw 38% soy sauce 62%
※ Notice
Blue crabs will gradually disappear if the frozen state is not maintained.
Take down the frozen state and take it out and take it out!
Production and Distribution
It is made from only high-quality crabs caught in winter (November to December)!

 It is a high-quality soy sauce crab that uses only female crabs caught in Yeongpyong Island from late November to December when more than 90% of female crab eggs and flesh begin to rise during the year. 

 It is a product with a rich flavor of female crabs filled with flesh as well as eggs and intestines and a savory taste of brewed soy sauce.

 Crabs increase their activity as the sea water temperature gets colder, and the more active clabs in the cold sea, the stronger the content, full of flesh, and the sweeter the taste.
Manufacturing Process
 It is made with healthy soy sauce made of various herbal medicines and vegetables!

 Set the salinity of soy sauce to a relatively low level, ripen the crab for a day, and complete the first aging.

 It is made so that you can feel a constant and balanced taste, not a crab with an overly stimulating and strong taste.
How to Use
How to eat deliciously like a professional!

1. Remove the back cover by tilting it all over.


2. Remove gills from both sides with your hands or cut them with scissors.


3. Remove sandbags from the head.

Verified Quality
꽃게 업계의 신뢰의 상징, 오제이씨푸드!
​오제이씨푸드는 지난 25년간 제철 냉동 암꽃게를 국내외에 도매, 공급, 수출하고 있는 꽃게 전문기업입니다.
그동안 매일 새벽 수산물을 직접 눈으로 확인하여 초대량으로 수매하는 독자적인 선별 노하우를 갖고 있으며, 검증된 최신 위생시설(HACCP)은 물론, 수 천톤의 물량 보관이 가능한 최신식 대형 냉동창고를 보유하고 있습니다.
California Proposition 65
WARNING: Consuming this product can expose you to chemicals including lead and cadmium which are known to the State of California to cause cancer and birth defects or other reproductive harm. For more information go to www.p65Warnings.ca.gov/food
 OJC Food is a crab company that has been wholesale, supplying, and exporting frozen female crabs at home and abroad for the past 25 years.  In the meantime, we have been supplying many to the industry by guaranteeing a constant yield through our own screening know-how as well as purchasing good crabs.간장게장으로 유명한 유수의 업체들이 오제이씨푸드의 제철 꽃게를 사용하고 있으며, OEM 형태로 오제이씨푸드에서 제조되고 있습니다.
Shipping Information
Refund Policy
Exchange or refund requests must be made within 7 days of receiving your product and should be initiated by contacting us through email (help@wooltariusa.com) or phone (310-933-8648) with a photo.
Please note that exchange or refund requests made on review boards or other platforms are not accepted.
A 30% restocking fee plus shipping charges apply for returns due to a change of mind, and refunds are not available for non-defective refrigerated/Korea-US direct delivery items.
이하정 간장 개장과 함께 주문해서 맛과 양을 비교해봤습니다. 확실하게 게 사이즈에서부터 차이 있더군요. 살이 실하게 들어있고 꽉 찬 게알까지 사이즈면에서 우선 만족했습니다. 개인적으로는 양념장이 깔끔하게 비린내를 잡고 깊은 풍미가 있어서 좋았습니다. 잘 먹었습니다. 다시 주문할 의향 있습니다.
맛있어요! 안비리고 알도 꽉 차있고! 양에비해 조금 비싼 감이 없지않아 있지만 나중에 재구매 할거같네요.
간장 게장중 최고의예요...세일하면 또 오더할 제품
팩키지 받자마자 아주 조금 가장자리에 녹아있는 간장은 다른병으로 따라부어놓고서, 한마리는 얼려있는채로 다시 냉동칸으로 옮기고 한마리는 빨리 맛보려 꺼내려하는데, 집게발 하나가 간장과 같이 얼어붙어서 꺼낼수가없기에 ice pick으로 얼은 간장을 부수어 간신히 꺼내서 한마리 먹었어요. 우와, 한국 떠난후 35년만에 맛보는 간장게장이었어요. 혹시나 한약재 향이나 다른 양념향이 강할까봐 신경쓰였는데, 은근한 생강향이 좋았어요. 먹을땐 짠줄 몰랐는데, 밥 한공기가 금방 없어졌어요. ㅎ 몸통도 얼은채로 도착해서, 먹겠다는 의지로 씨름하며 가득찬 살과 알, 맛있었어요!!!
아, 그리고 사진은, 간장 살얼음으로 너무 시커멓게 보이고 비주얼은 맛만큼 좋아보이지않아서, 생략했어요.
맛이 어떨까 걱정하시는분들 진짜로 맘을 놓으셔도 됩니다
저도 선뜻 주문못하다 큰맘먹고 버리게되면 버리리라 맘먹고 리뷰 보고 주문했는데
엄청 맛났어요 태어나서 이런게장은 첨입니다
맛도 당연 좋지만 제가 놀란건 게 크기가 크고 알도 많고 정말 사진과 영상에서 보는
고콸리티 그대로입니다 까다로운 남편 안먹겠다고 하다가 계속 게장만 찾아서 또 주문했어요 앞으로 계속 이것만 먹으려고요
팁하나드리면 전 짠게 싫어서 간장에서 미리 빼놔요
안그럼 계속 간장에 절여져서인지 짜지는거같아요 모든 게장이 그런거같아요
간장은 푹 삶아서 찌끼 걸러내고 양념간장으로 사용하니 좋아요