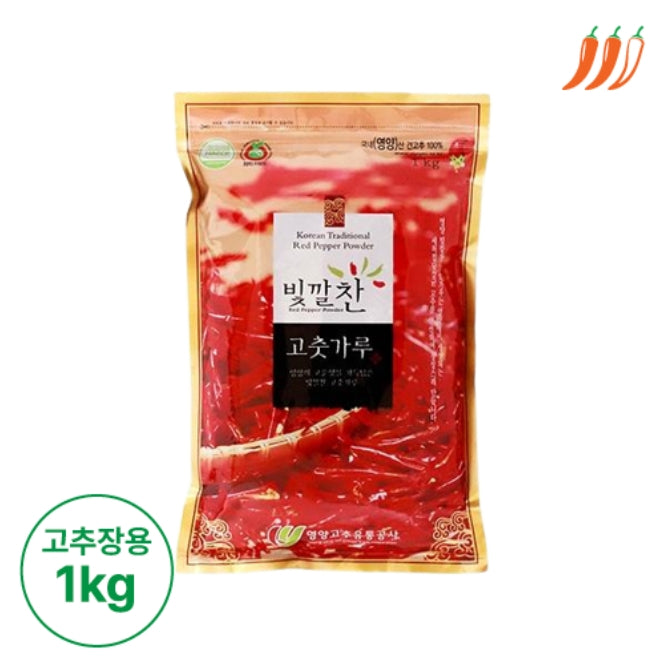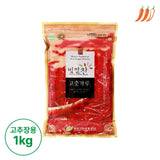 Red pepper powder (Gochujang, Normal) 1kg_Free Shipping
Free Shipping
Enjoy free shipping regardless of purchased amount.
[Yeong Yang Red Pepper Trade Corporation] Red pepper powder (Gochujang, Normal) 1kg
It is the world's best red pepper powder, Yeong Yang, Korea. The spicy degree is normal, and it is a good product to use for red pepper and red pepper paste or tteokbokki or steamed dishes.
Manufactured Environment
Optimized for the cultivation and processing of excellent red peppers
It is produced by the Yeongyang Red Pepper Distribution Corporation, a local public corporation established as a regional specialized project by the Ministry of Agriculture and Forestry. Among the peppers contracted and grown at 800 production farms in Yeongyang-gun, excellent varieties are purchased and processed into dried peppers through state-of-the-art drying methods.
Production and Distribution
The largest state-of-the-art pepper production facility
As the largest red pepper processing facility in Asia with international standards (ASTA Color, acidity, total bacteria count), it produces 2,500 tons of red pepper powder per year.
Manufacturing Process
The process that keeps the natural nutrients
By being manufactured through a large-scale, high-tech processing facility, it is clean, safe, and has its own natural nutrients alive. Particularly through low-temperature and short-term drying with a high-efficiency dryer, natural colors and nutrients are preserved, and residual pesticides and fungi are clearly removed.
Premium Ingreidents
World's highest quality, Yeongyang-goon red pepper
Not only does it has a spicy taste, but also a mild sweet taste. The flavor is soft and the color is rich, bringing out the color of a cuisine. Because it is easily storaged, foods made with it (ex-kimchi, etc.,) do not easily become brittle or over ripe.
California Proposition 65
WARNING: Consuming this product can expose you to chemicals including lead and cadmium which are known to the State of California to cause cancer and birth defects or other reproductive harm. For more information go to www.p65Warnings.ca.gov/food
| | |
| --- | --- |
| Allergy Info | Contains red pepper |
| Manufacturer | Yeong Yang Red Pepper Trade Corporation |
| Origin | Yeongyang-gun, Gyeongsangbuk-do |
| Ingredients  | 100% domestic nutritious red pepper |

Yeong Yang Red Pepper Trade Corporation is producing products by carefully selecting and purchasing only high-quality red peppers through contract cultivation with farms in Yeongyang-gun, a clean area. HACCP-certified large-scale processing facilities are used to safely produce and supply products to satisfy consumers.
Shipping Information
Refund Policy
Exchange or refund requests must be made within 7 days of receiving your product and should be initiated by contacting us through email (help@wooltariusa.com) or phone (310-933-8648) with a photo.
Please note that exchange or refund requests made on review boards or other platforms are not accepted.
A 30% restocking fee plus shipping charges apply for returns due to a change of mind, and refunds are not available for non-defective refrigerated/Korea-US direct delivery items.
품질좋은 햇고추로 만든 고춧가루를 구입할 수 있어 대만족입니다. 감사합니다!!!
보통매운맛으로 먹어보고 괜찮아서
매운 맛도 주문해봤어요.
첨 구매합니다 비싸지만 우리농산물이니 맛있게 요리헤서 먹을겁니다
늘 구매하는 물품이예요. 햇고추라서 색
과 향이 기가 막히네요. 국산이니 안심이예요.
햇고추가루 넘 좋네요
색깔도 이쁘고 맛도 좋네요
감사합니다