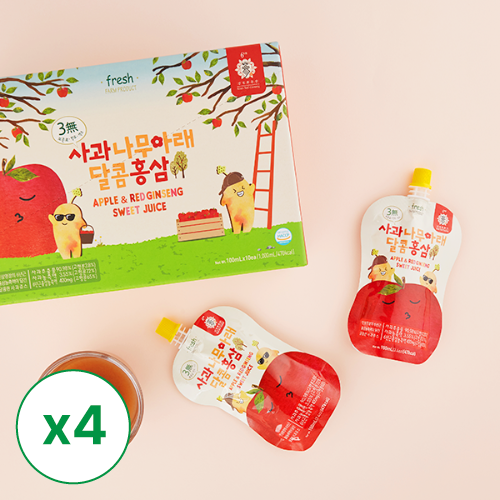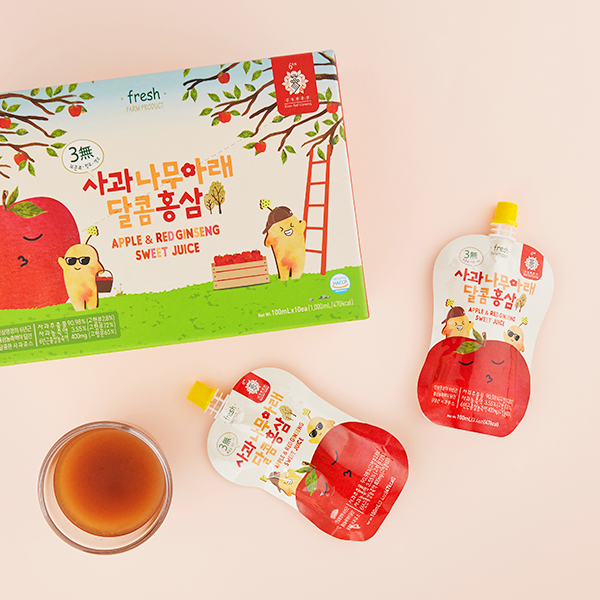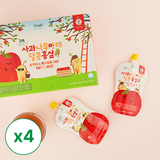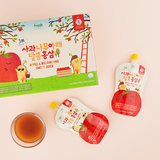 APPLE & RED GINSENG SWEET JUICE (100ml x 10 pack) x 4 box_ free shipping
Free Shipping
Enjoy free shipping regardless of purchased amount.
[Kim Jung -hwan red ginseng] Sweet red ginseng under the apple tree
Sweet red ginseng under the apple tree of Kim Jung -hwan red ginseng, which has been grown by Korean ginseng, which has been considering only red ginseng for about 50 years, is used as a raw material, and a sweet combination of eco -friendly GAP authentication apples extracted from the red ginseng. It is a delicious fruit red drink that contains taste and nutrition at once. It is characterized by children, of course, that anyone can eat deliciously.
Manufactured Environment
Red Ginseng from Punggi-eup, North Gyeongsang Province
Kim's Red Ginseng uses only the best 6-year-old fragrant ginseng grown in the clean environment of Sobaeksan-rok surrounded by strong fertile high-quality soil cultivated by the dense internal tissue of Punggi-eup, Gyeongsangbuk-do. These Punggi ginsengs were gifted to the Joseon royal family and are the origin of the world-renowned Goryeo ginseng.
Production and Distribution
Long-time know-how of Kim Jung-hwan, the master of ginseng
Kim Jung-hwan, the master of ginseng, is responsible for the selection of plantation sites, cultivation, processing, and distribution of all of his red ginseng products. Cultivated with its own eco-friendly 'Yangjikmyo production technology,' each product is made to preserve and maximize the unique aroma and nutritional values of 6-year-old red ginseng. The Korean root undergoes repeated extraction using purified water and is distributed without human interaction for hygienic purposes.
Premium Ingreidents
Contains 6-year-old red ginseng concentrate, Made in Korea
Red ginseng, grown directly at the origin of 6-year-old ginseng cultivation, Punggi, this high-quality red ginseng concentrate is extracted at low temperatures for a long time to prevent the destruction of "ginsenosides," a saponin ingredient unique to red ginseng. Plenty of red ginseng aromas and nutrients are packed into this product.
California Proposition 65
WARNING: Consuming this product can expose you to chemicals including lead and cadmium which are known to the State of California to cause cancer and birth defects or other reproductive harm. For more information go to www.p65Warnings.ca.gov/food
| | |
| --- | --- |
| Allergy Info | Red ginseng, apple |
| Manufacturer | Punggi ginseng corporation farming association corporation |
| Origin | Punggi-eup, gyeongsangbuk-do |
| Ingredients | Apple extract (domestic, solids 2.8%, GAP apple) 90.98%, organic sugar (imported), apple concentrate (domestic, solids 72%) 3.55%, red ginseng concentrate (domestic, 6-year-old root, Rg1, Rb1, Rg3 sum of 6.7mg) , solid content 65%) 0.4%, vitamin C |
47kcal per 100ml
* 1 day nutrient
ratio to reference value
three milligrams of sodium
0%
12g carbohydrate
4%
saccharide 9g
fat 0g
0%
0g transfat
0g saturated fat
0mg cholesterol
0%
protein 0g
* The ratio (%) to the daily nutritional standard is 2,000 kcal, so it may vary depending on the individual's required calories.
Note: 1. If you have a specific constitution or an allergic constitution, check the ingredients before ingesting, and do not consume if the product is inflated or deformed. 2. Do not heat in the microwave as it is packaged in a pouch. Since preservatives, fragrances, colors, and seasonings are not used at all, there may be bruising, but there is no problem with eating. 2) Store at room temperature, avoid direct sunlight, and consume immediately after opening is recommended.

Kim Jeong-hwan Red Ginseng is a '50-year-old, 6-year-old red ginseng product brand' created by the CEO of Poonggi Ginseng Corporation and Kim Jeong-hwan, a master ginseng master in Korea. We honestly strive for high-quality ginseng with the cultivation secrets passed down from three generations and the cultivation know-how of ginseng masters.
Shipping Information
Refund Policy
Exchange or refund requests must be made within 7 days of receiving your product and should be initiated by contacting us through email (help@wooltariusa.com) or phone (310-933-8648) with a photo.
Please note that exchange or refund requests made on review boards or other platforms are not accepted.
A 30% restocking fee plus shipping charges apply for returns due to a change of mind, and refunds are not available for non-defective refrigerated/Korea-US direct delivery items.
딸수술 때문에 PICU에서 2주있는동안 몸이 쇠약해져 퇴원해서 집에 오자마자 울타리에서 사과나무달콤홍삼 어제 오후 4시주문했는데 오늘 오전 11시전에 도착했어요! 완전 깜동 이에요! 병원에 있는동안 아트크래프트 재료로 나무만들었는데 딱 사과나무 🍎 🍏 같네요! 제가 조금 맛봤는데 사과와 홍삼의 절묘한 건강한 맛이에요!
평이좋아서 구매했는데 역시나 아이가 잘먹어요
5살 큰아이는 맛있다고 쭉쭉먹는데 2살꼬맹이는 맛없다고 안먹네요 ㅎㅎ 나이마다 맛도 느끼는게 다른가봐요. 그치만 큰아이가 잘먹으니 재구매의사 있습니다
아이가 너무 잘마셔서
4박스 세일뜨자마자 바로 샀어요
성분도 좋고 맛도 괜찮을거같아서 샀는데
입맛 까다로운 아이인데도 너무 잘먹어요
스스로 냉장고에 찾아 먹을정도에요
이번에 4박스 바로 더 사뒀어요!!
good for the price. not sure whether effective but kids like the taste