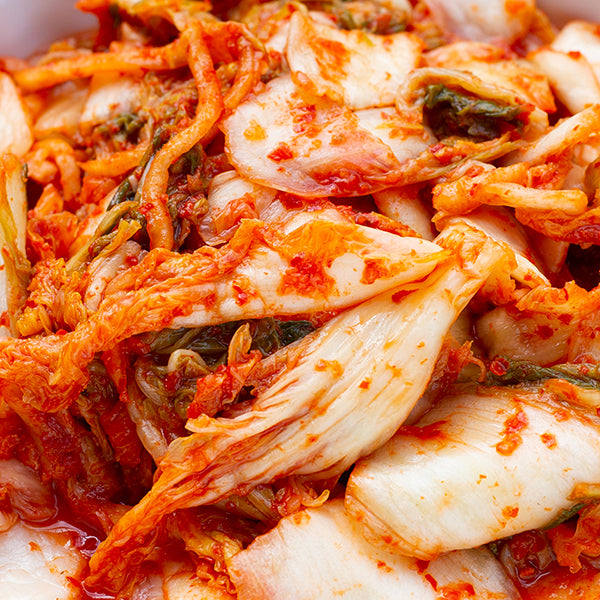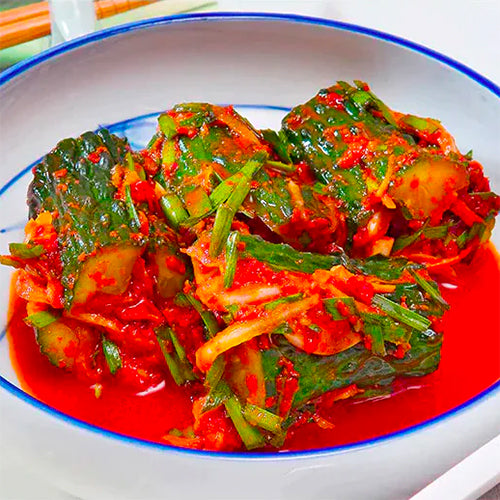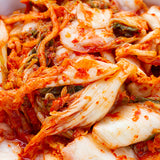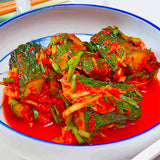 [Korea Direct Delivery B] Hwang Jindam Winter Fresh Kimchi 2kg + Cucumber Kimchi 2kg + Radish Kimchi 1kg
Free Shipping
From Korea
Enjoy free shipping regardless of purchased amount.
[Korea Direct Delivery B] Hwang Jindam Winter Fresh Kimchi 2kg + Cucumber Kimchi 2kg + Radish Kimchi 1kg
The Fastest Delivery of Winter Kimchi by Air! Special Winter Kimchi Promotion!



Fresh Cabbage kimchi boasts a crispy texture, made from newly harvested cabbage, providing a delightful and refreshing crunch. Its vibrant, refreshing flavor is packed with freshness. Whether served atop steaming rice or alongside dishes like kalguksu or ramen, it truly elevates the meal.

Crispy Cucumber Kimchi is made from healthy, fresh ingredients. Its crisp cucumbers retain their refreshing taste within the clean and flavorful seasoning. Crafted with quality ingredients, it stays crunchy throughout, offering a healthy and satisfying crunch.
Salted Radish Kimchi, with its light seasoning, presents a refreshing and invigorating taste while maintaining its delightful crunchiness. The carefully selected radishes contribute to a fantastic chewing texture and a distinct, fresh flavor
Production and Distribution
100% 우리 농산물로 정성껏 담근 중부식 명품김치!
최상품 국내산 고랭지 배추와 신안 천일염, 그리고 국내산 생강, 오이, 양파 등 원재료의 사이사이에 갖은 양념을 듬뿍 넣어 만들어 시원하고 아삭하며 깔끔합니다. 광천젓갈을 사용해 특유의 감칠맛이 살아있으며 익으면 익을수록 깊은 맛이 살아납니다.
Manufacturing Process
순수하고 정직한 재료로만 만드는 엄마의 김치!
계절에 따라 가장 신선도가 높고 알맞은 재료를 선별하여 가장 싱싱하고 맛있는 김치를 만듭니다.
주요재료 뿐만 아니라 신안 새우젓, 고성 멸치액젓, 창녕 마늘과 초석잠 등 보이지않는 속재료까지도 정직하게 우리농산물로 만들었습니다.
물론, 일체의 합성첨가물을 사용하지 않았습니다.
Verified Quality
국내 신세계 온라인몰(슥닷컴)에서 높은 평점으로 절찬리 판매중!
국내 온라인몰 중 별점에 인색하기로 소문난 슥닷컴 고객들도 인정한 브랜드입니다.
California Proposition 65
WARNING: Consuming this product can expose you to chemicals including lead and cadmium which are known to the State of California to cause cancer and birth defects or other reproductive harm. For more information go to www.p65Warnings.ca.gov/food
우리나라의 대표 전통 음식, 김치! 김치를 사랑하는 착한 사람들이 순수하고 정직한 재료만을 사용해 깔끔하고 시원한 맛을 전해드립니다
Shipping Information
Refund Policy
Exchange or refund requests must be made within 7 days of receiving your product and should be initiated by contacting us through email (help@wooltariusa.com) or phone (310-933-8648) with a photo.
Please note that exchange or refund requests made on review boards or other platforms are not accepted.
A 30% restocking fee plus shipping charges apply for returns due to a change of mind, and refunds are not available for non-defective refrigerated/Korea-US direct delivery items.
오늘 배송받고 냄새부터 깜짝!
등갈비찜 먹기로 마음먹었던 것을 뒤로 하고, 쌀밥에 김치 한포기 썰어서 먹는 중에 올립니다.
누가 만드셨는지 모르겠지만....정말 고맙습니다.
천상의 맛입니다. ㅠㅠ
김치 괜찮아요 맛있어요 배송받자마자 김치냉장고에 바로 넣었어요 한달간 enjoy 😉
매일 배추김치랑 같이 샀어야 됐는데 총각무만 단독으로 팔아서 너무 좋아요. 항상 잘 먹고 있습니다.
황진담 총각 김치 3kg
아삭아삭하고 시원한 맛의 총각김치예요.
맛이 드니, 달기도 달아요. MSG로 맛을 낸 그런 단맛이 아니고, 양념이 과하지 않고 깔끔해요.
여름 무로 담그면 가끔 떫거나 무 자체가 매운 맛이 강한 총각김치가 되는데, 황진담 총각김치는 (차츰 차츰 익어가면서) 쓰거나 알싸하고 매운 맛이 잘 숙성된 무 김치맛이라서, 김치냉장고에 넣어두고 아껴먹고 있어요. 적게 들어있는 무우청도 아삭하니 그 식감이 좋아요. 그릇에 옮기면서 덜 익은 거라도 딱 한 개만 맛 봐야지 했는데, 곰탕 해동해서 김치 종지에 수북하게 담아 곁들였어요. 아삭한 총각 김치를 메인으로 곰탕을 먹은 격이었어요.ㅎㅎ
황진담 포기김치 5kg
꽁꽁 이중 포장한 비닐을 열자마자 기대했던 김치 고유의 향미가 풍겨졌어요. 달거나 짜지않고 맵지않은 딱 적당한 간에 맛있게 익어가고 있는 포기김치를 받았습니다.
배추 밭에서 볼 수 있는 튼실한 포기가 半으로 잘려져 차곡차곡 단정하게 담겨져 왔어요. 좋은 배추로 김치를 담그니 당연히 그 김치 맛이 좋은 듯 합니다.
김치 업체들은 대체로 이파리가 더 많고 짙은 녹색빛 겉잎들까지 섞어서 보내는데, 황진담 김치는 맛과 식감이 좀 떨어지는 겉잎들은 사용하지 않았어요. 배추 크기가 크다보니 아삭아삭한 줄기가 이파리보다 더 많아서, 제 개인적으로는 만족스럽네요.
총각 김치는 깍두기 맛이 나요. 곰탕이랑 잘 어울려 맛있게 먹었어요. 알맛게 잘 익었어요.