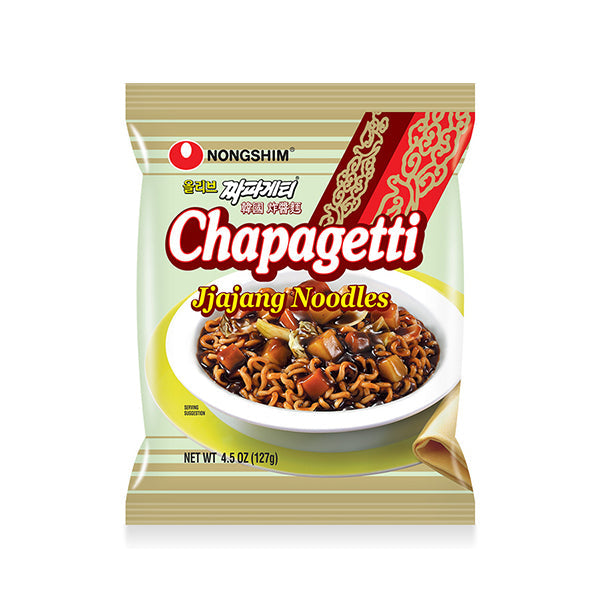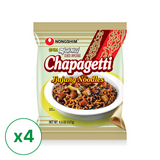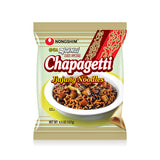 Multi -Pack of chapaghetti (127g x 4packs)
1 Day shipping
Ground shipping
Free shipping on 1 Day shipping items over $169
Free shipping on Ground shipping items over $99
[Nongshim] Chapaghetti
Jjapaghetti, which is made with soy beans that are good for health, is a product that you mix and consume like spaghetti. The black sauce may be a bit unfamiliar, but its unique sweet and savory taste makes it one of the most addictive products.
How to Use
Today I am the Jjapaghetti cook!
Everyone must have yelled it out at least once. When Jjapaghetti first appeared in 1894, it became hugely popular, and instilled the thought in many people to eat it on the weekends. Boil it and enjoy it anytime, anywhere.
Verified Quality
Since 1984...
Jjapaghetti, a compound word of jajangmyeon and spaghetti, has written a new history in the ramen market where favorite foods are popularized. Jjapghetti is a product that preserves the flavor of black bean noodles, and reproduces the flavor of the sauce roasted over high heat in a Chinese restaurant's kitchen oven.
California Proposition 65
WARNING: Consuming this product can expose you to chemicals including lead and cadmium which are known to the State of California to cause cancer and birth defects or other reproductive harm. For more information go to www.p65Warnings.ca.gov/food
| | |
| --- | --- |
| Allergy Info | Contains wheat, egg, milk, soybean, pork, shrimp, beef |
| Manufacturer | Nongshim |
| Origin | Korea |
| Ingredients | Noodles/wheat flour (wheat: from the US, from Australia), potato starch (from Germany), palm oil (from Malaysia), modified starch, vegetable oil, eggshell calcium, refined salt, alkaline added to noodles (acidity regulator), mixed preparation (acidity regulator) ,Oligo Green Tea Flavored Liquid, Vitamin B2 Soup/Powdered Jjajang, Refined Sugar, Powdered Caramel No.2 (Caramel Color, Starch Syrup Powder), Jajang Base, Jajang Base Powder, Powdered Caramel No.3 (Caramel Color, Starch Syrup Powder, Enzyme-treated Stevia) , Stir-fried Seasoned Wheat Flour, Vegetable Oil Powder, Stir-Fried Seasoned Corn Water, Stir-Fried Seasoned Potato Flour, Stir-Fried Onion Powder, Fermented Apple Powder, Refined Salt, Seasoned Jjajang Powder, 5'-ribonucleotide Disodium, Soy Protein, Dried Cabbage, Fried Potato Dice, Fried onion, dried carrot, onion flavored milk, jajang flavored milk, mixed olive oil (from Spain), onion seasoned milk |
290kcal per 64g
* 1 day nutrient
ratio to reference value
sodium 620mg
26%
44g carbohydrates
15%
2g saccharides
10g fat
15%
0g transfat
4g saturated fat
0mg cholesterol
0%
protein 5g
The ratio (%) to the **1-day nutritional standard is based on 2,000 kcal, so it may vary depending on the individual's required calories.

Nongshim, which started from the heart of a farmer, is a leading K-food company, leaping beyond the domestic market to become a global food culture creative company with the vision of 'making the world happy with a healthy table'.
Shipping Information
Refund Policy
Exchange or refund requests must be made within 7 days of receiving your product and should be initiated by contacting us through email (help@wooltariusa.com) or phone (310-933-8648) with a photo.
Please note that exchange or refund requests made on review boards or other platforms are not accepted.
A 30% restocking fee plus shipping charges apply for returns due to a change of mind, and refunds are not available for non-defective refrigerated/Korea-US direct delivery items.
짜파구리 해먹으려고 샀어요 ㅎㅎ 멀티팩인데 네 개가 개별로 옵니당 맛에는 전혀 영향없는것같아여
확실히 한국에서먹던 짜빠게티와는 조금차이가있네요 수출용이라 맛이다른가봐요
여전히 최고의 간식라면. 짜파게티의 짜장맛은 시큼하지 않아서 너무 좋아요.
같이 주문한 짜장가루를 좀 추가해서 먹으니 간이 더 잘 배고 맛있어요
울타리몰이 대체적으로 비싼데 이건 크게 차이가 없네요! 근데 맛은 한국에서 사먹던게 훨씬 맛있어요ㅜㅜ
유통기한 12월 까지 넉넉하고, 면에서 군내 안나고 좋아요. 구매 당일에 다른 쇼핑몰보다 조금 저렴해서 구입했어요. 그래서 유통기한은 기대안했는데 기븐 좋네요!
표고버섯이랑 달걀프라이 같이 먹으니까 진짜 맛임ㅅ어요