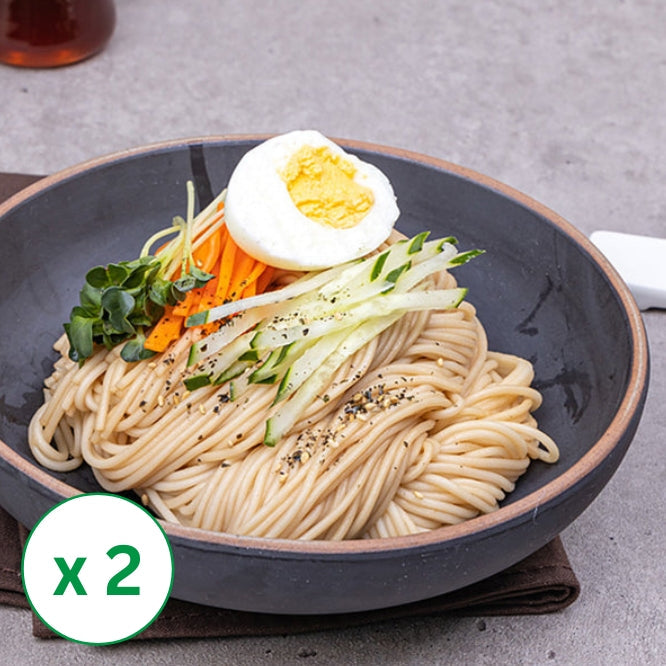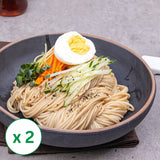 Muju Cheonma Cham Noodles 271g (2 servings) x 2packs
1 Day shipping
Ground shipping
Free shipping on 1 Day shipping items over $169
Free shipping on Ground shipping items over $99
[Yeongdong Food] Muju Cheonma Cham Noodles 271g (2 servings)
Perfect harmony with special sauce containing our wheat noodles and Muju Cheonma!
It is a product of a healthy, light and chewy texture by adding sauce made of cheonma in the Muju area, the nation's largest hemp, and the nation's largest hemp. It has a clean and refreshing taste, as well as a healthy health.
Production and Distribution
무주 특산물 천마가 들어 더욱 건강하고 쫄깃한 맛!
천마는 두통, 불면증, 뇌출혈, 뇌졸중, 고혈압, 치매, 우울증 같은 두뇌의 질환에는 불가사의(不可思議)하다 할 만큼 효력을 발휘할 뿐만 아니라 위장병, 간경화, 당뇨병, 식중독, 디스크, 백혈병, 암에 이르기 까지 광범위한 질병에 두루두루 뛰어난 효력이 있습니다. 본 제품에는 무주 특산물 천마가 함유되어있습니다.
How to Use
간편한 조리법!
1. 제주메밀국수 면을 7~8분 동안 끓는 물에 잘 익혀준 뒤 찬물에 헹궈 물기를 제거해 줍니다.
2. 면을 그릇에 담고 특제소스, 들기름, 참기름, 김과 참깨를 함께 넣어 맛있게 비벼드세요.
3. 면을 차갑게 또는 따뜻하게 하셔도 둘다 맛있게 드실 수 있습니다.
Premium Ingreidents
알차고 깔끔한 구성!
2인분 양으로 충분히, 넉넉히 담았습니다.
1. 면 200g : 국내산 우리밀로 만든 고소하고 담백한 우리밀면
2. 액상스프 40gx2개 : 양조간장과 가스오 부시로 맛을 낸 소스
3.4.5. 들기름, 참기름, 김과 참께 각 2개
California Proposition 65
WARNING: Consuming this product can expose you to chemicals including lead and cadmium which are known to the State of California to cause cancer and birth defects or other reproductive harm. For more information go to www.p65Warnings.ca.gov/food
지난 40년 간 '국수생산'이라는 외길을 걸어오며 장인정신을 발휘해 온 ㈜영동식품은 소비자 중심의 독창적이고 차별화 된 신제품 개발과 경영혁신을 통한 고객만족에 역점을 두고 있습니다. 고객의 가치를 최우선 기업목표로 삼아 오로지 국수 개발, 생산,판매에 전념하며, 대한민국 대표 '국수(건면) 전문회사'로 성장해왔습니다. 오늘의 품질에 만족하지 않고 언제나 새로운 창조 정신으로 미래의 식품문화를 만들어 나가겠습니다.
Shipping Information
Refund Policy
Exchange or refund requests must be made within 7 days of receiving your product and should be initiated by contacting us through email (help@wooltariusa.com) or phone (310-933-8648) with a photo.
Please note that exchange or refund requests made on review boards or other platforms are not accepted.
A 30% restocking fee plus shipping charges apply for returns due to a change of mind, and refunds are not available for non-defective refrigerated/Korea-US direct delivery items.
벌써 두번째 주문이네요. 포장지가 고급져서 선물하기도 좋을듯요
정말 맛있어요. 처음 열어보고 가격대비 작은양과 별거없어보이는 비주얼에 살짝 당황했지만 맛보니 고소하고 살짝 달달하니 너무 맛있었어요. 달달해서 애들이 너무 좋아해요. 잘먹는 우리애들은 일인분씩 먹어요. 샐러드야채나 오이같은거 같이 비벼 먹음 더 맛있을꺼같아요. 다음에도 계속 재주문할꺼같아요.
리뷰보고 배신당한 느낌이에요. 별하나를 주면 맨뒤로가게되서 아무도 못봐서 일단 별다섯개주고 리뷰 적습니다. 양도 양이지만 (3-4인분이 아니라 간신히2인분임) 진짜 질적으로도 너무 떨어지고 기름기는 아무리 걷어내도 어마하게나오고요.
그걸보고 아무도 안먹었어요. 제가 웬만하면 좋게 리뷰 다는데 이번엔 정말 화가나네요. 대 실망이에요.
나머지 한팩 어떻게 처리할지 ㅜㅠㅠㅠㅜ 기름 걷어낸거 사진 올리고싶은데 버려버리고 없어서 못올려 아쉅네요!
들기름 맛이 신선하고 향이 좋아요~ 소스도 맛있고 순한맛이 아주 좋아요
고소하면서 담백한 맛이 일품이네요. 우리밀로 만든 면도 쫄깃 쫄깃 맛있고, 천마를 함유한 소스도 적당히 짭조름해서 고소한 맛과 함께 잘 어울렸어요. 들기름과 참기름 김과 참깨까지 소스들이 따로 따로 깔끔하게 포장되어 있었고, 양도 넉넉한 편이었어요. 소스의 양들도 조절해서 먹을 수 있어서 좋았구요. 두명이 먹기에 충분한 양이였어요. 패키지도 깔끔하게 잘 되어있고, 상온보관이라 선물해도 괜찮을 것 같아요. 왜 인기가 많고 리뷰가 좋은 상품인지 알겠더라구요. 만족합니다.
너무 맛있어요! 그릴치킨하고 야채를 넣어서 먹으니 한끼로 든든하네요.