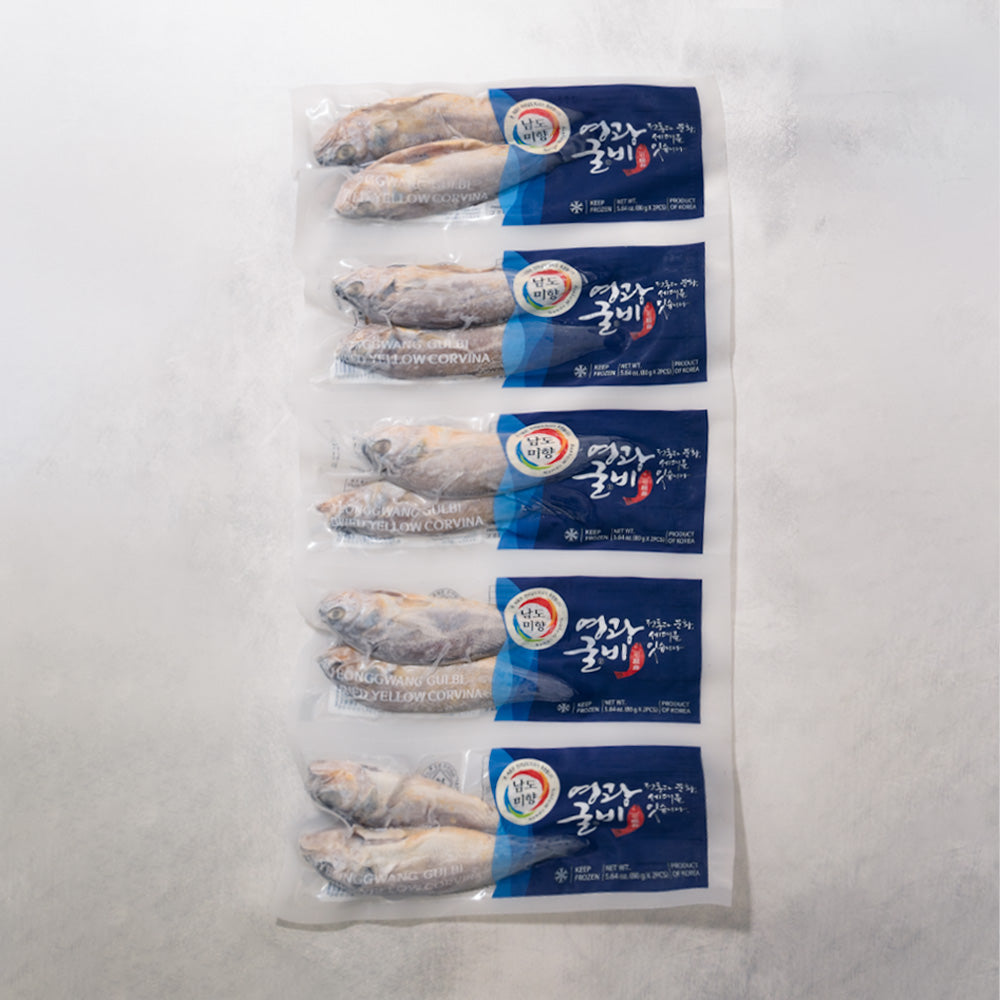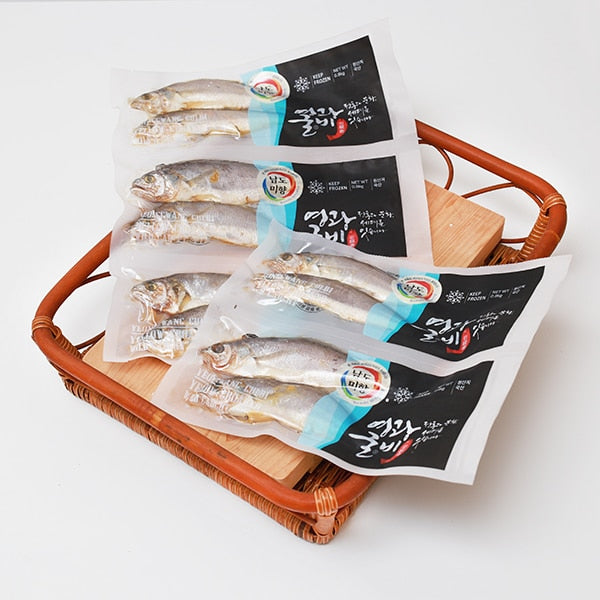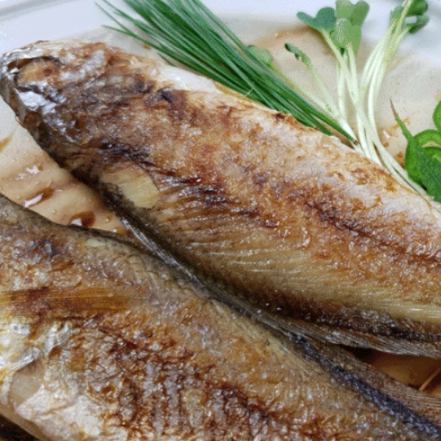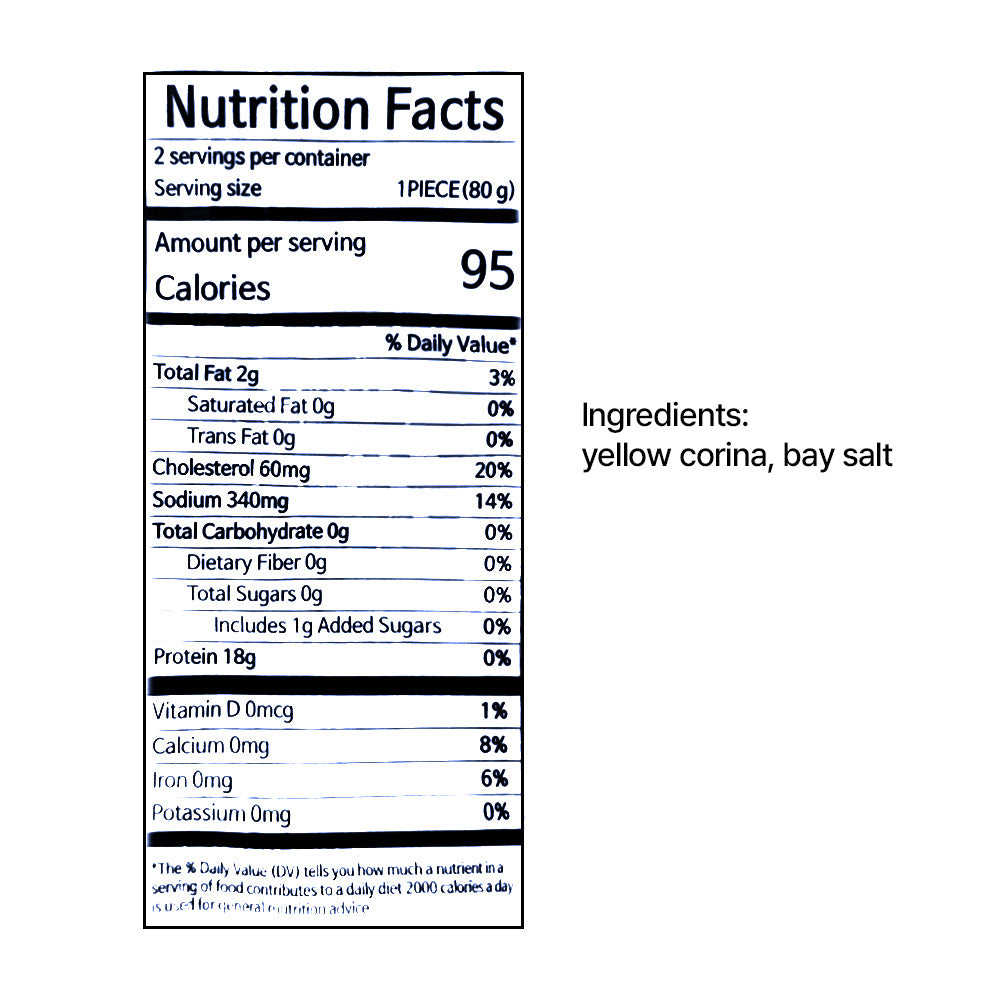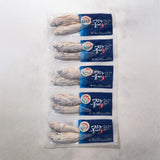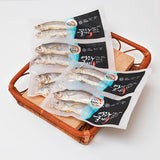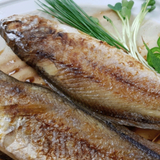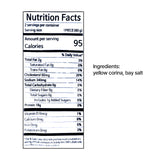 DRIED YELLOW CORVINA (Intestine removed) (Gulbi) (80g x 10 fish)
1 Day shipping
Free shipping on 1 Day shipping items over $169
[Famous Fisheries] Yeonggwang Pojanggae Gulbi (removal of built -in) 80g x 10 beauty
It is a product that is aged with natural sea breeze of Yeonggwang -gun's legal arts in the reference machine caught in Korea.
Production and Distribution
Products directly produced and managed by experts
Authentic Yeonggwang Gulbi produced with great care by a dried yellow croaker expert Bae Hyun-jin. in Beopseongpo, Yeonggwang-gun, Jeollanam-do, South Korea.
Manufacturing Process
Natural environment with sincerity
It is dried by the gentle breeze of the West Sea, which is a special natural environment unique to Beopseongpo, which has excellent drying conditions. After that, it is aged for 1 to 2 years, salted with 100% Korean sun-dried salt and dried in the sea breeze. All the internal organs are safely removed, so it is convenient to eat and has plenty of flesh.
Nutritions
Yeonggwanggulbi that even comes to the king's table
Yeonggwang Gulbi is rich in high-quality protein and vitamins A and D, which helps to recover from night blindness and fatigue when the body is debilitating. It is also good for children in the developing stage or the elderly with weak digestive organs as it is low in fat and digests well.
California Proposition 65
WARNING: Consuming this product can expose you to chemicals including lead and cadmium which are known to the State of California to cause cancer and birth defects or other reproductive harm. For more information go to www.p65Warnings.ca.gov/food
| | |
| --- | --- |
| Manufacturer | Famous Fisheries |
| Origin | Yeonggwang-gun, Jeollanam-do |
| Ingredients | Yeonggwang Gulbi  |
Storage Method: Freezer storage

Famous Fisheries is located in Beopseongpo, Yeonggwang, the origin of oysters. It is a brand that started the processing and production of Yeonggwang oyster in the early 1990s, and has grown with the birth and growth of Yeonggwang oyster.
Shipping Information
Refund Policy
Exchange or refund requests must be made within 7 days of receiving your product and should be initiated by contacting us through email (help@wooltariusa.com) or phone (310-933-8648) with a photo.
Please note that exchange or refund requests made on review boards or other platforms are not accepted.
A 30% restocking fee plus shipping charges apply for returns due to a change of mind, and refunds are not available for non-defective refrigerated/Korea-US direct delivery items.
선물하기 위해 주문했어요! 포장도 잘 되어 배송되어 좋네요!
울타리에 하도 평이 좋아서 세일할때 1번 사 봤는데 맛이 일품이네요 세일할때 재구매 의사 있습니다
말모말모 굴비 할인할 때마다 쟁이는 상품입니다.
지난 주에 배송 받고 너무 맛있어서 오늘 또 주문했습니다.
구매해도 후회하지 않을 제품입니다.강추!