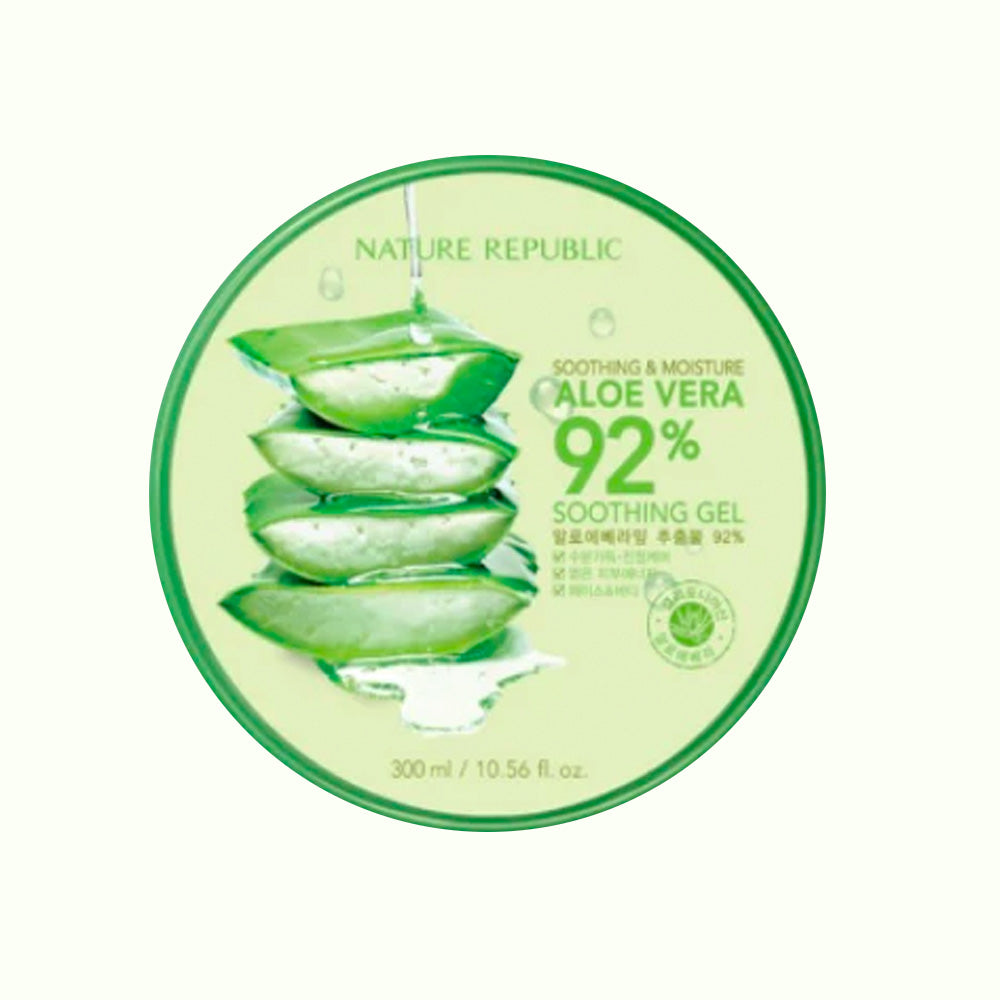 ALOE VERA Soothing & Moisture Aloe Vera 92% Soothing Gel 300ml
1 Day shipping
Ground shipping
Free shipping on 1 Day shipping items over $169
Free shipping on Ground shipping items over $99
Description
This soothing gel of Nature Republic with California CCOF certified organic aloe vera is mild on the skin and can be used for moisturizing anywhere, such as face, arms, legs, nails, and hair.
It contains 92% of aloe vera extract, which is a soothing gel that quickly moisturizes the skin without stickiness. (Paraben, mineral oil and mild pharmaceutical formula without artificial colors)
[About Aloe Vera]
Vitamins of aloe vera extracts such as vitamin E, C and other minerals keep the skin moist and protect the skin from ultraviolet rays. The fresh aloe vera is quickly absorbed by the skin without leaving a sticky residue.

SUGESTED Use
If you apply the right amount to the dry and sensitive parts of the face and body, you can get the best results.
Face Mask: Apply to the skin and put it on the skin for 20-30 minutes before washing it.
Moisturizer: Apply a thin layer on the skin and tap gently to absorb well.
Hair Mask: Apply plenty of layers to your hair and leave it for 30 minutes before rinse.
Tips


1. Moisturizing Sleeping Pack (
Moisturizing sleeping pack)
Sleep pack or daily moisturizer
It can be used as it, and if you drop a drop of facial oil, the moisturizing power will increase.

2.Glowing skin makeup (
Shining skin makeup)
Mix the makeup primer and the aloe vera soothing gel in a 2: 1 ratio. The blend is gently applied to the entire face to create a natural radiant. You can keep your skin moist all day long.

3.Moisture Replenish for Body (
Moisture supplements for the body)
For double moisturizing effect, try it with rich oils such as olive oil and argan oil! Gently massage and moisturize the whole body.

4.Silky Smooth Hair Treatment (
Silky smooth hair treatment)
Use it like a hair serum at the cracked end to give it an immediate shine and long -lasting rejuvenation effect.

5.Cooling Eyes & Moisturizing Lips (
Cool your eyes and moisturize your lips)
You can keep the moist makeup containing the aloe vera soothing gel on your eyes to cool and apply it to the broken lips.
6.Light Aftershave Southing Gel (
Light After Shave Soothing Gel)
Aloe Vera, which is good to calm the irritated skin after shaving,
Men's after -shave and women's legs have excellent calm effects.
7.hydrating Nail Essence for Healthy Nails (
Moisture supply nail essence for healthy nails)
Simply moisturize it with aloe vera soothing gel and make your nails healthy.
Ingredients
20%glycerin, aloe Barbaden Leaf juice, alcohol, glyceryl polyacrylate, dipropyl glycol, carbomer, PEG 60 hydrogenated pimar freedom, triethanolamine, 1,2-hexane dior Sodium EDTA, Blast, Polyglutamic acid, High Office Extract, Hianilen Glycerin Alis Extract
California Proposition 65
WARNING: Consuming this product can expose you to chemicals including lead and cadmium which are known to the State of California to cause cancer and birth defects or other reproductive harm. For more information go to www.p65Warnings.ca.gov/food
Shipping Information
Refund Policy
Exchange or refund requests must be made within 7 days of receiving your product and should be initiated by contacting us through email (help@wooltariusa.com) or phone (310-933-8648) with a photo.
Please note that exchange or refund requests made on review boards or other platforms are not accepted.
A 30% restocking fee plus shipping charges apply for returns due to a change of mind, and refunds are not available for non-defective refrigerated/Korea-US direct delivery items.