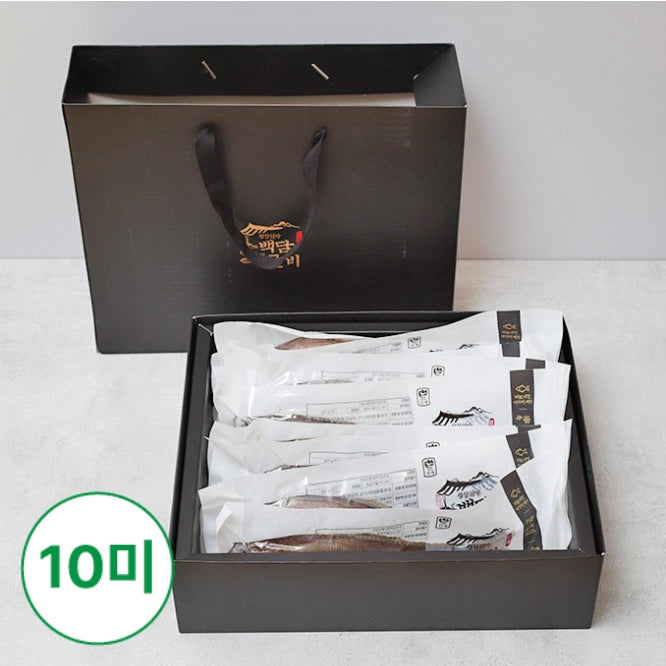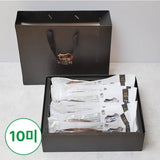 Semi-dried steamed yellow corvina (Gulbi) 170g*10ea
1 Day shipping
Free shipping on 1 Day shipping items over $169
[Baekdam Gulbi] Ban Gunjo steamed Gulgulbi 170g x 10 Mi
It is the best semi -dry steamed steamed steamer!
After drying the raw materials, it is a product that can be eaten easily by simmering and warming and warming the flesh.
In particular, you can remove the gills to enjoy the clean and white oyster oysters.
If you heat it in a microwave (3 minutes), steamer (15 minutes), or airfryer (10 minutes), you can taste the firm and chewy inner meat.
※ Gulbi real weight: 170g inside and outside / Live size: About 28cm and abroad
* Operations: Hwanghae, China
* Processing paper: Inje, Gangwon -do
Production and Distribution
The best rice thief to enjoy easily!


Bori Gulbi refers to dried yellow corvina pickled in salt and matured in barley rice. It is a valuable ingredient that has been called the best rice thief since ancient times because it takes a lot of work to mature and tastes good. Baekdam Gulbi products are the best barley yellow corvina grown through the latest sanitary facilities by naturally drying Chinese corvina in the clean Baekdam Valley.

Manufacturing Process
Make it hygienic with care in the best environment!
Seorak Baekdam Valley has the best dried fish environment because of its good temperature, wind, and illumination. Baekdam Gulbi is aged healthily through natural drying in the best environment.
It is different from dried yellow corvina using only salt from other yellow corvina using the best mineral-containing water quality of seawater as a guard using only 605m deep ocean water on the east coast.

Dry fish with state-of-the-art freeze-drying methods. This is a patented construction method and the latest equipment that only our company has succeeded in.

Verified Quality
We send it in a luxurious gift case and shopping bag!
A luxurious hard case, styrofoam lid, and a shopping bag embroidered with foil patterns are carefully packed. It's good for sharing and giving gifts to precious people
※ Shopping bag size (including box) : 400 x 340 x 115mm

California Proposition 65
WARNING: Consuming this product can expose you to chemicals including lead and cadmium which are known to the State of California to cause cancer and birth defects or other reproductive harm. For more information go to www.p65Warnings.ca.gov/food

 Baekdam Gulbi produces barley gulbi in Baekdam Valley, the center of Naeseorak and a natural clean area. We use natural drying ducts and deep ocean water and dry them with state-of-the-art freeze drying methods to produce the best products.
Shipping Information
Refund Policy
Exchange or refund requests must be made within 7 days of receiving your product and should be initiated by contacting us through email (help@wooltariusa.com) or phone (310-933-8648) with a photo.
Please note that exchange or refund requests made on review boards or other platforms are not accepted.
A 30% restocking fee plus shipping charges apply for returns due to a change of mind, and refunds are not available for non-defective refrigerated/Korea-US direct delivery items.
짜지않고 정말 맛있네요.
전자렌지 3분 돌리세요.
맛있어요
시어머님이 굴비 좋아하셔서 선물하려고 샀는데 포장이 고급스러웠어요. 어머님이 드셔보시고 맛있다고 좋아하시네요
크기도 마음에 들고요 맛도 좋아요. 찐굴비라 조리시간이 짧아 좋아요. 전자렌지에 물수건 으로 덮어 살짝 돌려서 먹었어요. 생선 구울때 집안에 냄새가 진동하는데 냄새도 없고 참좋네요.
아직 울타리에서 주문하는 것이 익숙하지 않아 영광포 찐보리굴비를 주문한 줄 알았는데 받아보니 백담굴비였다. 그냥 찐굴비인데다 내장이 제거되지 않아 잘못구매한 줄 알고 고객센터에 문의를 했다. 그런데 내장은 특수공법으로 제거되고 좋은 부분만 남겨둔 것이라는 답변을 받았다. 맛은 좋다. 개별포장이 되어 있어 위생적이고 보관도 편리하다. 회사마다 특색이 있으니 기호에 맞는 제품을 선별하여 구매하는 것이 필요하다.
저희 울타리몰을 이용해주셔서 감사합니다.
앞으로도 좋은 제품으로 고객님께 행복드리는 울타리몰 되겠습니다.
가격이 비싸긴 하지만 간편해서 먹기 편하고 크기도 적당하고 맛있어요.