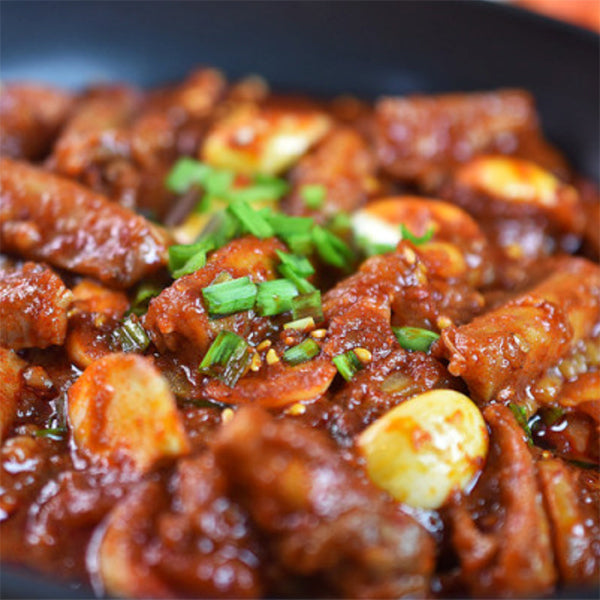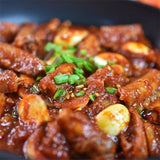 Seasoned Hagfish (Sea Eel)
Lightning Fresh
Free shipping on Lightning Delivery items over $169
[Friendly Cook Food] Seasoned Hagfish (Sea Eel)
Clean and neatly prepared,

Enjoy a seasoned grilled eel!
Introducing plump and chewy seasoned grilled Sea eel.
It is cleaned and prepared to be easily cooked and enjoyed in a pan or on a charcoal grill.
Each pack contains 350g of seasoned grilled eel, making it excellent for stamina-boosting and nourishment
Production and Distribution
아산맛집 쭈꾸뽕의 대표메뉴!
쭈꾸뿅은 충남 아산의 배방에서 시작해 아산뿐 아니라 부천과 김포 지역에서 인기를 얻고 있는 해산물 요리 전문점입니다. 최근엔 국내뿐 아니라 해외에도 수출할 정도로 맛과 품질 면에서 보장된 곳이죠.
그 매장에서 이미 인기메뉴인 양념꼼장어 뽕장어를 알뜰하게 담았습니다.
How to Use
심플한 조리! 끝내주는 맛!!
조리방법은 정말 간단합니다! 잘 달궈진 팬에 뿅장어를 올려 중불로 조리하시다가 어느정도 익으면 먹기좋게 잘라주세요!
꼼장어를 자르실때 흰색 내장이 나오니 놀라지 마시기 바랍니다 :)
매콤한 음식과 꿀조합인 계란찜과 주먹밥을 함께 드셔도 좋습니다.
❉ 약한 숯불에 살살 구워드시면 정말정말 맛있습니다!
Verified Quality
매니아들 사이에서는 이미 인기만점인 메뉴, 양념꼼장어!
꼼장어에는 불포화지방산인 오메가3 지방산과 뮤신, 레티놀 등의 영양 성분이 풍부하게 함유되어 있어 혈관 건강에 도움을 주고요. 고단백 저칼로리 식품으로 기력과 스테미너를 북돋습니다.
또한 콜라겐이 다량 함유되어 있어 피부를 탄력 있게 만들어 주고, 노화 예방에 좋은 레티놀과 비타민E 성분 역시 풍부해 피부의 모세 혈관을 튼튼하게 만들어둡니다.
California Proposition 65
WARNING: Consuming this product can expose you to chemicals including lead and cadmium which are known to the State of California to cause cancer and birth defects or other reproductive harm. For more information go to www.p65Warnings.ca.gov/food
Shipping Information
Refund Policy
Exchange or refund requests must be made within 7 days of receiving your product and should be initiated by contacting us through email (help@wooltariusa.com) or phone (310-933-8648) with a photo.
Please note that exchange or refund requests made on review boards or other platforms are not accepted.
A 30% restocking fee plus shipping charges apply for returns due to a change of mind, and refunds are not available for non-defective refrigerated/Korea-US direct delivery items.