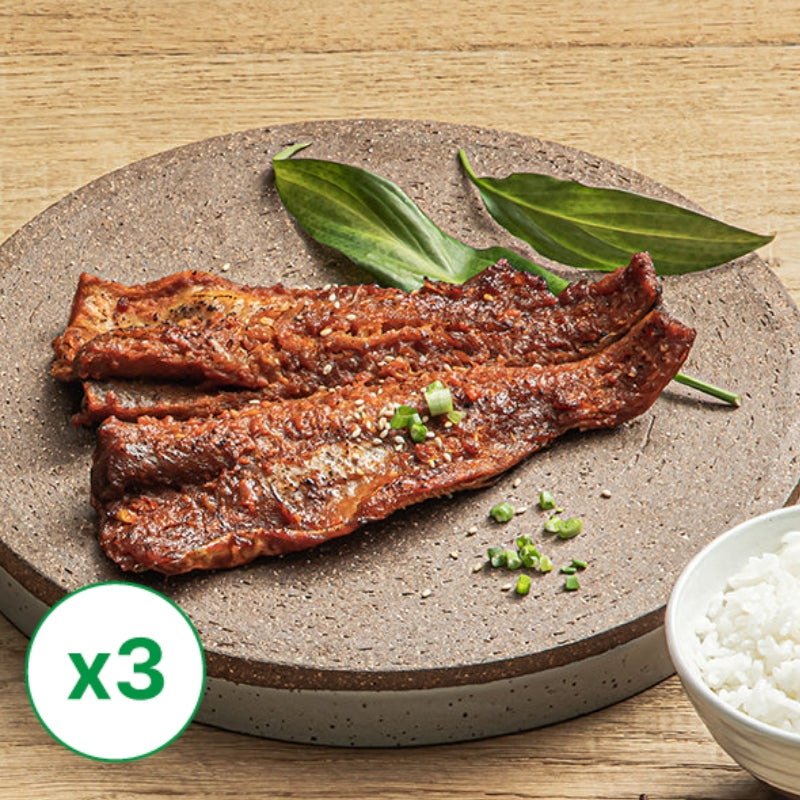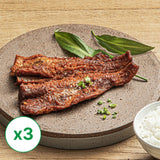 Grilled Dried Pollack 200g x 3
1 Day shipping
Free shipping on 1 Day shipping items over $169
[Gusudam] Grilled Dried Pollack 200g x 3
Gangwon -do is a HMR product that uses the natural ripening of the mountainous cold wind.
Manufacturing Process
 Products made only from reliable domestic ingredients through the latest hygiene facilities!

 HACCP and traditional food certification companies thoroughly manage production, making it hygienic and safe, and even the head and tail are trimmed for convenient use.

All ingredients were used 100% as domestic agricultural products.
How to Use
 It's easy to cook and easy to handle, so it's a simple product to grill!

1. After defrosting the product, bake the dried pollack over low or medium heat in a slightly oiled frying pan.

2. If you sprinkle sesame seeds or chopped green onions on the golden grilled dried pollack, it tastes better.

3. It tastes better if you grill it over charcoal.
Premium Ingreidents

Premium HMR made of dried pollack from Gangwon-do and the finest Korean ingredients!



 It uses only dried pollack directly from Daegwallyeong, Gangwon-do, making it thick, soft, and chewy.
 Sauce was made with korean traditional pepper-paste, korean soy-sauce. so it's delicious.

California Proposition 65
WARNING: Consuming this product can expose you to chemicals including lead and cadmium which are known to the State of California to cause cancer and birth defects or other reproductive harm. For more information go to www.p65Warnings.ca.gov/food
| | |
| --- | --- |
| 알러지 정보 | 해당없음 |
| 제조사 | 구수담영농조합법인 |
| 원산지 | 강원도 |
| 원재료명 | 더덕 |
유의사항
이 제품은 우유,땅콩,대두,밀,고등어,게,돼지고기,복숭아,토마토,새우를 사용한 제품과 같은 제조시설에서 제조하고 있습니다.
보관방법
냉동 보관

Pyeongchang-gun, Gangwon-do, the center of Baekdudaedan! This is Gusudam, a traditional Korean food created by the sky, water, land, and wind of Pyeongchang.
Shipping Information
Refund Policy
Exchange or refund requests must be made within 7 days of receiving your product and should be initiated by contacting us through email (help@wooltariusa.com) or phone (310-933-8648) with a photo.
Please note that exchange or refund requests made on review boards or other platforms are not accepted.
A 30% restocking fee plus shipping charges apply for returns due to a change of mind, and refunds are not available for non-defective refrigerated/Korea-US direct delivery items.
[ 구수담 ] 황태 양념 구이 200g* 3팩
해동된 채 도착해서, 어쩔 수 없이 그냥 에어프라이어에 360도 8분 구웠어요. 다행히 변질되지 않은 황태 양념 구이를 즐겼습니다. 다음 배송은 제대로 냉동이 잘 된 상태로 배송되길 바라며 장바구니에 담아봅니다 ~~
설명서대로 후라이팬에 지져 먹었는데, 보기완 다르게 살도 두툼하고 양념이 적당히 들어서 밥반찬으로 딱이었어요.