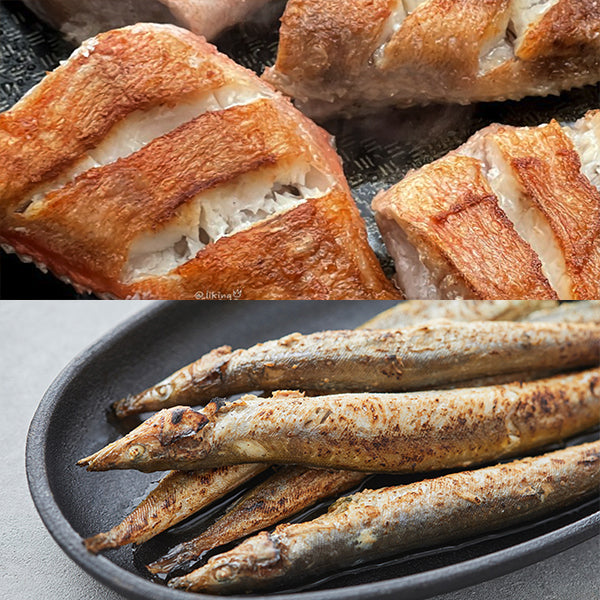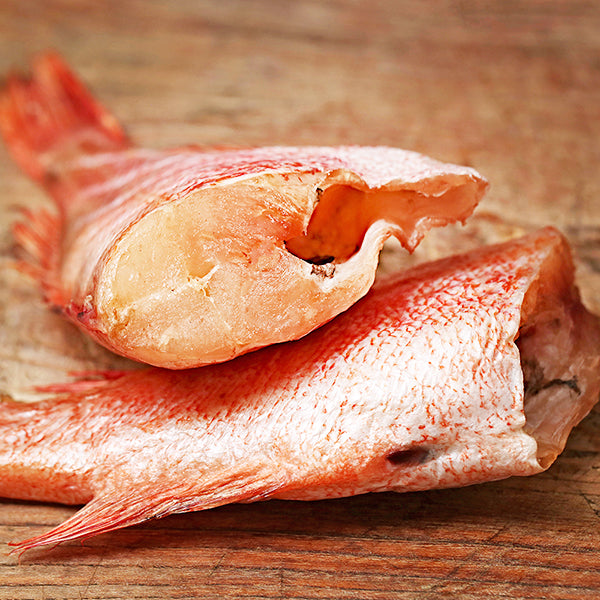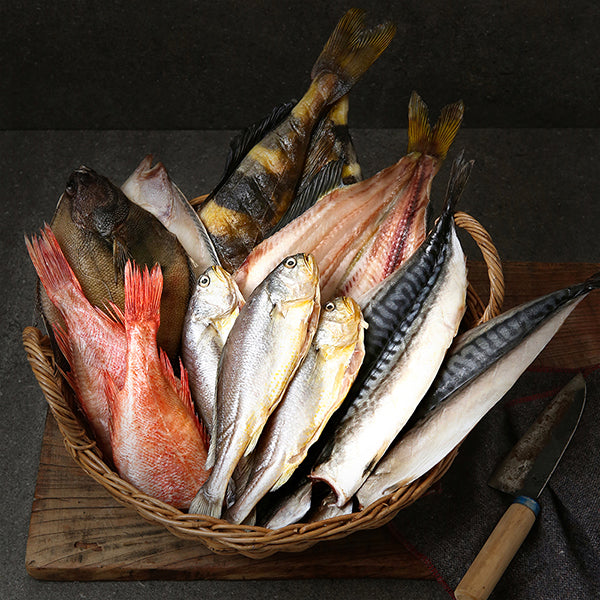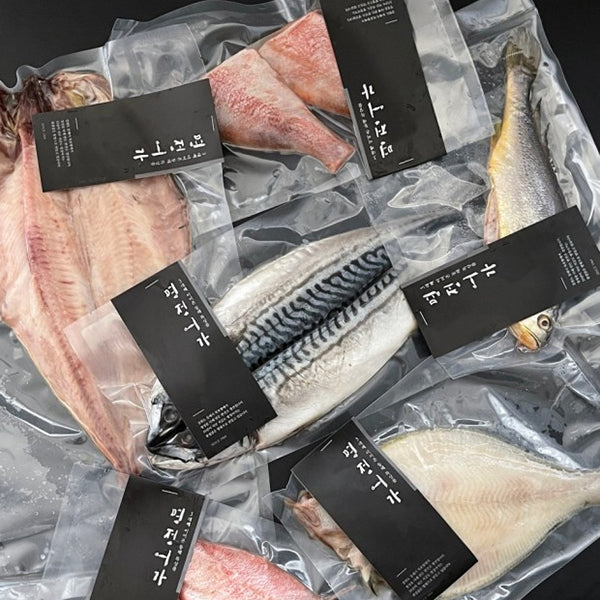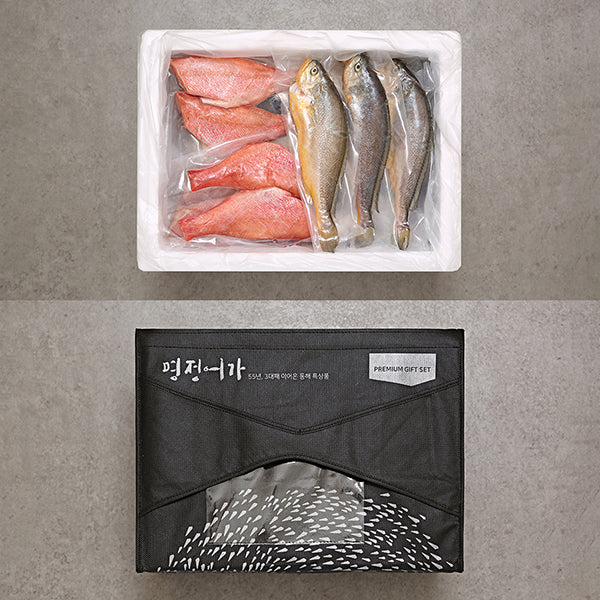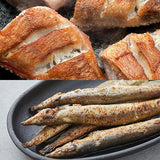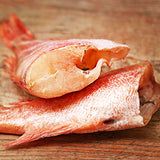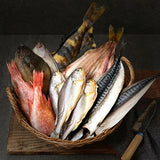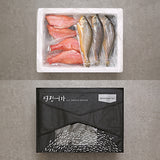 Myeongjung Fish Set C ((Korean sandlance 500g x 1pack + Dark banded Rockfish 14 pcs) 3.4kg
Free Shipping
From Korea
Enjoy free shipping regardless of purchased amount.
[Korea Direct Delivery C]  (Korean sandlance 500g x 1pack + Dark banded Rockfish 14 pcs) 3.4kg
The Donghae Special Product, semi-dried fish, which has been continued for three generations over 60 years in Mukho Port, Gangwondo!
Introducing the naturally air-dried semi-dried fish from Mukho Port, Gangwon-do, where the sea breeze and mountain breeze intersect. These are the products of 'Myeongjeong,' which has been producing top-quality semi-dried fish for the past 60 years over three generations.
You can experience the unique taste by simply grilling them in an air fryer or frying pan, or enjoying them steamed or braised

❉ The semi-dried fish, which has excellent storage stability, is vacuum-sealed, allowing it to be stored for over a week in a thawed state. It is also safe to refreeze the product once after the initial thawing.
Production and Distribution
상품구성 : 양미리500g 1팩 + 열기 14미
양미리 : 가늘고 긴 은백색 원통형의 몸에 뾰족한 주둥이를 가진 뼈째 먹는 생선입니다. 암컷은 알이 씹히는 식감과 고소함이 일품이며, 수컷에는 정소와 이리가 들어 있는데 이리 특유의 녹진함에 진한 풍미를 느낄 수 있습니다
(크기 : 18cm 내외 / 500g 한팩당 암수구분없이 약 28미)
열기 : 볼락이라고도 불리는 열기는 크리미하고 부드러운 감칠맛이 일품이죠. 단백질과 아미노산이 풍부해 피부미용과 두뇌영양에 좋습니다.
(크기 : 22cm 내외 / 무게 130g 내외)
위생적이고 안전하게 담아 얌전한 부직포 가방에 보내드리오니 선물용으로도 훌륭합니다.
Nutritions
영양가득한 반건조생선의 특징!
생선을 건조하게 되면 비린내는 덜해지고, 쫄깃한 식감은 살아나며, 생선 특유의 풍미가 풍성해집니다. 각종 영양소가 배가되는 것은 물론이죠.
우리 선조들의 지혜가 담기고 명인의 손길이 담긴 정통 반건조생선을 맛보세요!
How to Use
꾸덕하게 반건조되어 취급과 조리가 간편합니다!
깨끗하고 위생적으로 반건조하여 별도의 간 없이 굽거나 찌면 됩니다. 반건조생선 특유의 꾸덕하고 쫄깃한 맛에 비린내가 나지 않습니다.
후라이팬에 올리브기름 또는 버터와 함께 구우시거나 에어프라이어에 180도 15분 정도 구우시면 겉바속촉의 맛있는 생선구이를 즐기실 수 있으며, 조림으로 드셔도 아주 좋습니다. 특히 찜으로 드시면 육질이 부서지지않아 더욱 촉촉하게 쫄깃하게 드실 수 있습니다.
❉ 해동방법 : 포장상태에서 차가운 물에 담가두시거나, 조리하기 3시간 전 냉장실에 두어 자연해동시킵니다.
Verified Quality
KBS '한국인의 밥상'에 방영!
2023년 2월 23일, KBS '한국인의 밥상'에 최불암 선생의 구수한 나레이션으로 방영되었습니다.
네이버스토어에서 1만2천리뷰로 인기리에 판매중인 상품입니다.
California Proposition 65
WARNING: Consuming this product can expose you to chemicals including lead and cadmium which are known to the State of California to cause cancer and birth defects or other reproductive harm. For more information go to www.p65Warnings.ca.gov/food
Shipping Information
Refund Policy
Exchange or refund requests must be made within 7 days of receiving your product and should be initiated by contacting us through email (help@wooltariusa.com) or phone (310-933-8648) with a photo.
Please note that exchange or refund requests made on review boards or other platforms are not accepted.
A 30% restocking fee plus shipping charges apply for returns due to a change of mind, and refunds are not available for non-defective refrigerated/Korea-US direct delivery items.