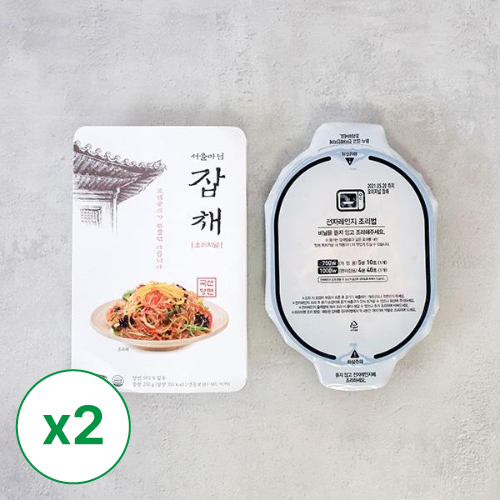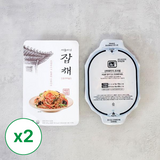 [Rodem Food] Seoul Madam Stir-fried Glass Noodles 250g x 2
Lightning Fresh
Free shipping on Lightning Delivery items over $169
[Rodem Food] Seoul Madam Stir-fried Glass Noodles
Seoul Madam's stir-fried glass noodles are made with a generous mix of ingredients like onions, eggs, carrots, and mushrooms so that you can easily enjoy it at home using just a microwave without having to tediously make it from scratch. It is quick and easy to prepare, but boasts a chewy and moist taste as if just prepared.
How to Use
Simple Preparation Method
Microwave Preparation Method
Remove the paper packaging (do not remove the plastic)
Heat in the microwave for 5 minutes 10 seconds. (Do not be alarmed even if the product packaging inflates, as the packaging will swell and then the steam will be released and sink.)
Remove the plastic packaging. Be careful as it is very hot.
Mix in the glass noodles with the sauce evenly.
Preparation tip: Due to the nature of the steam pack container, broth may come out of the garnished vegetables and vermicelli during the microwave cooking process, so please make sure to mix the seasoned broth evenly with the noodles and garnished vegetables to make it more palatable.
Fry Pan Preparation Method
After heating in the microwave for 3 minutes, add oil to a heated pan and mix the glass noodles thoroughly for a delicious taste.
Verified Quality
HACCP Food Safety Management Certification and Thorough Metal and Foreign Substances Detection Management
Rodem Food is a food safety management certified company that has been certified by HACCP for the quality and safety of raw material production, manufacturing, processing, and distribution stages, and does its best to ensure quality and protect customer's safety with in-depth detection and management.
Premium Ingreidents
Glass noodles packed with various domestic ingredients
Domestic noodles
Domestic onions
Domestic eggs
Domestic carrots
Domestic mushrooms
Domestic green onions
Domestic sea salt
California Proposition 65
WARNING: Consuming this product can expose you to chemicals including lead and cadmium which are known to the State of California to cause cancer and birth defects or other reproductive harm. For more information go to www.p65Warnings.ca.gov/food
| | |
| --- | --- |
| Allergy Info | This product is manufactured in the same manufacturing facilities as products using milk, buckwheat, peanuts, mackerel, shrimp, pork, peach, tomato, sulfurous acids, walnuts, beef, squid, and pine nuts. Contains egg, soybean, wheat, crab, chicken, shellfish (oyster) |
| Manufacturer | Rodem food |
| Origin | Pocheon-si, Gyeonggi-do |
| Ingredients | Vermicelli (domestic/sweet potato starch, chitosan), onion (domestic), sugar, egg (domestic), carrot (domestic), oyster mushroom (domestic), spinach (domestic), sauce, brewed soy sauce, sesame oil, vegetable oil, garlic , Wood ear mushroom, sodium L-glutamate (flavor enhancer), complex seasoning, sesame, sea salt, pepper |
355kcal per 250g
* 1 day nutrient
ratio to reference value
sodium 720mg
36%
61g carbohydrate
19%
12g of saccharide
12%
10g fat
19%
0g transfat
1.8g saturated fat
12%
115mg of cholesterol
38%
protein 6g
11%
* The ratio (%) to the daily nutritional standard is 2,000 kcal, so it may vary depending on the individual's required calories.
Note: 1. Since it has already been frozen, please do not refreeze it after thawing. 2. The green part that you see on the fish cake is a green onion, so you can eat it without concern. 3. If the product is refrigerated, it may deteriorate within the indicated expiration date.
Storage method: Refrigerator storage (1 year from the date of manufacture)

Rodem Food operates food quality control and R&D offices, and holds 25 food-related patents so far. It is a brand that produces products with the promise and belief to make customers happy with healthy food.
Shipping Information
Refund Policy
1. Exchanges and refunds can be requested within 7 days of receiving the product.
2. For exchange or refund request, please contact us through email(help@wooltariusa.com) & phone (310-933-8648) with a photo.
3. If you request an exchange or refund on other boards, such as a review board, exchange or refund is not possible.
4. For simple change of mind, the shipping cost and 30% of the product price will be charged as a restock fee for returns.
5. Refrigerated delivery products and Viscose Rayon products cannot be exchanged or refunded only if there is no defect in the product.
오랜만에 주문해서 먹었는데 맛있어용! 한끼 식사로 딱입니다!
서울마님 잡채 간도 잘 되어있고 맛있어요!!
야채도 꽤 많이 들어있고 신선해요 반찬으로 딱이에요 하신 고객님 리뷰 감사합니다
집에서 하려면 번거로운 잡채를 간편하게 드실 수 있어서 좋아하시는 아이템입니다
저희 울타리몰을 이용해주셔서 감사합니다.
제품구매 감사드리고, 리뷰 포인트 100 적립해 드리겠습니다.
잡채에 만족하신 고객님의 소중한 리뷰에 감사드리며 100포인트 적립해드리겠습니다.
잡채를 아주 맛있게 드셔주신 고객님의 소중한 리뷰,
100포인트 적립해드리겠습니다. 감사합니다.