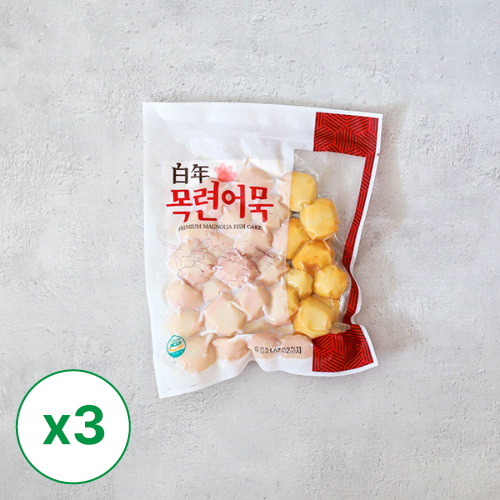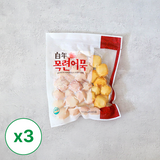 [Seoul Food] Magnolia Fish Premium Onion Ball 200g x 3 Pack
Lightning Fresh
Free shipping on Lightning Delivery items over $169
[Seoul Food] 200g of Magnolia Fish Cake Premium Onion Ball
Magnolia fish cake premium onion balls are made of side dishes, stew, etc., making it easy to eat with the appropriate size that fits the flavor and fits into a bite.
Manufacturing Process
Safe food production process
With fresh raw ingredients that undergo a hygienic production process at scientific automated production facilities, we supply safe fish cakes to large marts, schools, franchises, highway rest areas, and defense agencies all across South Korea.
Verified Quality
HACCP, KS Verified
This product is processed with thorough hygiene management and quality inspection following a Ministry of Food and Drug Safety HACCP verified system. This is a product you can trust as it received the National Standard Certification KS.
Premium Ingreidents
The finest threadfin sea bream and pollack meat
Based on the famous 37-year-old traditional fish cake recipe, this premium product is made with the finest threadfin sea bream and pollack meat. This product takes pride in its chewy texture and doesn't get soggy easily.
California Proposition 65
WARNING: Consuming this product can expose you to chemicals including lead and cadmium which are known to the State of California to cause cancer and birth defects or other reproductive harm. For more information go to www.p65Warnings.ca.gov/food
| | |
| --- | --- |
| Allergy Info | Contains wheat, soybeans |
| Manufacturer | Seoul Food |
| Origin | Wonju-si, Gangwon-do |
| Ingredients | Frozen tenderloin (foreign: Vietnam, Myanmar, US/fish meat, D-sorbitol, sugar, sodium polyphosphate, sodium pyrophosphate), wheat flour (wheat-USA, Australia), onion 9.41% (China), soybean oil, refined salt, L -Sodium glutamate (flavor enhancer), D-xylose, white sugar |
96kcal per 50g
* 1 day nutrient
ratio to reference value
sodium 383mg
19%
15g carbohydrate
5%
1.8g of saccharides
2%
1.6g fat
0%
0g transfat
0g saturated fat
6.9mg of cholesterol
2%
protein 5.4g
10%
* The ratio (%) to the daily nutritional standard is 2,000 kcal, so it may vary depending on the individual's required calories.
Note: Due to the high content of fish, it may become dry and tough if left in the freezer for a long time, so please eat it as soon as possible.
Storage Method: Freezer storage

Seoul Food is a specialized company in which quality, technology, and management innovation have become one by acquiring the HACCP system and KS for national standard certification. It has been recognized for its quality with various awards such as the Coal Industry Medal, and is also a social enterprise that continuously donates and supports local social welfare corporations.
Shipping Information
Refund Policy
1. Exchanges and refunds can be requested within 7 days of receiving the product.
2. For exchange or refund request, please contact us through email(help@wooltariusa.com) & phone (310-933-8648) with a photo.
3. If you request an exchange or refund on other boards, such as a review board, exchange or refund is not possible.
4. For simple change of mind, the shipping cost and 30% of the product price will be charged as a restock fee for returns.
5. Refrigerated delivery products and Viscose Rayon products cannot be exchanged or refunded only if there is no defect in the product.
샤브샤브에 넣어먹었는데 너무너무 맛있었습니다 부드러운데 쫄깃쫄깃해요!
생각보다 양이 많아서 꽤 오래 반찬으로 먹었어요~