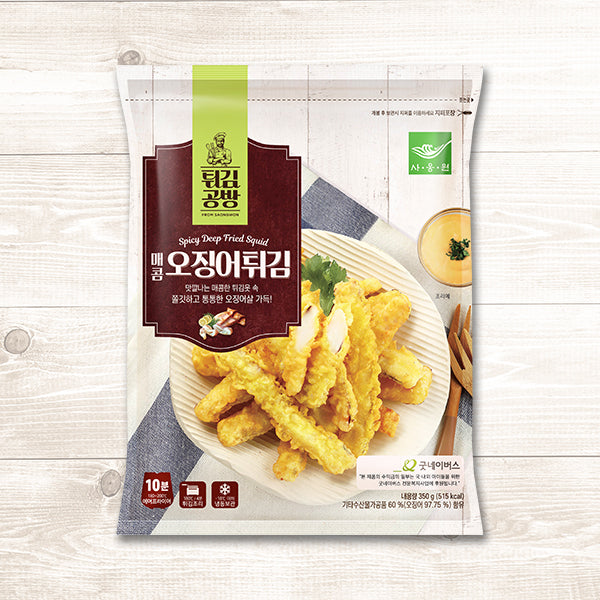 Chewy, Spicy Squid Fried 350g
1 Day shipping
Free shipping on 1 Day shipping items over $169
[Saongwon] Chewy, Spicy Squid Fried 350g
 Thick spicy squid fried!
Now enjoy it easily. It is a premium spicy squid tempura that contains the know -how of various fried cuisine brands. It's crispy on the outside and moisture on the inside, so you can enjoy it for 5 minutes.
Production and Distribution
Fresh ingredients!
The squid is sliced ​​thickly, and the squid's savory is good.
 The spicy seasoning catches the greasiness, so you can eat it even more neatly.
Manufacturing Process
Create clean and safe with quality ingredients!
 Sayonwon adopts the same process as the process you make at home, so you can feel the taste full of sincerity as if you were handmade at home. It's just a moist and crispy taste.
 It is packaged in a zipper bag with a small package, so you can keep it neatly after you can enjoy it.
How to Use
Just heat it up and eat it right away!
 You can simply cook with a frying pan or airfryer with a slight oil without the cumbersome cooking process.
 Enjoy the squid tempura that is good for snacks!
California Proposition 65
WARNING: Consuming this product can expose you to chemicals including lead and cadmium which are known to the State of California to cause cancer and birth defects or other reproductive harm. For more information go to www.p65Warnings.ca.gov/food
 The standard of reliable Korean food, Saongwon! Based on the traditional Korean dishes, the taste is added to the taste to make a new tradition. We do our best to make it easy to eat in home.
Shipping Information
Refund Policy
Exchange or refund requests must be made within 7 days of receiving your product and should be initiated by contacting us through email (help@wooltariusa.com) or phone (310-933-8648) with a photo.
Please note that exchange or refund requests made on review boards or other platforms are not accepted.
A 30% restocking fee plus shipping charges apply for returns due to a change of mind, and refunds are not available for non-defective refrigerated/Korea-US direct delivery items.
오징어가 엄청 실하고 에어프라이어에 해먹으니 편하고 너무 좋아요
3박 4일의 긴 여정으로 당연히 해동됐음.
금요일 불금으로 손주가 친구들과 왔길래, 온도 낮춰 에어프라이어에 구워줌. 섭취 후 별 일 없었으니, 배송 지연에 대한 보상청구는 별도로 하지않음.
푹 쉰 채 도착한 황진담 김치는 고객센터로부터 $ 33.56 적립 도움 받음.