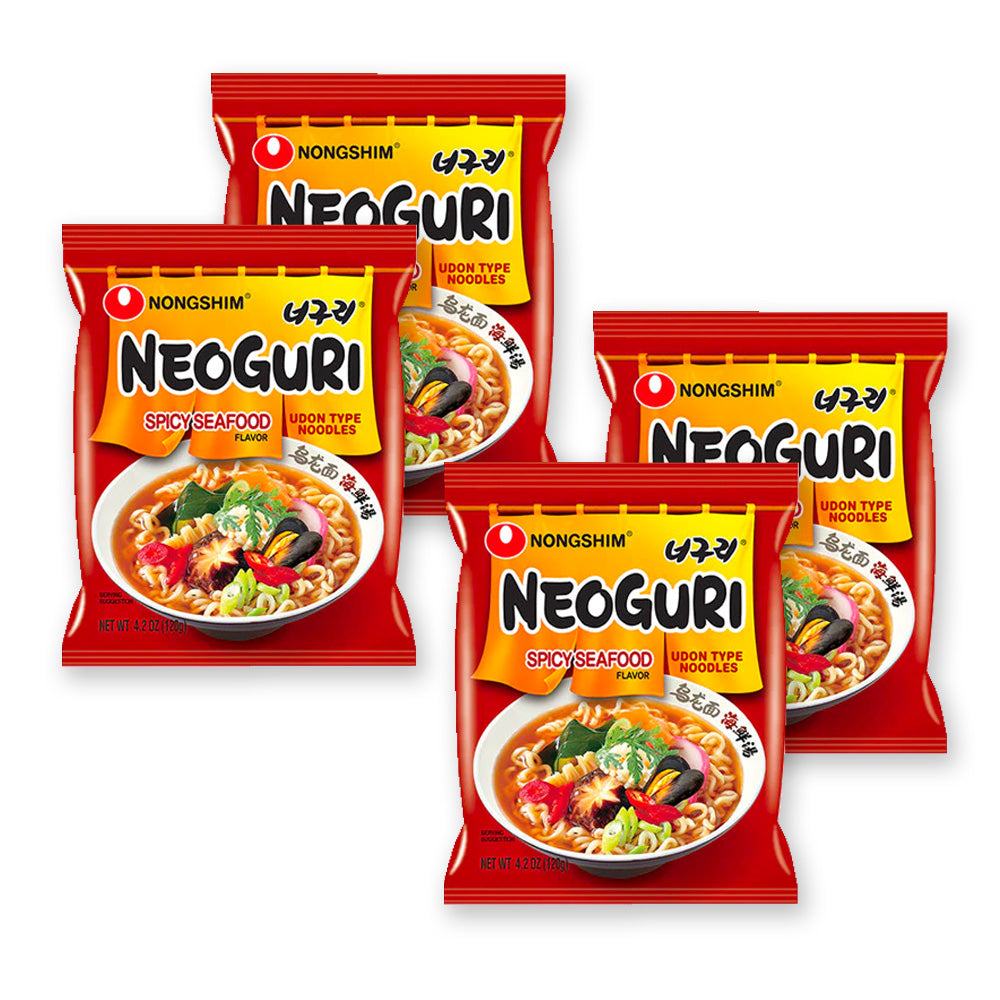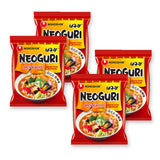 Neoguri Ramen Multi Pack (120g x 4)
Lightning Fresh
99 Delivery
Free shipping on Lightning Delivery items over $169
Free shipping on 99 Delivery items over $99
[Nongshim] Neoguri Ramen Multi Pack (120g x 4)
It is characterized by a thicker noodle than normal ramen. Nongshim's first development of ramen is the best product for people who like noodles. The chubby noodles of raccoons that are well combined with seafood broth are one of the best products that Nongshim are proud of.
How to Use
Chewy, plump, spicy Neoguri
The combination of the spicy and cool seafood-based soup flavor and plump noodles is amazing. Made by Nongshim, the king of ramen, it is delicious anytime, anywhere.
California Proposition 65
WARNING: Consuming this product can expose you to chemicals including lead and cadmium which are known to the State of California to cause cancer and birth defects or other reproductive harm. For more information go to www.p65Warnings.ca.gov/food
| | |
| --- | --- |
| Allergy Info | Contains egg, milk, soybean, wheat, crab shrimp, pork, beef, squid, and shellfish (including mussels) |
| Manufacturer | Nongshim |
| Origin | Korea |
| Ingredients | Noodles/wheat flour (wheat: Australia), potato starch (Germany), palm oil (Malaysia), modified starch, vegetable oil, eggshell calcium, refined salt, seafood paste, gluten peptide, noodles added alkali agent (acidity regulator), mixed preparation (acidity regulator), oligo green tea flavor liquid, vitamin B2 soup/refined salt, mussel extract base powder, mussel extract powder, seafood vegetable powder, seasoning seasoning, refined white sugar, mussel jjambbong base, seafood mixture powder, stir-frying seasoning, glucose, Freeze-dried raw red pepper powder, disodium succinate, pepper powder, garlic base, seasoned amino acid, soy sauce powder, complex seasoned soy sauce powder, onion flavor powder, chili flavor powder, squid flavor powder, anchovy seasoning powder, 5'-ribonucle Tied disodium, powdered caramel (caramel pigment, starch syrup powder), spicy seasoning powder, dried seaweed, squid flavor flakes, dried carrots, dried kelp |
250 kcal per 60g
* 1 day nutrient
ratio to reference value
sodium 880mg
37%
42g carbohydrate
14%
2g saccharides
fat 7g
11%
0g transfat
3.5g saturated fat
0mg cholesterol
0%
protein 4g
The ratio (%) to the **1-day nutritional standard is based on 2,000 kcal, so it may vary depending on the individual's required calories.

Nongshim, which started from the heart of a farmer, is a leading K-food company, leaping beyond the domestic market to become a global food culture creative company with the vision of 'making the world happy with a healthy table'.
Shipping Information
Refund Policy
Exchange or refund requests must be made within 7 days of receiving your product and should be initiated by contacting us through email (help@wooltariusa.com) or phone (310-933-8648) with a photo.
Please note that exchange or refund requests made on review boards or other platforms are not accepted.
A 30% restocking fee plus shipping charges apply for returns due to a change of mind, and refunds are not available for non-defective refrigerated/Korea-US direct delivery items.
항상 먹는 너구리~ 멀티팩인데 한개씩 개별로 네 개 옵니당
굳이 리뷰를 해야하나 싶네요, 아는맛이 젤 무서운 법이죠 ㅋㅋㅋ
너구리는 물이나 산소 같은거이지요.