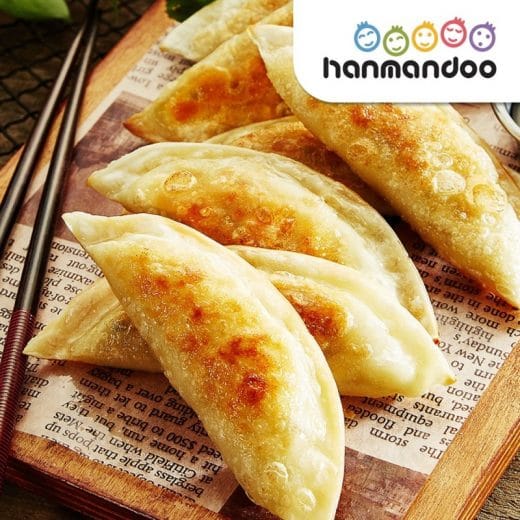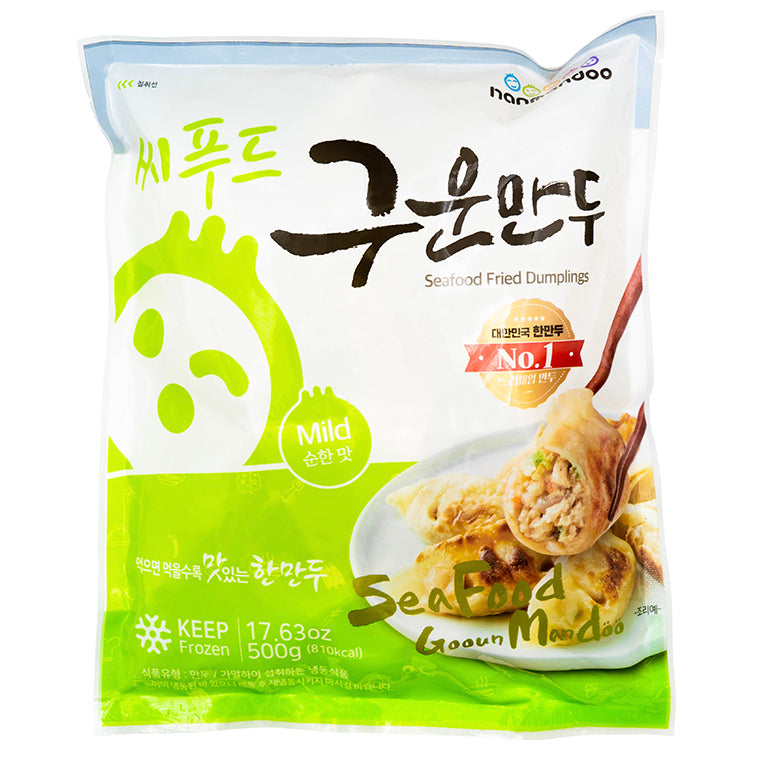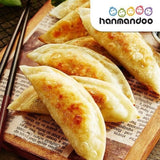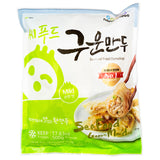 Seafood baked dumplings (mild) 500g
1 Day shipping
Free shipping on 1 Day shipping items over $169
[Hanmandoo] MILD SEAFOOD GOOUNMANDU 500g(20pc)
With fresh seafood and light tofu, you can enjoy the light, clean taste.
Manufacturing Process
Meticulous dumpling manufacturing process 
To ensure good quality, each raw material is selected and washed to remove foreign substances, and then the inside and skin of the dumplings are well blended to create delicious dumplings so that the taste and aroma can harmonize well.

How to Use
Super Delicious Mandu Recipe
1. Cooking in a steamer
1. When the water boils, put the dumplings in a steamer and steam for 8 minutes.
Tip: Once the dumplings have been steamed, soak them once more in cold water to reduce stickiness and make consumption much more convenient.
2. Microwave preparation
1. Fill a microwave-safe dish with water 1/3 of the height of the dumplings, put no more than 6 dumplings and cover with plastic or wrapping.
2. Heat in the microwave for 2 minutes, then change the placement of the cold and hot dumplings.
3. Heat for an additional minute and consume if there are no more cold dumplings.
Tip: The dumpling will become hard if you heat it without any water. Be careful not to get burnt when taking out the dish from the microwave and removing the plastic/wrap.
Verified Quality
HACCP, KS certification
Reliable with HACCP certification for strict hygiene. As a manufacturer with KS certification from the Korean Standards Association, you can trust the quality.

California Proposition 65
WARNING: Consuming this product can expose you to chemicals including lead and cadmium which are known to the State of California to cause cancer and birth defects or other reproductive harm. For more information go to www.p65Warnings.ca.gov/food
| | |
| --- | --- |
| Allergy Info | This product contains eggs (poultry), milk, buckwheat, peanut, wheat, mackerel, shrimp, pork, peach, tomato, sulfurous acid, walnut, chicken, beef, squid, shellfish (including oyster, abalone, mussel), soybean, Manufactured in the same manufacturing facility as products using crab. |
| Manufacturer | Hanmandoo |
| Origin | Yangju, Gyeonggi-do |
| Ingredients | |
164 kcal per 100 g
*Nutrition per day
Ratio to Baseline
Salt 355mg
18%
Carbohydrates 18g
5%
Sugar 2g
2%
Fat 9g
16%
Transfat 0g
Saturated fat 1g
7%
Cholesterol 11mg
Protein 6g
Storage Method: Freezer storage below -18℃.
"

Hanmandoo is a dumpling specialty company that has come a long way for the past 20 years. The quality was recognized by winning the first place in the Korea Consumer Satisfaction Index for three consecutive years.
Shipping Information
Refund Policy
Exchange or refund requests must be made within 7 days of receiving your product and should be initiated by contacting us through email (help@wooltariusa.com) or phone (310-933-8648) with a photo.
Please note that exchange or refund requests made on review boards or other platforms are not accepted.
A 30% restocking fee plus shipping charges apply for returns due to a change of mind, and refunds are not available for non-defective refrigerated/Korea-US direct delivery items.
맛있어요. 군만두, 만두국, 짠만두 ..뭘만들어먹어도 맜있어요.
감칠맛이 있고 맛있어요. 재구매 의사 있습니다.
구운 만두로 먹으면 최고로 맛있고 만둣국으로 먹어도 맛있어요. 세일할 때마다 구매합니다.
일본교자 저리가라로 맛있는 해물군만두 맛있어요
늘 구매한답니다
매운맛이 품절이라 마일드로 시켜보았어요~ 맛있지만 매운거좋아하는 저는 스파이시가 더 맛있는거같아요~