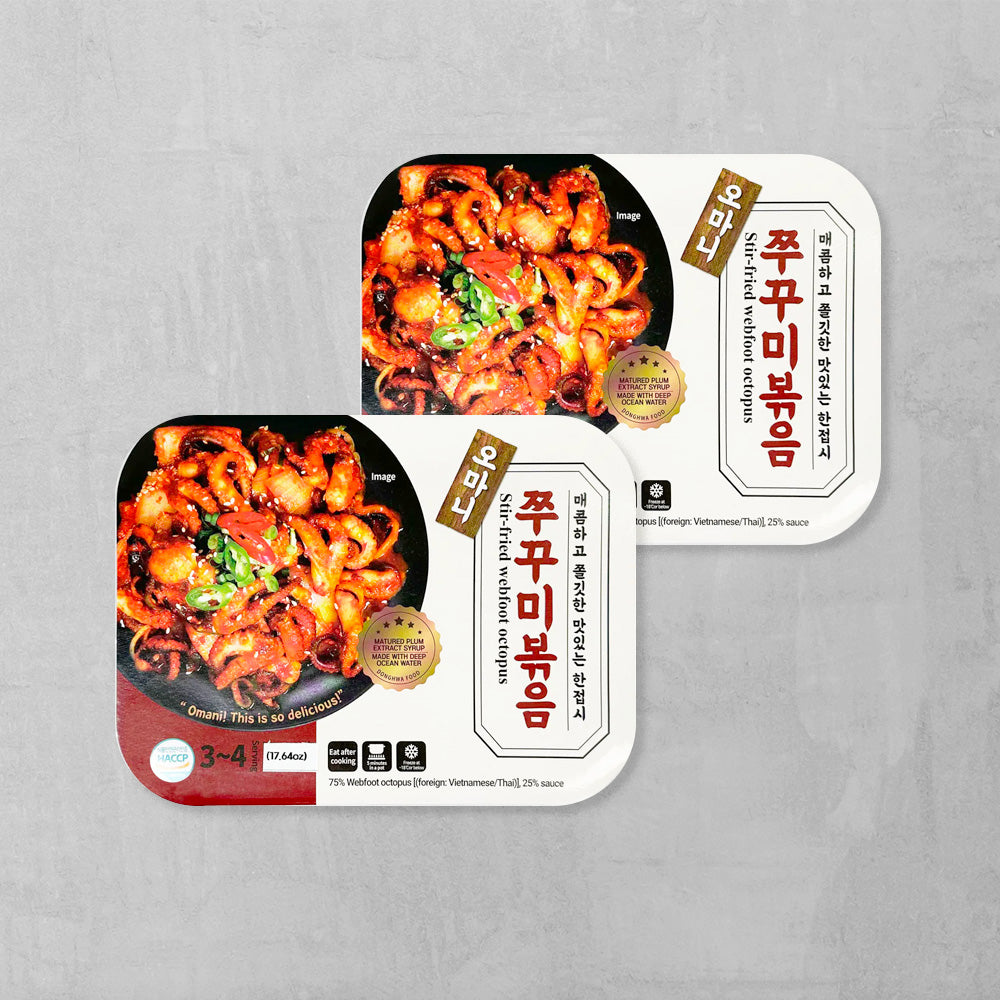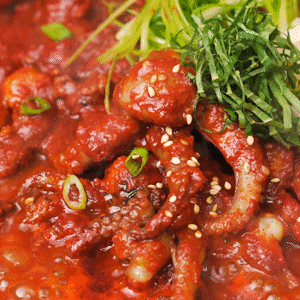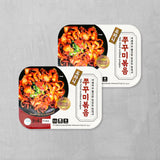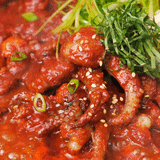 Omani Stir fried Webfoot Octopus(Jjuggumi) 500g x 2 packs
1 Day shipping
Free shipping on 1 Day shipping items over $169
[Fairy Tale Food] Omani Zukkumi Stir
Omani Zukkumi Stir -fry is a sweet and sour product made of fresh squash and deeply marine water and plum blue.
Manufactured Environment
Sokcho, Gangwon-do, famous for its gourmet cuisine
This premium product is reputed to be the best in Sokcho, Gangwon-do, the home of gourmet food.
Manufacturing Process
A conventionally hygienic manufacturing process
All products are 100% handmade instead of relying on mass machine work, so you can truly taste the love and care put into making each product. Hygienically made and free of additives, it has a deep flavor that's not too salty or sweet.
Nutritions
Relieves fatigue and reduces cholesterol levels
Webfoot octopus contains a large amount of unsaturated fatty acids such as DHA, which can effectively reduce blood cholesterol levels and large amounts of taurine, which is good for fatigue relief.
Exclusive Contract
American exclusive brand
Dongwha Food products produced in Sokcho-si, Gangwon-do are the U.S. exclusive brand of Wooltari Mall.
California Proposition 65
WARNING: Consuming this product can expose you to chemicals including lead and cadmium which are known to the State of California to cause cancer and birth defects or other reproductive harm. For more information go to www.p65Warnings.ca.gov/food
| | |
| --- | --- |
| Allergy Info | Squid, plum, ginger, sesame seeds, peanuts |
| Manufacturer | Donghwa Food |
| Origin | Sokcho city of gangwon-do |
| Ingredients | Webfood octopus [(foreign: Vietnam/Thailand)] 75%, seasoning 25% [red pepper paste (red pepper powder, wheat rice, starch syrup, purified water, refined salt), red pepper powder, deep sea water concentrate (domestic), garlic, plum syrup, brown sugar, oligosaccharide , ginger, sesame oil, roasted sesame seeds, peanut powder, L-sodium glutamate, black pepper powder] |
230kcal per 100g
* 1 day nutrient
ratio to reference value
sodium 740mg
37%
27g carbohydrate
8%
12g of saccharide
fat 2g
4%
0g transfat
0.2g saturated fat
1%
60mg of cholesterol
20%
protein 12g
The ratio (%) to the **1-day nutritional standard is based on 2,000 kcal, so it may vary depending on the individual's required calories.
Storage method: Store in freezer below -18ºC

Dongwha Food contributes to the health of customers with a clean and healthy food culture. We make various efforts to deliver the healthy dining table of Korea to the world with the rich nutrition of seafood harvested from the clean seas of Sokcho.
Shipping Information
Refund Policy
Exchange or refund requests must be made within 7 days of receiving your product and should be initiated by contacting us through email (help@wooltariusa.com) or phone (310-933-8648) with a photo.
Please note that exchange or refund requests made on review boards or other platforms are not accepted.
A 30% restocking fee plus shipping charges apply for returns due to a change of mind, and refunds are not available for non-defective refrigerated/Korea-US direct delivery items.
잘 익히지 않으면 비린내 나는 것들이 있어요.
전체적으로 쭈꾸미 크기가 컸고 양념이 맛있네요.
양념이 많아서 야채랑 삼겹살 등 추가하기 좋아요.
매콤한 맛에 잘 먹었습니다.
쭈꾸미 크기도 실하고 신선해요 양념이 정말 맛있어요. 양이 많아서 국수 삶아서 비벼도 충분할만큼 넉넉해요. 야채 좀 넣고 저는 설탕도 조금 넣어줬어요. 제입맛에는 단맛이 적어서..
쭈꾸미 너무맛있어요 대패삼겹살 같이먹으면 진짜 최고에요