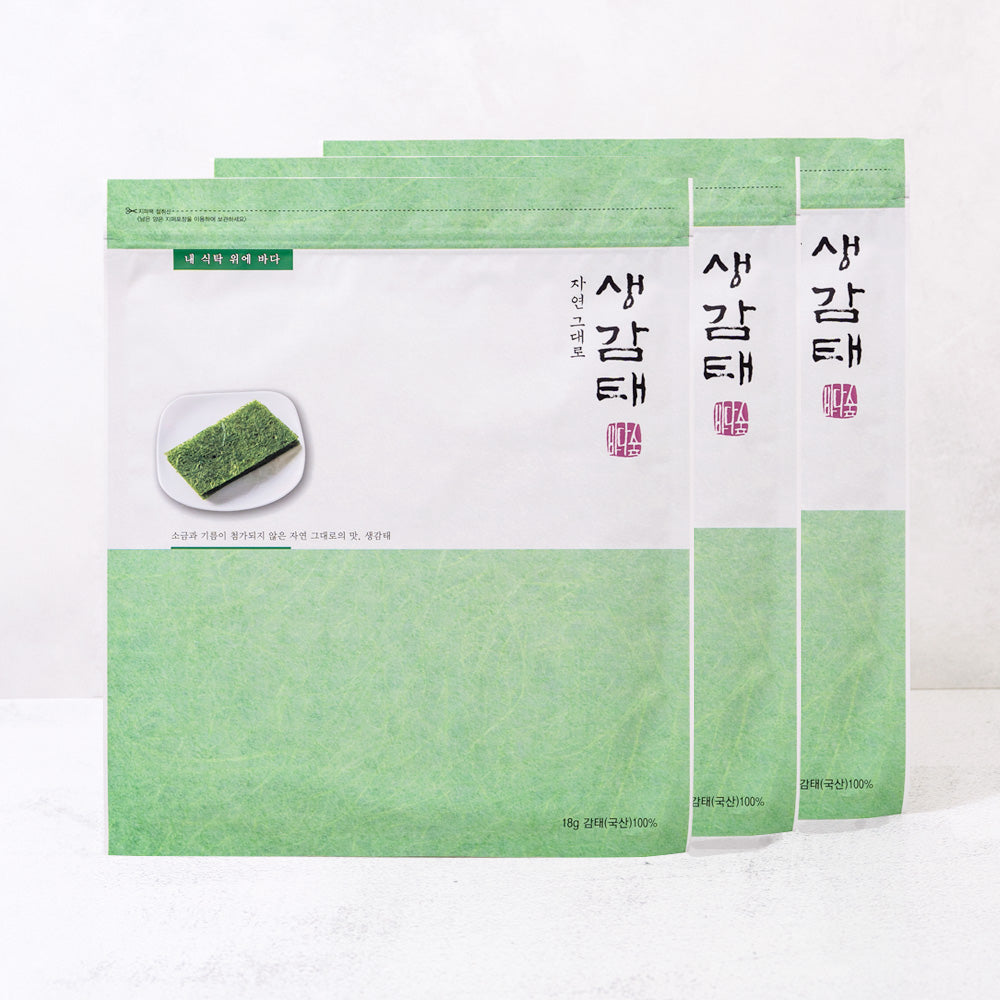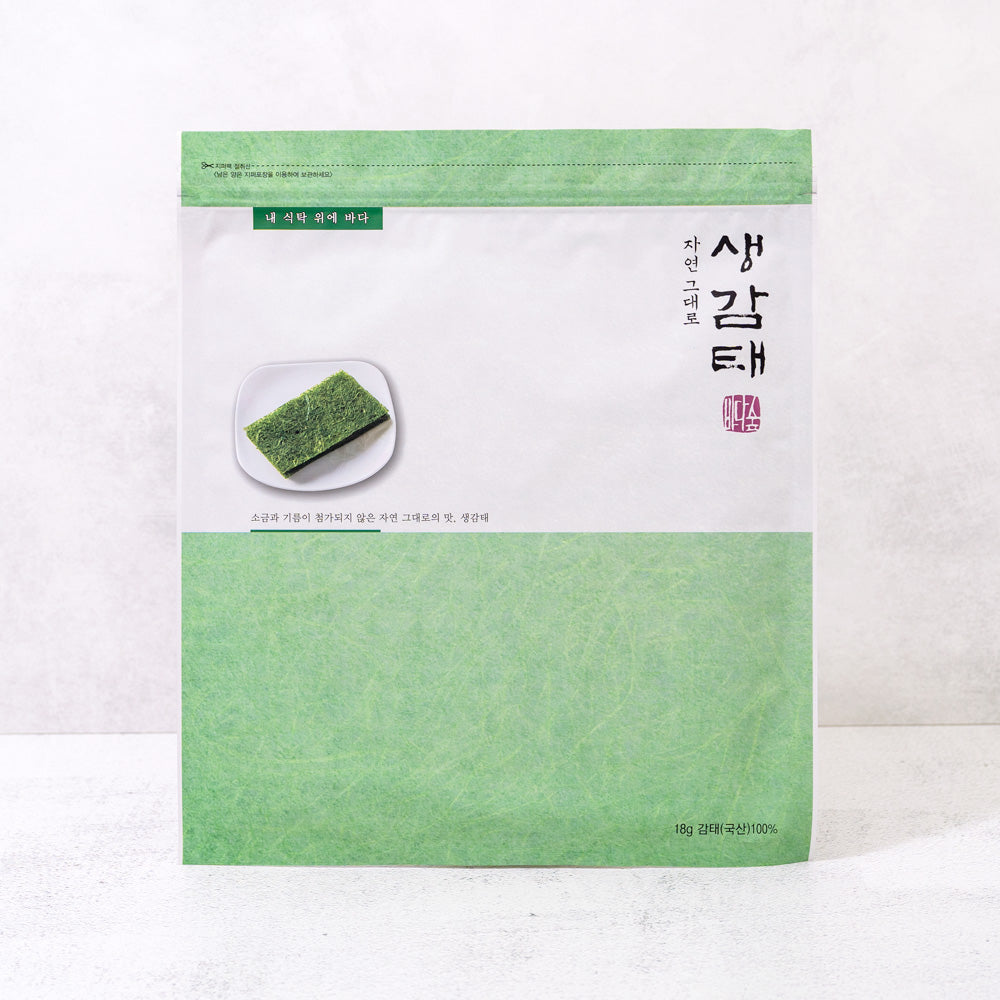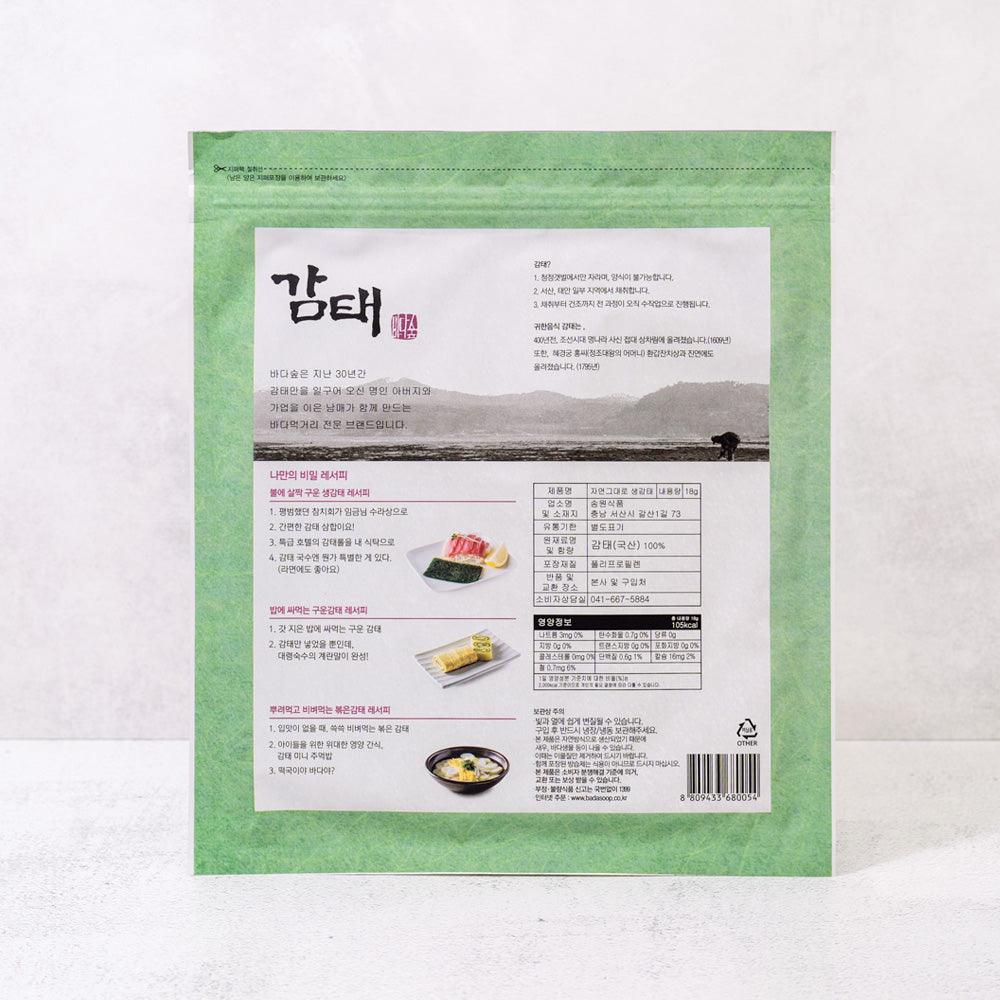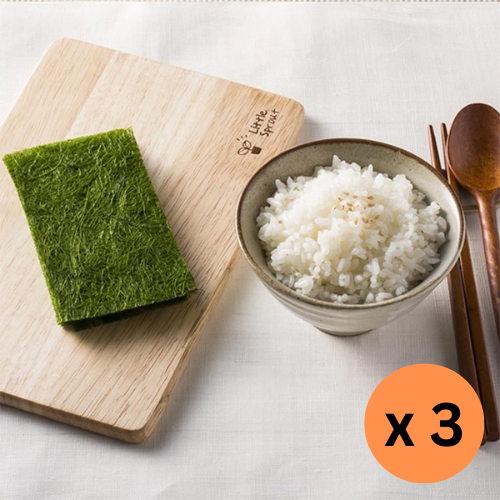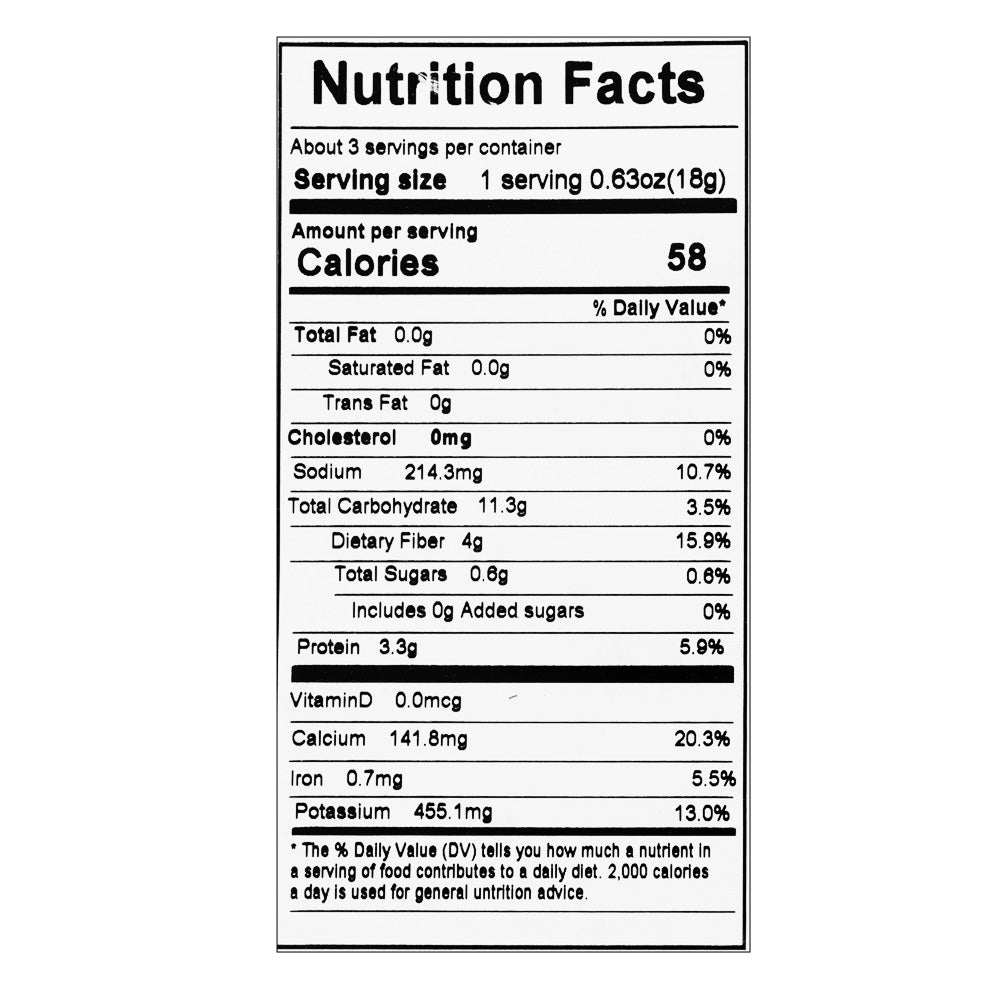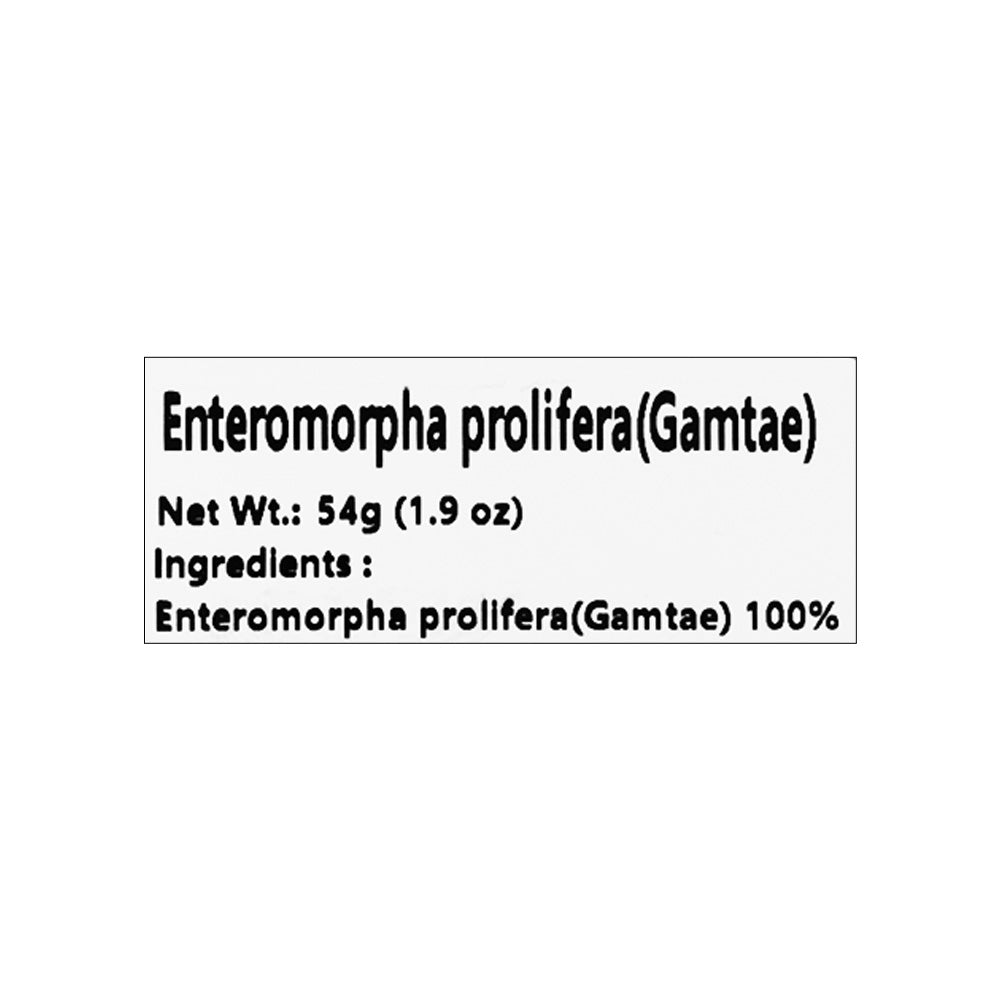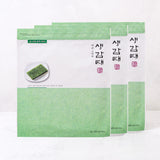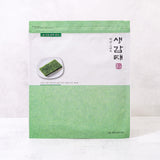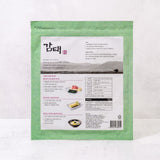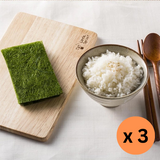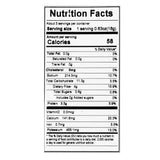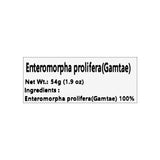 [Sea Forest] Natural [Raw Same] (18g (8 sheets) x 3 peaks)
Lightning Fresh
Free shipping on Lightning Delivery items over $169
[Sea Forest] Nature
It is a natural product made without any additives such as oil and salt in a well -dried 100% natural sensation.
Manufactured Environment
Garorim Bay, Seosan-si, Chungcheongnam-do
Seosan's Garorim Bay ranks at Korea's top 25% marine ecosystem health level, and was designated as the only marine protection zone of the country in 2018. The raw materials of Sea Forest are collected from areas where natural ecology is protected.
Production and Distribution
Production and distribution process directly managed by artisans
From winter mudflats of December to March, only the softest parts of Ecklonia are hand-picked and washed with clear water to remove all the salt and mud. Afterward, the clean Ecklonia is evenly spread into molds using a water scrubbing method and dried well in the sunlight and sea breeze.
Verified Quality
Ecklonia master certificated, HACCP authentication
Certified by Song Cheol-soo, the first and only Ecklonia master of Korea, and sea forest top quality Ecklonia products are produced through a manufacturing system with HACCP certification.
California Proposition 65
WARNING: Consuming this product can expose you to chemicals including lead and cadmium which are known to the State of California to cause cancer and birth defects or other reproductive harm. For more information go to www.p65Warnings.ca.gov/food
| | |
| --- | --- |
| Allergy Info | Ecklonia |
| Manufacturer | Songwon Food (Sea Forest) |
| Origin | Seosan-si, Chungcheongnam-do |
| Ingredients | Ecklonia cava (domestic) 100% |
105kcal per 18g
* 1 day nutrient
ratio to reference value
three milligrams of sodium
0%
0.7g carbohydrate
0%
saccharide 0g
fat 0g
0%
0g transfat
0g saturated fat
0mg cholesterol
0%
protein 0.6g
1%
* The ratio (%) to the daily nutritional standard is 2,000 kcal, so it may vary depending on the individual's required calories.
Storage Method: Refrigerator/Freezer Storage

Sea Forest started in 1980 when the seaweed called Gamtae was unfamiliar. Sea Forest is the best in Korea when it comes to Ecklonia and is aa premium seafood brand. We provide natural ingredients unique to Garorim with the scent of the sea. We provide precious, hand-crafted food with great care.
Shipping Information
Refund Policy
1. Exchanges and refunds can be requested within 7 days of receiving the product.
2. For exchange or refund request, please contact us through email(help@wooltariusa.com) & phone (310-933-8648) with a photo.
3. If you request an exchange or refund on other boards, such as a review board, exchange or refund is not possible.
4. For simple change of mind, the shipping cost and 30% of the product price will be charged as a restock fee for returns.
5. Refrigerated delivery products and Viscose Rayon products cannot be exchanged or refunded only if there is no defect in the product.
궁금해서 시켜봤어요 향이 독특하니 한번 먹어볼만한테 개인적으로는 가격대비 곱창김이 더 맛있는거같아요 그래도 제품은 포장 잘 되있고 퀄리티 좋아보여요
OMG! It is so delicious. I will buy this whenever this goes on sale.
김밥과는 또다른 느낌이네요
맛나고 좋아요
비싼게 문제죠 ㅠㅠ
감태 정말 먹어보고 싶었는데 주변 한국 마켓에서는 못 찾았어요. 기대됩니다!
또 주문했어요. 이젠 중독 인듯..
이제는 감태가 밥상위에 없으면 너무 아쉬워요
처음 사서먹는 감태!! 맛있었어요! 해조류의 끝판왕!! 고기에 싸먹으니 최고!
김과는 또 다른 고급진 맛이예요. 옷감으로 치면 일반 김은 면, 감태는 실크라고나 할까? 처음 본 맛인데 젓갈넣어 싸 먹으니 참 좋아요
건강한 맛인건 알겠지만 너무 쓴맛이 강해서 식구들이 별로 먹지 않더군요.
어떻게든 활용해보고자 죽을 끓일때 뜯어넣어 봤는데 대박이였어요.
그때 이후로 계속 죽 끓일때 써요.
아이들도 좋아하고 남편은 전복죽 맛이 난다고 신기해하네요.
식어도 맛있어요. 쓴맛 전혀 안나고요
함께 쓴 육수 한알이 큰 역할을 한것 같지만 :) 혹시 쓴맛 때문에 못드시는 분들 이렇게 드시면 고~급 죽을 맛보시게 될거예요
바다숲 자연 그대로 생감태 건강한 감태 죽으로 드셨는데 대박이였어요 하시니 감사드립니다
아이들도 좋아하고 남편분도 전복죽 맛이 난다고 신기해 하시니 식어도 맛있어요 쓴맛도 전혀 안나고요 하셔서 감사합니다
감태가 깊은 맛을 제대로 즐기셔서 감사합니다
대박 대박!! 꼭 먹어봐야하는 맛.. 가격 신경 안쓰이는 맛/촉감 입니다.
따끈한 흰밥에 싸서 명란젓 한조각 올려서 먹었는데 배불러도 더 먹고 싶을정도 입니다.
이것도 담에는 3팩 구매 각 이네요. 혼자서 두장은 기본인데 한팩에 8x3 이라..
구운감태도 또 다른 맛이라는데 담엔 구운것도 먹어봐야겠어요.