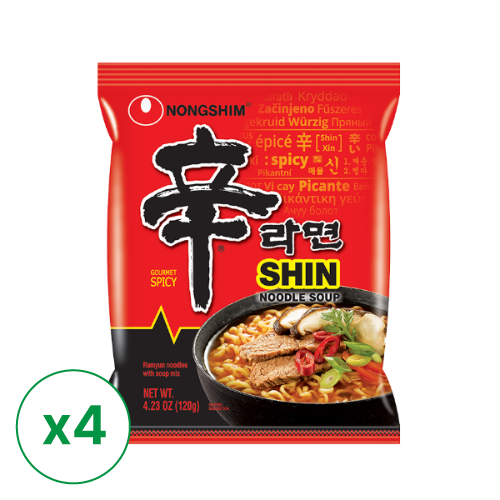 Shin Ramen Multi Pack (120g x 4)
1 Day shipping
Ground shipping
Free shipping on 1 Day shipping items over $169
Free shipping on Ground shipping items over $99
[Nongshim] Shin Ramyun
Shin Ramen's unique spicy and spicy broth tastes a special soup made by adding specialized peppers, shiitake mushrooms, gunpa, garlic, etc. This harmony makes it taste spicy and refreshing.
How to Use
Nongshim Shin Ramyun that makes even the manliest man cry
If you are a person who enjoys anything spicy and hot, go with Shin Ramyun, the essence of clean spicy taste.
Verified Quality
The secret to the taste of Shin Ramyun that you didn't know?
The chewy yet soft noodles create a subtle harmony with the spicy broth. As soon as the product was released, Shin Ramyun's popularity exploded. When you first taste the spicy flavor, you may be surprised, but as you sweat, you will feel refreshed. Although the spiciness of Shin Ramyun is lower than that of red peppers around the world, it has become a representative taste of Korea by cooking beef, mushrooms, and carrots together. The Chinese character "辛" on the wrapping paper also means spicy.
California Proposition 65
WARNING: Consuming this product can expose you to chemicals including lead and cadmium which are known to the State of California to cause cancer and birth defects or other reproductive harm. For more information go to www.p65Warnings.ca.gov/food
| | |
| --- | --- |
| Allergy Info | Contains wheat, soybean, pork, eggs, and beef |
| Manufacturer | Nongshim |
| Origin | Korea |
| Ingredients | Noodles/wheat flour (wheat: American, Australian), potato starch, palm oil (Malaysia), modified starch, eggshell calcium, refined salt, vegetable seasoning extract, noodles added alkali agent (acidity regulator), mixed preparation (acidity regulator), oligo green tea flavor Liquid, vitamin B2 soup/refined salt, beef flavor base, broth seasoning base, stir-fry seasoning, seasoned beef powder, refined sugar, seasoned amino acid soy sauce powder, seasoned red pepper powder, disodium succinate, black pepper flavor powder, beef bone seasoning powder, Seasoned yeast powder, chili flavor powder, garlic fermented seasoning powder, soybean powder, garlic base, seasoned amino acid, soy sauce powder, complex seasoning soy sauce powder, onion flavor powder, chili flavor powder, fermented shiitake seasoning powder, yeast seasoning powder, 5'- Ribonucleotide disodium, powdered caramel (caramel pigment, starch syrup powder), spicy seasoning powder, dried carrot, dried red pepper, dried green onion, dried shiitake mushroom, ginger extract powder, shiitake mushroom powder |
505 kcal per 120g
* 1 day nutrient
ratio to reference value
1,790mg of sodium
90%
80g carbohydrate
24%
saccharide 4g
fat 16g
31%
0g transfat
8g saturated fat
0mg cholesterol
0%
10g protein
* The ratio (%) to the daily nutritional standard is 2,000 kcal, so it may vary depending on the individual's required calories.

Nongshim, which started from the heart of a farmer, is a leading K-food company, leaping beyond the domestic market to become a global food culture creative company with the vision of 'making the world happy with a healthy table'.
Shipping Information
Refund Policy
Exchange or refund requests must be made within 7 days of receiving your product and should be initiated by contacting us through email (help@wooltariusa.com) or phone (310-933-8648) with a photo.
Please note that exchange or refund requests made on review boards or other platforms are not accepted.
A 30% restocking fee plus shipping charges apply for returns due to a change of mind, and refunds are not available for non-defective refrigerated/Korea-US direct delivery items.