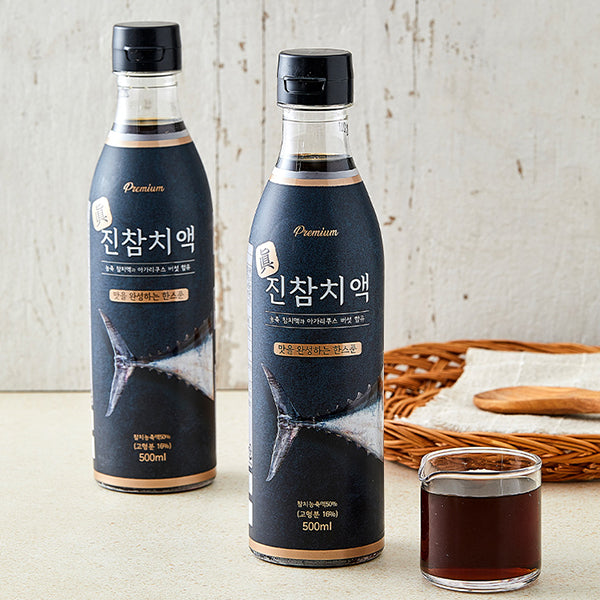 Lightning Fresh
99 Delivery
Free shipping on Lightning Delivery items over $169
Free shipping on 99 Delivery items over $99
[Seorim] 500ml
The rich rich taste that enhances the dignity of cooking!
Try the deep taste of cooking with 'Jinjamchi liquid' in various dishes such as broth, stew, stew, and fried. It is a premium tuna solution that is elaborate with the know -how of Seorim Food, which has made tuna for a long time.
The rich tuna concentrate is the main ingredient, and it has a luxurious and rich flavor. In addition to the mushrooms, we added Agaricus mushroom, one of the best mushrooms, to catch tuna's unique smoking and catch and make it more neat.
How to Use
Now a staple in every household.
If you reduce the amount of soy sauce and salt and add a spoonful of tuna sauce to various soup dishes, a refreshing and deep-tasting soup dish is completed. You can enjoy it deliciously by adding a spoonful of this sauce instead of salt to steamed, stewed, stir-fried or stewed dishes.
Premium Ingreidents
Made with domestic vegetables and high-quality fish along with premium brewed dashi
Agaricus mushroom, domestic kelp, radish, onion, perch is a high-quality fish of the kebab family.
California Proposition 65
WARNING: Consuming this product can expose you to chemicals including lead and cadmium which are known to the State of California to cause cancer and birth defects or other reproductive harm. For more information go to www.p65Warnings.ca.gov/food
| | |
| --- | --- |
| Allergy Info | Contains soybean, wheat |
| Manufacturer | Seorim Foods |
| Origin | Busan metropolitan city |
| Ingredients | Tuna concentrate 50% [solids 16% (tuna: Wonyangsan), tuna concentrate 34%), refined salt 16% (domestic), agaricus mushroom extract 14% (domestic, solid content 0.6%), anchovy kelp extract 12% (solid content 2.5% or more, anchovy (domestic), smoked kelp (originate), kelp, radish, and kelp Onion), brewed soy sauce, flavor enhancer |
5kcal per 15ml
* 1 day nutrient
ratio to reference value
sodium 870mg
38%
0g carbohydrate
0%
saccharide 0g
fat 0g
0%
0g transfat
0g saturated fat
0mg cholesterol
0%
1g protein
* The ratio (%) to the daily nutritional standard is 2,000 kcal, so it may vary depending on the individual's required calories.
Note: Do not use the container if it is deformed, expanded, damaged or the contents are degraded. If you keep it for a long time, there may be crystals of saline, but this is not foreign matter, so you can shake and consume it without concern.
Storage Method: Keep in a cool place to avoid direct sunlight, refrigerate after opening

Seorim Foods has been working hard to make all-purpose seasoning soy sauce that anyone can use easily and simply with healthy ingredients, and as a result, tuna sauce was born. It is a food company that strives to supply healthy and honest products to consumers.
Shipping Information
Refund Policy
Exchange or refund requests must be made within 7 days of receiving your product and should be initiated by contacting us through email (help@wooltariusa.com) or phone (310-933-8648) with a photo.
Please note that exchange or refund requests made on review boards or other platforms are not accepted.
A 30% restocking fee plus shipping charges apply for returns due to a change of mind, and refunds are not available for non-defective refrigerated/Korea-US direct delivery items.
먹다보니 확실히 이제품이 깊고 맛있더라고요!
h마트 온라인에 안팔길래 한국갔을때 사올까 싶었는데
그러기엔 또 무겁고..! 울타리몰에서 잘 샀어요~
국이나 찌개에 넣었을때 확실히 맛이 깊어져요. 나물 무칠때도 아주 좋구요.
유통기한이 내년 10월까지 넉넉해 너무 맘에 들어요. 맛을 뭐 떨어지면 구매하는 제품이라 늘 만족하며 사용하고 있구요. 국 찌개 나물 다양하게 사용하는데 다 잘 어눌리는 제품이예요
국 끓일때 한스푼~ 맛이 달라져요~ 잘쓰고 있는 제품 중 하나예요~
진하지만 짜지않은 맛! 국물요리 간할땨 아주 좋아요👍🏼
울타리에서 처음 구매해 사용해보고, 시중제품으로 사용도 해봤는데,
다시 이제품으로 돌아와 구매했어요.
감칠맛으로 더할 나위 없어요. 국이든 찌개든, 반찬이든.