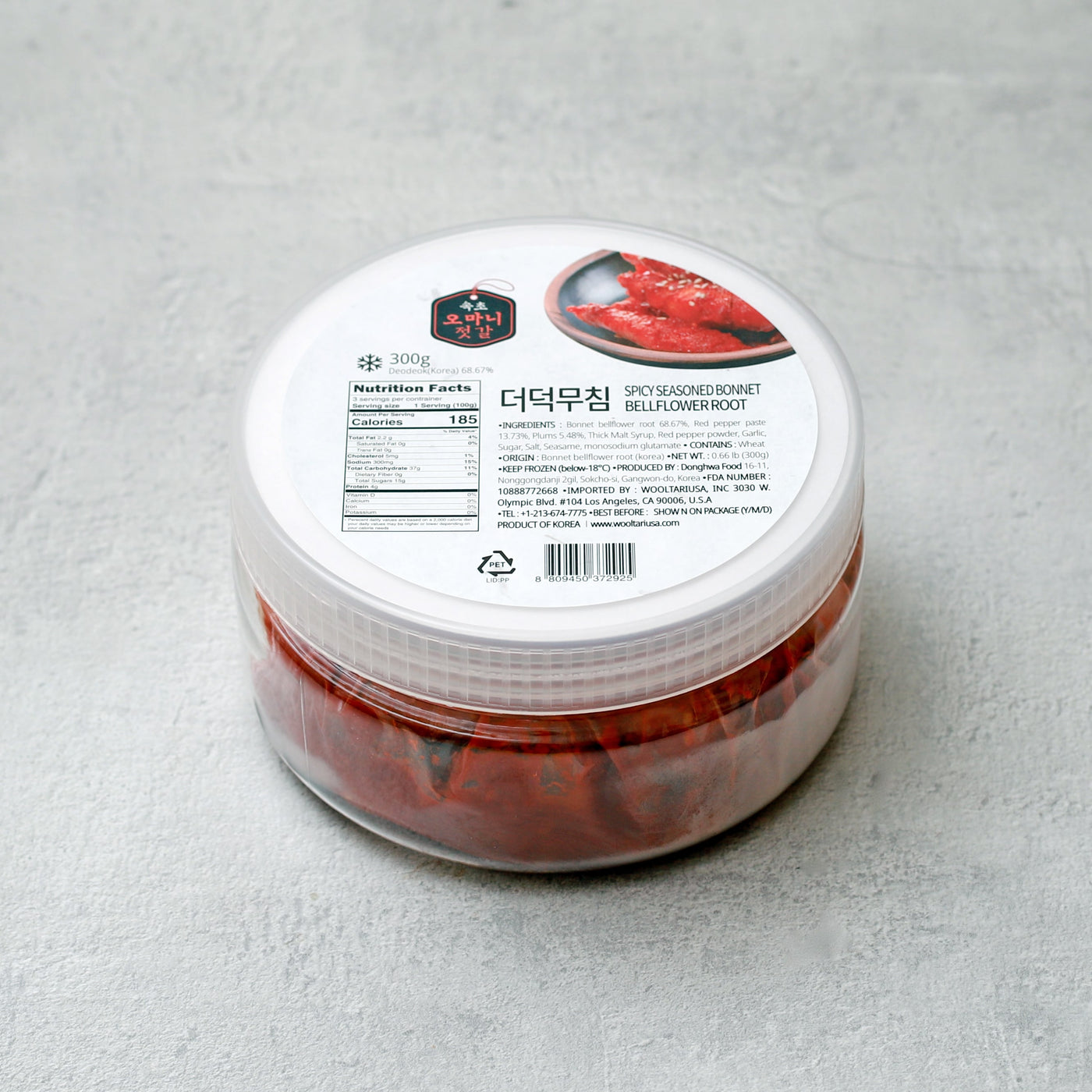 Omani Seasoned Bonnet Bellflower Roots 300g
1 Day shipping
Free shipping on 1 Day shipping items over $169
[Fairy Tale Food] Omani Dudok
Omani Deokduk Up is a product that has a light seasoning of Hoengseongsan Premium Deok.
Manufactured Environment
Sokcho, Gangwon-do, famous for its gourmet cuisine
This premium product is reputed to be the best in Sokcho, Gangwon-do, the home of gourmet food.
Manufacturing Process
A conventionally hygienic manufacturing process
All products are 100% handmade instead of relying on mass machine work, so you can truly taste the love and care put into making each product. Hygienically made and free of additives, it has a deep flavor that's not too salty or sweet.
Exclusive Contract
American exclusive brand
Dongwha Food products produced in Sokcho-si, Gangwon-do are the U.S. exclusive brand of Wooltari Mall.
California Proposition 65
WARNING: Consuming this product can expose you to chemicals including lead and cadmium which are known to the State of California to cause cancer and birth defects or other reproductive harm. For more information go to www.p65Warnings.ca.gov/food
| | |
| --- | --- |
| Allergy Info | Bellflower root, plum, garlic, sesame seeds |
| Manufacturer | Donghwa Food |
| Origin | Sokcho city of gangwon-do |
| Ingredients | Bellflower root (domestic) 68.67%, gochujang 13. 73%, plum syrup 5.49%, starch syrup 4.12%, red pepper powder (China) 3. 43%, garlic (domestic) 2.75%, sun-dried salt (domestic) 1.1%, sesame (India) 0.7 %, L-sodium glutamate (flavor enhancer) 0,01% |
185kcal per 100g
* 1 day nutrient
ratio to reference value
300mg sodium
15%
37g carbohydrate
11%
saccharide 15g
2.2g fat
4%
0g transfat
0g saturated fat
5mg cholesterol
15%
protein 4g
* The ratio (%) to the daily nutritional standard is 2,000 kcal, so it may vary depending on the individual's required calories.

Dongwha Food contributes to the health of customers with a clean and healthy food culture. We make various efforts to deliver the healthy dining table of Korea to the world with the rich nutrition of seafood harvested from the clean seas of Sokcho.
Shipping Information
Refund Policy
Exchange or refund requests must be made within 7 days of receiving your product and should be initiated by contacting us through email (help@wooltariusa.com) or phone (310-933-8648) with a photo.
Please note that exchange or refund requests made on review boards or other platforms are not accepted.
A 30% restocking fee plus shipping charges apply for returns due to a change of mind, and refunds are not available for non-defective refrigerated/Korea-US direct delivery items.
더덕을 한 입 베어무는 순간 너무나 아삭한 식감이 있어서 놀랐고 도라지보다 부드럽게 무쳐져서 다시 놀랐고 양념이 얼마나 고급스럽게 맛있는지...짜지않아요. 역시 오마니구나 싶었어요. 쓴맛은 거의 없구 건강한 맛이 나요.
미국에서 구하기 어려운 더덕이 너무 먹고 싶어서
울타리몰에서 이번에 오마니 더덕무침을 처음으로 구입해 봤습니다!
포장도 새지 않게 잘 포장되어 와서 좋았고
깔끔한 패키지에 투명 용기라 안에 내용물도 잘 보여서 좋았습니다!
통으로도 먹어보고 찢어서도 먹어봤는데
전 찢어서 먹는 게 더 맛있더라고요!
위에 깨만 솔솔 뿌려줘도 잘 차린 반찬 느낌이 나서 좋았어요
맛도 제 입맛에 잘 맞아서
흰 쌀밥과 감태랑 같이 먹으니 정말 제 스타일이었습니다!
수술 후 어머님께서 몸이 안 좋으셔서 이것저것 주문해보았어요.
다행히 문 앞까지 잘 도착했다는 ...너무 감사합니다.
맛은 아직 안 먹어봤지만 배송 면에서 만족합니다.
다른 주로 보내는 거라 걱정했는데 감사합니다.
번창하세요.
선물받아서 먹어봤는데 너무 맛있어서 이젠 직접 구매해 먹어요 :)