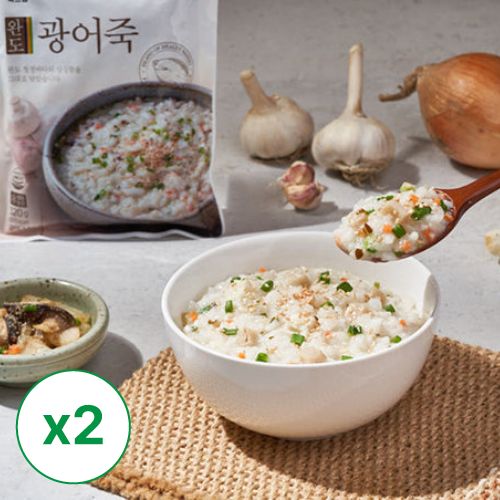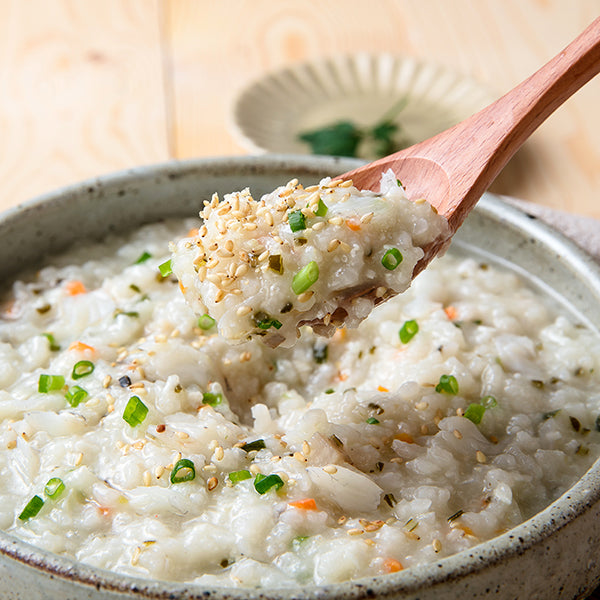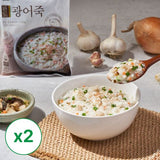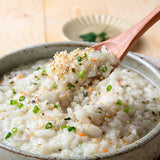 [1+1] [Haesung] Wando flatfish porridge 320g
1 Day shipping
Free shipping on 1 Day shipping items over $169
[Haesung Food] Wando Halibut Porridge 320g
Health porridge made with the finest halibut produced in the clean sea!
It is a product boiled with bowls produced in clean sea Wando and domestic vegetables. It is a good health food for everyone to eat.
Manufactured Environment
Health of Wando!
Wando Island's entire sea area is made up of stone granite and tidal flats, so the purification process is excellent, so many marine products grown in clean seawater in Wando Island have better taste and nutients.
Haesung Food's halibut porridge captures the Health of Wando, the clean sea water.
Manufacturing Process
Easy to eat halibut porridge!
I boiled it with a lot of domestic vegetables and domestic rice. The texture is alive by adding a lot of domestic mushrooms, onions and carrots. Easy to heat it in the microwave and enjoy it as a summer food.
How to Use
Nutrition! The benefits of halibut!
Haibut is a high -protein low -fat low -calorie and is well digested and effective for diet. It is rich in collagen, which is effective in improving skin elasticity, and it is also rich in vitamin E, one of the antioxidant vitamins. It also contains abundant omega 3, improving blood circulation and healthy blood vessels.
California Proposition 65
WARNING: Consuming this product can expose you to chemicals including lead and cadmium which are known to the State of California to cause cancer and birth defects or other reproductive harm. For more information go to www.p65Warnings.ca.gov/food
 Haesung International has been working hard to make healthy seafood for more than 10 years since its opening of Wando  Fisheries Disease Management Service in 2006. We have been working on various support and supply projects that can produce healthy farming organisms, and even when shipping through safety tests before shipment to prevent seafood that is not suitable for standard value, it is dedicated to the production of healthy and safe aquatic products with farming fishermen. I'm doing it.
Shipping Information
Refund Policy
Exchange or refund requests must be made within 7 days of receiving your product and should be initiated by contacting us through email (help@wooltariusa.com) or phone (310-933-8648) with a photo.
Please note that exchange or refund requests made on review boards or other platforms are not accepted.
A 30% restocking fee plus shipping charges apply for returns due to a change of mind, and refunds are not available for non-defective refrigerated/Korea-US direct delivery items.
광어죽은 처음인데 이렇게 맛있을 줄 몰랐어요~ 좀 비리지 않을까 걱정도 했는데 전혀 비리지 않고 부드럽게 넘어가고.. 가격만 괜찮았으면 계속 주문했을텐데 하는 생각이 드네요~! 한번씩 별미로는 시켜먹어볼거 같아요. 안에 든 광어가 전복처럼 쫀득했어요!
데우기만 하면 한끼 든든해요. 매운맛 먹었는데... 매워요. 참기름, 깨만 뿌리면 한끼든든.
오 저는 맵찔이라 그런가
제 입에는 많이 맵네요
신라면이랑 비슷하거나
신라면보다 조금 더 매운듯!
그래서 계란 풀어서 조금 덜 맵게
조리해서 먹어요
1팩당 양은 1.5인분 같아요
(사진은 반팩)
제가 매운걸 잘 못 먹는데. 먹을만했어요.
광어맛이 막 느껴지는건 아니었지만, 죽이 땡길 때 먹기에 괜찮았어요.