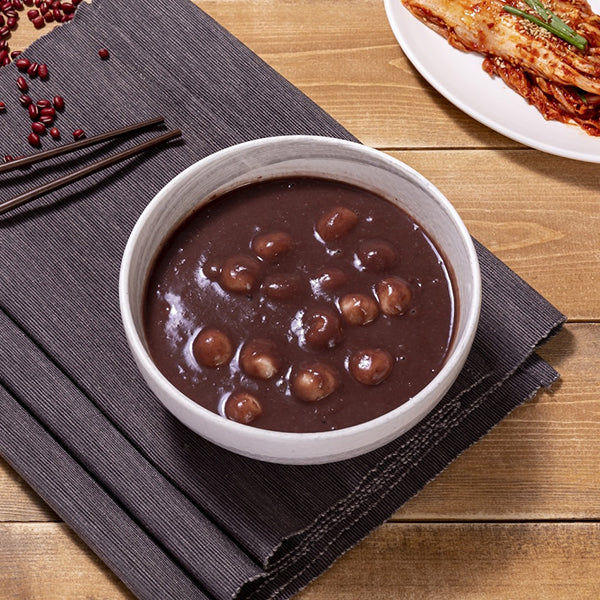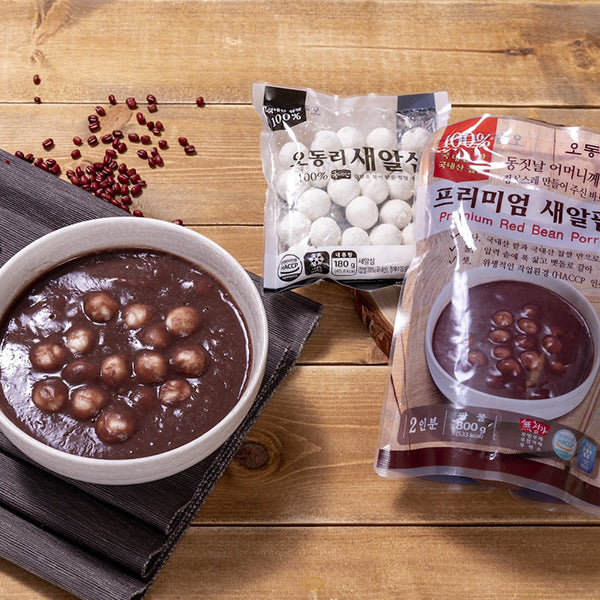 Odongri Premium Red bean Porridge with rice balls 980g (2 servings)
1 Day shipping
Free shipping on 1 Day shipping items over $169
[Hanmadang] Odongri Premium Red bean Porridge with rice balls 980g (2 servings)
Jeolla -do Premium Red Beans made only with 100% domestic ingredients!
100% domestic red beans, glutinous rice, and non -glutinous rice are honest. Only 0.6%of sugar is added, and the heart is very good.
It is enough to have two people.
❉ 'Red Bean Ongsim' means Jeolla -do's new egg red bean porridge, which is only made of glutinous rice birds without rice eggs.
Manufactured Environment
분당구 구미동 맛집의 손맛 그대로!
10년 전통의 소문난 분당 팥죽명가의 손맛 그대로를 느껴보세요. 어르신에게는 고향과 추억의 맛을, 젊은이에게는 한국적인 슴슴하고 건강한 맛을 선사해드립니다.
Manufacturing Process
정성껏 갈고 오랫동안 삶아 부드럽게 술술 먹힙니다!
소백산 기슭에서 자라난 무공해 팥을 엄선하여, 압력솥에 오랫동안 삶고 맷돌로 곱게 갈아 팥물, 찹쌀, 멥쌀을 혼합하여 직접 손으로 빚었습니다.
How to Use
쉽고 간편하게 데워드세요!
1. 팥물을 해동한 다음 냄비에 붓고 자글자글 끓으면 새알심을 넣는다.
2. 새알심이 모두 떠오를때까지 중간불로 4~5분정도 저어가면 끓인다.
3. 그릇에 담아 맛있게 먹는다.
4. 취향에 따라 필요시 설탕, 소금을 넣는다.
California Proposition 65
WARNING: Consuming this product can expose you to chemicals including lead and cadmium which are known to the State of California to cause cancer and birth defects or other reproductive harm. For more information go to www.p65Warnings.ca.gov/food
Shipping Information
Refund Policy
Exchange or refund requests must be made within 7 days of receiving your product and should be initiated by contacting us through email (help@wooltariusa.com) or phone (310-933-8648) with a photo.
Please note that exchange or refund requests made on review boards or other platforms are not accepted.
A 30% restocking fee plus shipping charges apply for returns due to a change of mind, and refunds are not available for non-defective refrigerated/Korea-US direct delivery items.
생각보다 양이 많아요 ㅎㅎ 두고두고 먹겠네요~
남편이 팥을 좋아해서 한번사봤어요 ㅋㅋ가격이너무 비싸요
남편이 팥죽 좋아해서 샀어요 ㅋㅋㅋ새알도 있지만 비싼것같어요
남편이 좋아해서 샀는ㄷ 양은 좀 작은것같아여 가격대비요
새알이 따로 들어가 있는 팥죽을 오랫동안 무척 찾았는데, 원하던 바로 그거였어요! 맛도 너무 좋고 만족스러워서 재구매 하려고 합니다:)
두번째 구매~~
가격은 좀 있지만 맛있어요~👍🏻