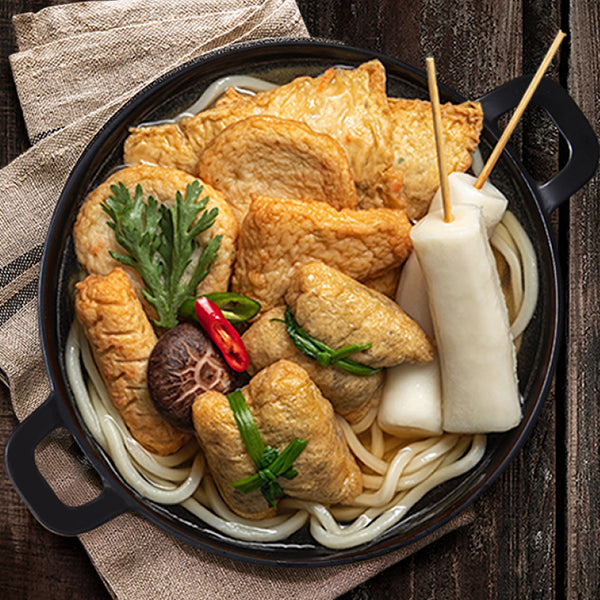 Fried Tofu Noodle Jeongol 710g (2 servings)
1 Day shipping
Free shipping on 1 Day shipping items over $169
[Hanmaru] 710g (2 servings of 2 servings)
Hot and refreshing home -style married udon hot pot!
It is a hot Busan fish cake yubgo bone that is easily finished by simply adding water and boiling. You can boil the high -end Busan fish cake with a deep and rich and rich katsuobushi broth to eat married pockets, udon and rice cake sari.
The warm and refreshing of the stalls Enjoy the true taste of udon hotpot at home!
Production and Distribution
부산 명물 효성어묵과의 절묘한 콜라보!
3대가 명맥을 이어온 효성어묵의 어묵과 담백한 풍미가 가득한 가쓰오부시 국물의 감칠맛, 구수하고 쫀득한 떡사리에 탱글한 면발의 사누끼우동, 마지막으로 깡통시장 별미 유부주머니까지! 맛이 없을 수 없는 조합이지요~
탱글쫄깃한 독보적인 면 맛에 깔끔하고 개운한 유부전골로 '제대로 먹은 것 같다!'라는 느낌이 절로 드는 제품입니다.
How to Use
간편하게 조리하세요!
매력만점의 한 끼 또는 한국 포장마차식 뜨끈한 국물안주로 맛있게 드세요.
1. 냄비에 물 700ml와 소스를 넣어주세요
2. 끓기 시작하면 유부주머니와 어묵과 을 넣고 2분간 끓여주세요
3. 떡을 넣어 2분 더 끓여주세요.
4. 마지막으로 우동면을 넣고 3분간 끓여주시면 부산이 느껴지는 유부주머니 전골 완성!
Premium Ingreidents
먹음직스런 유부주머니와 갖은 재료를 아낌없이!
유부주머니와 떡사리, 어묵과 우동을 푸짐하게 담아, 추가로 재료를 넣을 필요가 없습니다.
나중에 우동면을 드시고 두부나 햄 등을 추가하시어 전골로 즐기시면 아름다운 마무리가 되실 것입니다.
California Proposition 65
WARNING: Consuming this product can expose you to chemicals including lead and cadmium which are known to the State of California to cause cancer and birth defects or other reproductive harm. For more information go to www.p65Warnings.ca.gov/food
Shipping Information
Refund Policy
Exchange or refund requests must be made within 7 days of receiving your product and should be initiated by contacting us through email (help@wooltariusa.com) or phone (310-933-8648) with a photo.
Please note that exchange or refund requests made on review boards or other platforms are not accepted.
A 30% restocking fee plus shipping charges apply for returns due to a change of mind, and refunds are not available for non-defective refrigerated/Korea-US direct delivery items.
미리 냉장고로 옮겨서 완전히 해동된 후 요리했습니다. 떡이랑 우동면이 해동 후 어떨지 몰랐는데 뒷면에 씌여진데로 따라 조리하니 말랑하고 쫄깃함이 그대로 있더라고요. 따로 무랑 버섯, 오뎅 조금만 더 추가해서 먹었는데 둘이 먹고도 남았어요. 정말 맛있게 잘 먹어서 다음에도 무조건 다시 시켜먹을 거예요!
외갓집 곳간 부산어묵 유부우동 전골 710g
전골답게 국물 맛이 특히 훌륭한 一品 요리예요.
고급진 식감의 어묵과 말랑말랑한 물떡이 별미예요.
매운 고추를 조금 썰어넣으니 한결 더 칼칼하고, 그 맛이 슴슴하니 요즘 날씨에 딱 좋군요. 쫄깃한 면발을 자랑하는 아누끼 우동까지 더 해지니, 전골 양이 더 푸짐해졌어요. 맛집에 온 듯한 맛있는 전골을 즐겼습니다.
느끼함도 없고 유부속 당면도 간이 딱이고, 무엇보다 어묵에 기름이 적어요. 한 번 데쳐서 사용 했는데, 기름이 거의 안나와서 놀람. 면도 떡도 모두모두 맛있어요. 2인 성인의 양으로 딱입니다. 전 루꼴라랑 버섯 좀 넣어 먹었어요. 무조건 재 구매 각이요.