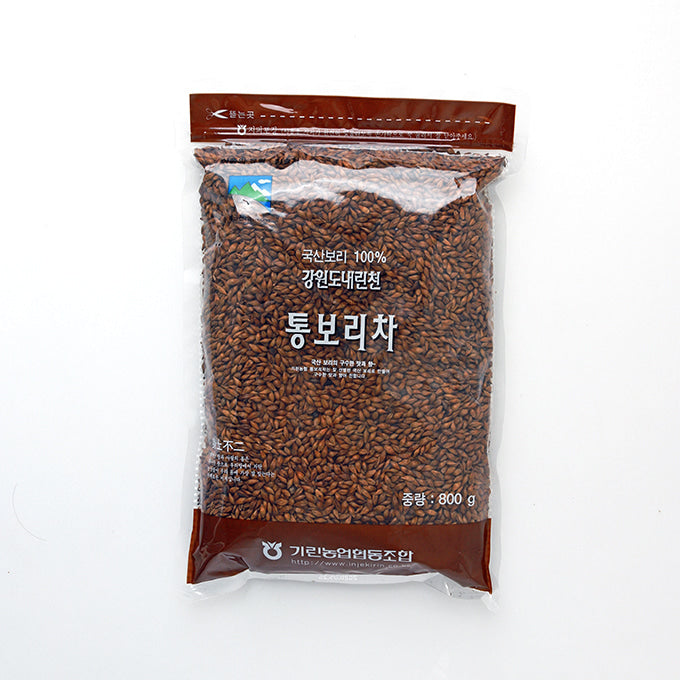 1 Day shipping
Ground shipping
Free shipping on 1 Day shipping items over $169
Free shipping on Ground shipping items over $99
[Kirin Nonghyup] Pure Barley Tea 800g
High quality that you can trust once as it is made with 100% Korean barley, and trust twice as it is made by Giraffe Nonghyup of Korea and is thus a high-quality Korean farm product.
Nutritions
Nutritional Facts of barley
Barley, along with rice, wheat, and corn, is one of the major grains and is rich in short fiber and contains a large amount of beta-glucan (water-soluble dietary fiber) such as vitamins, minerals, ash, pentosan, and inorganic salts.
How to Use
Ingredients that have been used as they are
As the ingredients have been dried as they are, they are full of nutrients. Brew in hot water and use it directly as a tea.
California Proposition 65
WARNING: Consuming this product can expose you to chemicals including lead and cadmium which are known to the State of California to cause cancer and birth defects or other reproductive harm. For more information go to www.p65Warnings.ca.gov/food
| | |
| --- | --- |
| Allergy Info | Grains |
| Manufacturer | Giraffe Nonghyup |
| Origin | Inje-gun, Gangwon-do |
| Ingredients | 100% barley (domestic) |
Storage Method: Avoid direct sunlight and store in a cool, dry place.

Giraffe Nonghyup is a farm cooperative association in Kirin-myeon, Inje-gun, that strives to create healthy and reliable food through contract cultivation with local farmers
Shipping Information
Refund Policy
Exchange or refund requests must be made within 7 days of receiving your product and should be initiated by contacting us through email (help@wooltariusa.com) or phone (310-933-8648) with a photo.
Please note that exchange or refund requests made on review boards or other platforms are not accepted.
A 30% restocking fee plus shipping charges apply for returns due to a change of mind, and refunds are not available for non-defective refrigerated/Korea-US direct delivery items.
통보리차는 처음 끓어보는데, 보리차 티백보다 훨씬 구수하고 깔끔한 맛이 나요. 저녁식사 후에 한번 끓이면 부엌에 잡냄새도 싹 다 없애줍니다. 끓인 후엔 보리가 가라앉으니까 티백만큼 편해요
울타리서 주문 하기 시작하고는 보리차는 울타리서만 사 먹습니다. 한국 마켓에서 사는것보다 신선 합니다.
보리차 여름에 시원헤가 먹는게 좋아요 생수 사다 먹는데 맹물은 왠지 더 먹기 싫어서요 진하게 잘 우러나요 중국산 이런거는 잘 우러나지 않는데 이건 잘 우러나서 좋아요
물을 끓이고 나서 보리가 깔끔하게 가라앉아 있고, 고소하니 물맛이 좋아요..
조금씩 끓여마시기에 좋아요 보리차로 마시니 물을 많이 마시게 되네요!
마트에서 파는 보리차 보다 고소하고 맛있습니다!