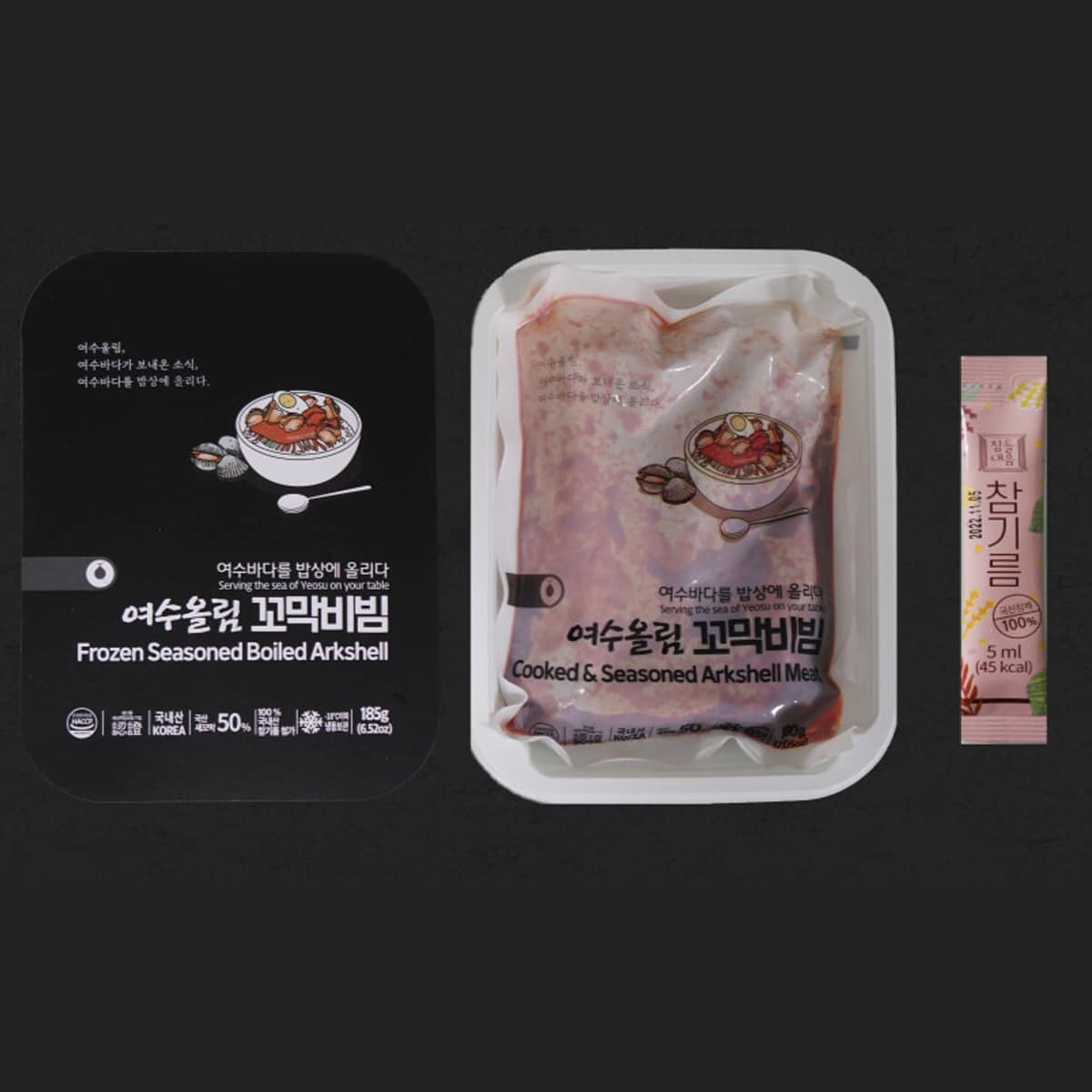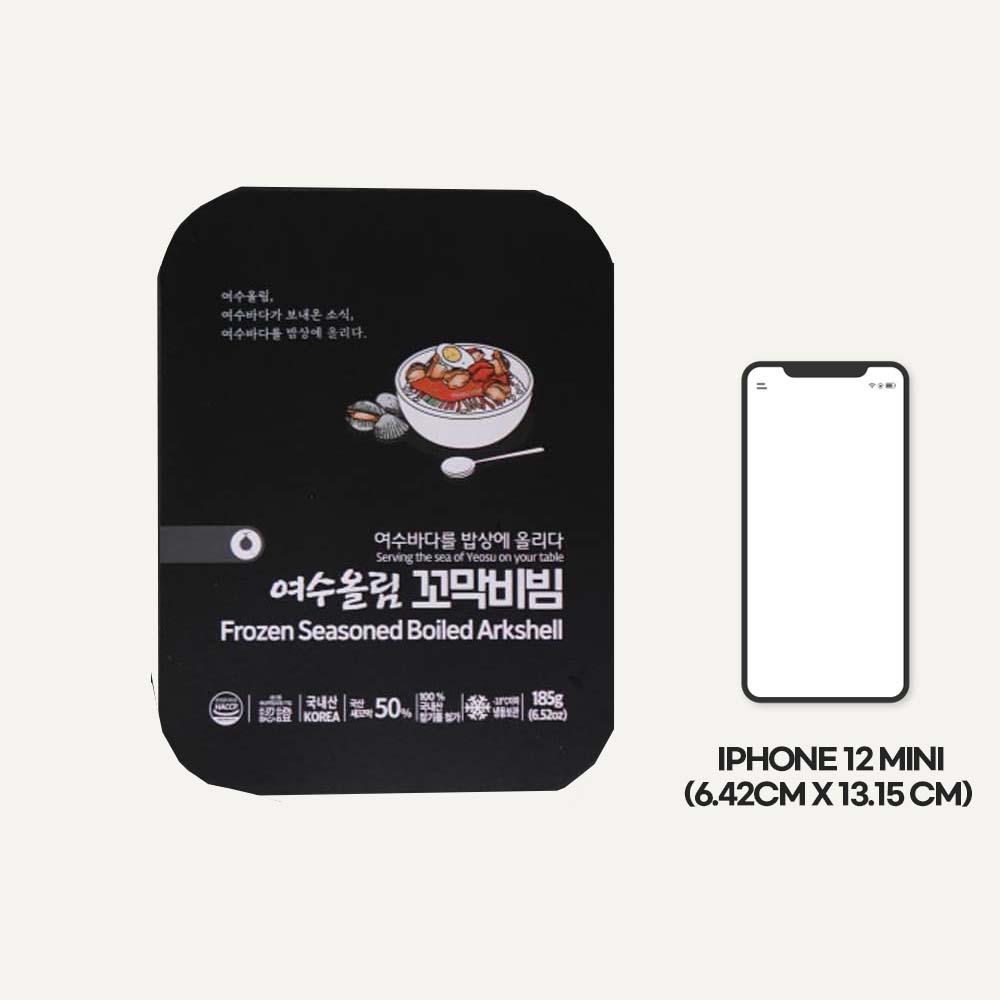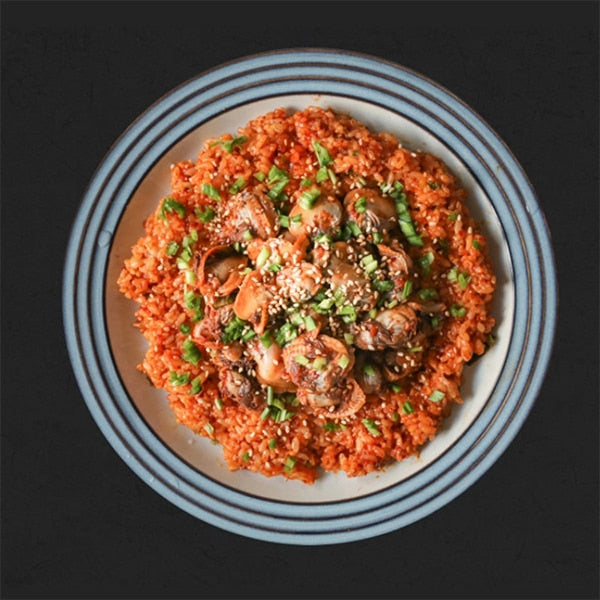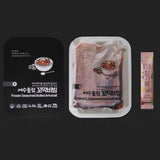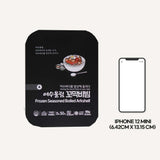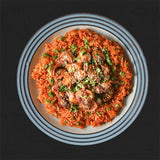 Seasoned Boiled Arkshell 185g
1 Day shipping
Free shipping on 1 Day shipping items over $169
[Yeosusaegomak] Seasoned Boiled Arkshell 185g
We have added spiciness to the arkshell. The texture and flavor are preserved by minimizing the leakage of juice and nutrients by boiling the arkshell with its own moisture without using water. Because it contains a large amount of glucose, it has excellent flavor and texture.
Manufactured Environment
Yeosu, a major producer of cockle in Korea
Yeosu Bay in Yeosu is a breathing tidal flat designated by the Ministry of Oceans and Fisheries as "Wetland Protected Area No. 4". It is a major production area that accounts for 73% of the nation's production of saengkomak, and Yeoja Bay and Suncheon Bay are tidal flats containing small amounts of sand and gravel.
Manufacturing Process
Carefully managed and manufactured stir-fried spicy cockle
After receiving the raw material, washing and sorting it, it is boiled with the moisture of the cockle instead of using water to minimize the leakage of juice and nutrients to preserve the texture and flavor. It is deshelled by ultra-fine vibration method and cleaned with disinfectant water after controlling microorganisms. The first X-RAY minimizes foreign substances and shells, and automatically weighs and vacuums the packaging. Finally, after X-RAY of the finished product, it is sterilized and rapidly frozen before shipment.
Verified Quality
Yeosu Saetymak verified with clean quality
It has received HACCP certification, a food safety management standard, and you can eat it with confidence through various other certificates.
California Proposition 65
WARNING: Consuming this product can expose you to chemicals including lead and cadmium which are known to the State of California to cause cancer and birth defects or other reproductive harm. For more information go to www.p65Warnings.ca.gov/food
| | |
| --- | --- |
| Allergy Info | This product contains eggs (poultry), milk, buckwheat, peanut, wheat, mackerel, shrimp, pork, peach, tomato, sulfurous acid, walnut, chicken, beef, squid, shellfish (including oyster, abalone, mussel), soybean, Manufactured in the same manufacturing facility as products using crab. |
| Manufacturer | Yeosu Saegomak |
| Origin | Yeosu, Jeollabuk-do |
| Ingredients | Saekomak (domestic) 50%, sauce 50% [starch syrup and red pepper powder (made in China), sauce 1 (refined salt (domestic), L-sodium glutamate (flavor enhancer), DL-malic acid (acidic acid), brewed soy sauce, garlic]) |
Storage method: Store frozen at -18℃ or lower.
Note: Due to the nature of the product, there may be pieces of cockle rind. Please consume as soon as possible after opening. Do not refreeze as it has already been frozen.

This is a company that resembles the sea, a company that contains the sea, Yeosu Saegomak. We will always do our best with a sense of mission to "contribute to the affluent life of people with the right food".
Shipping Information
Refund Policy
Exchange or refund requests must be made within 7 days of receiving your product and should be initiated by contacting us through email (help@wooltariusa.com) or phone (310-933-8648) with a photo.
Please note that exchange or refund requests made on review boards or other platforms are not accepted.
A 30% restocking fee plus shipping charges apply for returns due to a change of mind, and refunds are not available for non-defective refrigerated/Korea-US direct delivery items.
양파, 고추 하나 넣고 함께 살짝 볶아서 밥 위에 얹어먹으니 정말 맛있어요 (이미 다 익혀오는 거라 안 볶아도 되는데 조금 데우고 싶어 볶았을 뿐이랍니다). 오이랑 상추도 함께 섞으니 간 딱 좋고요. 양념이 생각보다 매콤해서 감칠맛이 더 있었고, 한 팩에 1인으로 먹으니 양도 괜찮았어요. 한 팩으로 2인이 먹기엔 조금 적을 것 같아요. 꼬막 양도 넉넉합니다~
양이 무지 많아서 밥 1인분으로는 부족해요, 맛있게 잘 먹었어요
세식구가 나눠먹었는데도 양이 좋았어요 깻잎과 함께 볶음도 되고 꼬막이 씹혀요
후기 보고 진짜 맛있을까 하는 마음으로 구매했는데 진짜 맛있어요!! 깻잎이랑 쪽파랑 청양고추 넣어 먹었더니 진짜 맛있어오ㅎㅎ 양은 한개당 1.5인분 정도라 둘이 먹기에는 아쉽고 혼자는 양이 넉넉한거 같아요ㅎㅎ
김치볶음밥에 같이 넣어서 먹었는데 새로운 맛이에요
예전에 맛있게 먹어보고 이번에 다시 주문했어요.
울타리몰 덕분에 우리집 밥상이 한국 부럽지 않네요~^^
계속 판매되었으면 좋겠습니다. 간편하고 맛있어요