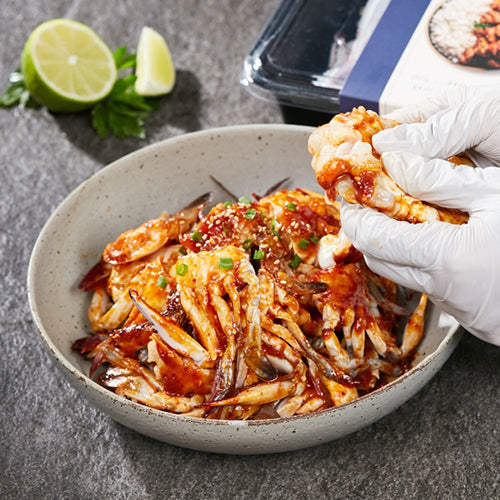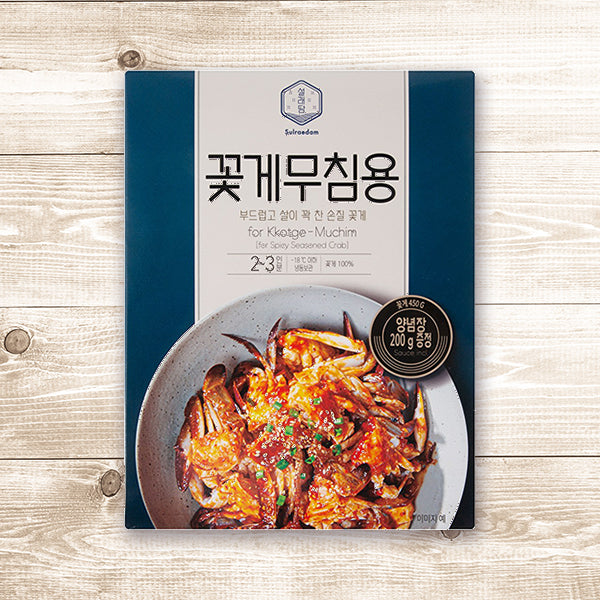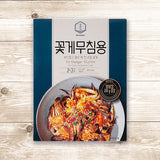 Sulraedam for Spicy Seasoned Crab 650g (450g of crab + 200g of seasoning)
1 Day shipping
Free shipping on 1 Day shipping items over $169


**** It is recommended to keep frozen or eat immediately after receiving. ****

[Goremi] Sulraedam for Spicy Seasoned Crab 650g (450g of crab + 200g of seasoning)

It's a fresh seasoned crab meal kit, and you can enjoy it with a sweet and spicy seasoning.


Manufacturing Process
Spicy, sweet special sauce and a huge crab encounter!
Enjoy the fantastic harmony of fluffy crab slack rubbing and spicy seasoning. It's very easy because you don't have to prepare any ingredients or make seasonings. Add seasonings to the easy-to-eat thawed Dungeness crabs and grind the crabs to create a flavorful taste of seafood. It is included in one pack at 650g, and you can enjoy it softly and moistly.

How to Use
A nice spice crab dish is completed in 5 minutes
Anyone can easily cook delicious seasoning Dungeness crab with only the Sulraedam seasoning crab meal-kit.
1. Thaw it in the fridge or in cold water, then carry the washed Dungeness crabs into a large bowl.
2. Add the crabs, and coat them all over the sauce in mixing bowl. Mix well.
3. If you like, add sesame seeds, chives, etc. to make it more delicious.
※ Be careful as there is a risk of injury to the nippers and shell.

Verified Quality
A series of trials that enjoy excitingly enjoying interesting!
The Goryei's Seolreadam series is a product that is easy to eat in a home, and the products known as sushi, fried, side dishes, and snacks, etc., which are available in Korea, All of the products of the Goraemi are created by processing rigorous raw materials in a reliable HACCP certification facility.
California Proposition 65
WARNING: Consuming this product can expose you to chemicals including lead and cadmium which are known to the State of California to cause cancer and birth defects or other reproductive harm. For more information go to www.p65Warnings.ca.gov/food

Goremi is always challenging for new flavors!Since its establishment in 2012 based on its own korean technology, Goremi Co., Ltd. has been a professional and comprehensive food company specializing in advanced fisheries processing in Korea, striving to ensure that everyone can enjoy a delicious and happy food culture.We will continue to strive and devote ourselves to find new menus and new flavors that were difficult to find in the country.
Shipping Information
Refund Policy
Exchange or refund requests must be made within 7 days of receiving your product and should be initiated by contacting us through email (help@wooltariusa.com) or phone (310-933-8648) with a photo.
Please note that exchange or refund requests made on review boards or other platforms are not accepted.
A 30% restocking fee plus shipping charges apply for returns due to a change of mind, and refunds are not available for non-defective refrigerated/Korea-US direct delivery items.
재구매에요. 역시 준비하기도 간편하고 맛도 깔끔하니 너무 맛있네요.
남편이 참 좋아해요
이번에 몇번째 주문인지. ..
다른 양념게장은 가끔 삭은(?)맛이 나는데.
뭐랄까 김치도 겉절이 좋아하는 저한테는 이 양념게장이 딱이네요
양념맛이 너무 좋아요! 게 사이즈는 작은데 한입 쬽쬽하기 편하고 가격도 맘에 들어요. 또 구매할거같아요.