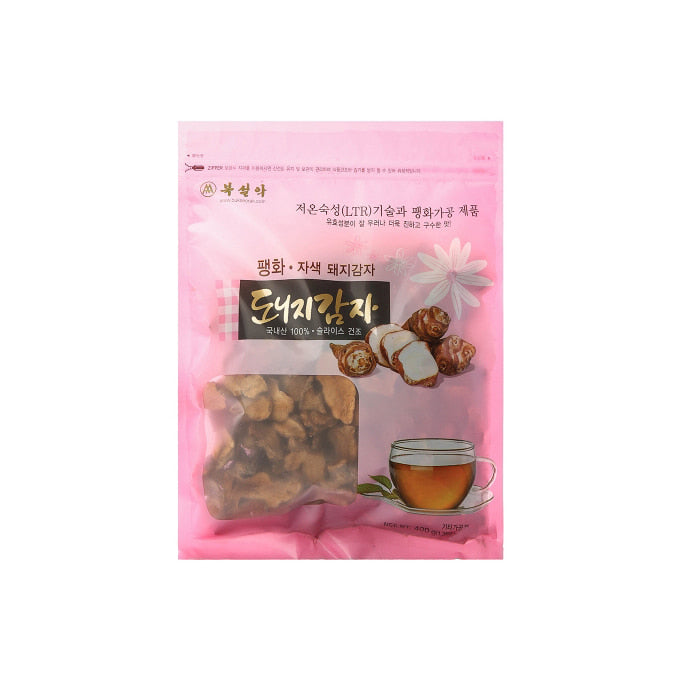 1 Day shipping
Ground shipping
Free shipping on 1 Day shipping items over $169
Free shipping on Ground shipping items over $99
[Bukseorak] Artichoke Tea 400g
Premium artichoke tea that maximizes nutrition through a special processing process by carefully selecting 100% domestic artichokes grown in high-quality soil.
Manufacturing Process
Processing process that minimizes nutrient loss
The carefully selected artichokes undergo low-temperature aging for a certain period of time and are then steamed and dried. Afterwards, high temperature and pressure treatment are used for a short period of time using the puffing method to reduce the characteristic bitter taste of artichokes and remove the earthy smell.
Nutritions
Artichoke, a healthy superfood
Artichoke, considered one of the superfoods, contains about 75 times more inulin than ordinary potatoes, which helps lower blood sugar. Inulin also acts as a natural insulin, so it is effective in improving constipation, diet, and cholesterol.
How to Use
How to make artichoke tea
If you boil a cup of raw beer in 3 liters of water for 15 minutes, a nutritious artichoke tea with a savory and deep flavor is completed.
Exclusive Contract
American exclusive brand
Bukseorak products produced in Inje-gun, Gangwon-do are the American exclusive brand of Wooltari Mall.
California Proposition 65
WARNING: Consuming this product can expose you to chemicals including lead and cadmium which are known to the State of California to cause cancer and birth defects or other reproductive harm. For more information go to www.p65Warnings.ca.gov/food
| | |
| --- | --- |
| Allergy Info | Potato |
| Manufacturer | Bukseorak |
| Origin | Inje-gun, Gangwon-do |
| Ingredients | 100% artichokes |

For the past 29 years, Bukseorak has been recognized as a local company through its regional specialties such as Hwangtae, Bellflower, and Injin Mugwort. Located in Bukseorak of the Seoran Mountains, which is characterized by its rough and steep terrain, 'Bukseorak' finds wild herbs, such as rare medicinal herbs created by nature like Korean red ginseng, and detoxifies them and present them to customers.
Shipping Information
Refund Policy
Exchange or refund requests must be made within 7 days of receiving your product and should be initiated by contacting us through email (help@wooltariusa.com) or phone (310-933-8648) with a photo.
Please note that exchange or refund requests made on review boards or other platforms are not accepted.
A 30% restocking fee plus shipping charges apply for returns due to a change of mind, and refunds are not available for non-defective refrigerated/Korea-US direct delivery items.
구운 것 말고 을 찾고 있던 차에 구매하게 되었어요.
연하고 구수한 맛이 좋네요.
앞으로 재구매 의사 있습니다.
북설악 돼지감자차 연하고 구수해서 좋으셨네요
많은 고객님께서 넉넉하게 구매하시고 물대신 드신답니다
재구매 의사에도 감사드려요
좋은 맛이라고 리뷰해주심에 감사하고 100 포인트 드립니다.