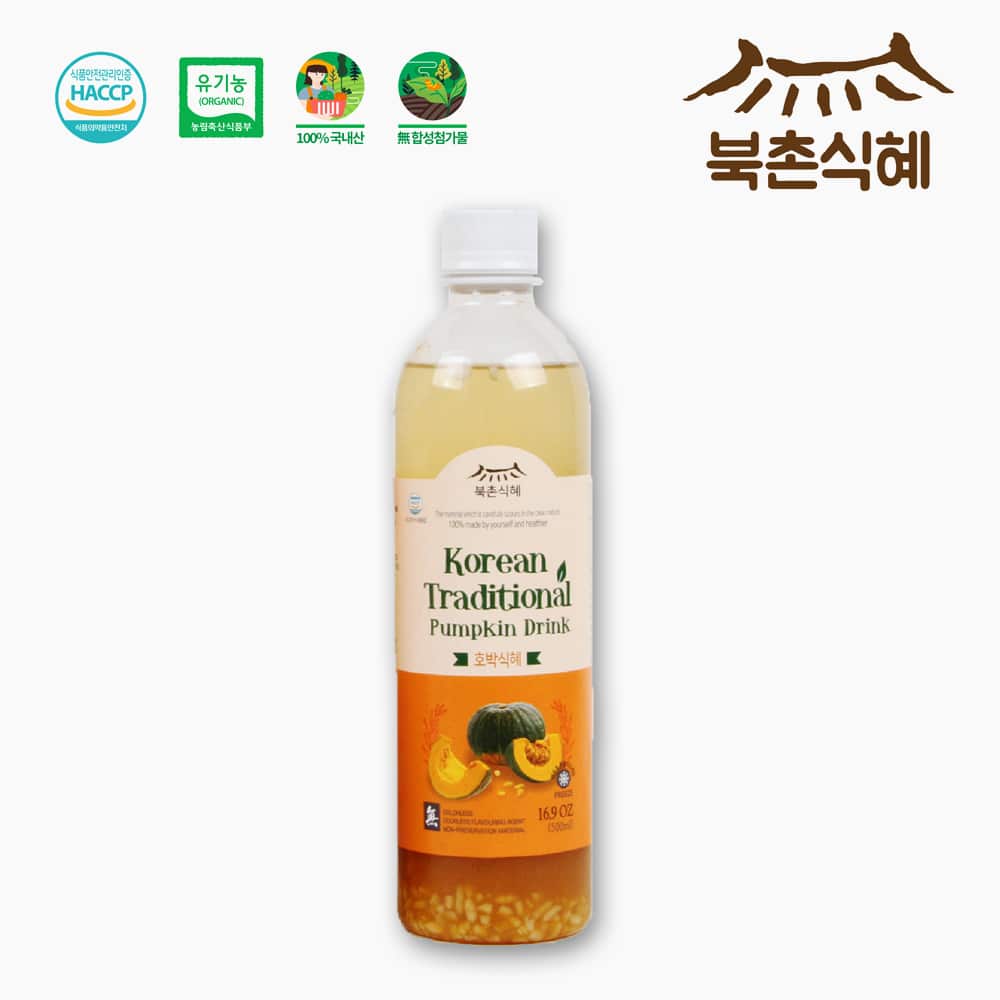 Korean Traditional Pumpkin Drink 500ml
1 Day shipping
Free shipping on 1 Day shipping items over $169
[Yeongju Farmers] Korean Traditional Pumpkin Drink 500ml
Sikhye which is a word for Korean traditional rice drink, is characterized by its sweet taste, and is made by fermenting spicy or glutinous rice with malt. It is a high-quality product made by directly germinating malt, which plays an important role in determining the sweetness level. With the rapid cooling system, the original taste and hygiene of sikhye were managed at the same time. The Pumpkin Sikhye is a high-quality Sikhye made from 100% domestic pumpkin.
Production and Distribution
Bukchon Pumpkin Sikhye focused on taste
We implement a rapid cooling system that rapidly freezes Sikhye, which has been carefully boiled for over 10 hours, to sub-zero temperatures.
Verified Quality
Verified product management of Bukchon Sikhye
You can trust it by receiving organic certification from HACCP, the food safety management standard, and the Food and Drug Administration.
Premium Ingreidents
Carefully selected domestic ingredients
100% domestic ingredients, 100% domestic pumpkin, no synthetic additives and no preservatives, so you can trustily consume it.
California Proposition 65
WARNING: Consuming this product can expose you to chemicals including lead and cadmium which are known to the State of California to cause cancer and birth defects or other reproductive harm. For more information go to www.p65Warnings.ca.gov/food
| | |
| --- | --- |
| Allergy Info | |
| Manufacturer | Sandelae |
| Origin | Jangseong-gun, Jeollanam-do |
| Ingredients | Self-ripe sweet pumpkin 34%, malt saccharified solution 22% (more than 15% malt), sugar 10%, rice 6%, purified water |
Storage Method: Please refrigerate or freeze it.

Natural ingredients, mom's taste! Natural Food Mom sells kimchi, sikhye, and soy sauce made with a mother's heart with thoroughly produced and inspected domestic ingredients.
Shipping Information
Refund Policy
Exchange or refund requests must be made within 7 days of receiving your product and should be initiated by contacting us through email (help@wooltariusa.com) or phone (310-933-8648) with a photo.
Please note that exchange or refund requests made on review boards or other platforms are not accepted.
A 30% restocking fee plus shipping charges apply for returns due to a change of mind, and refunds are not available for non-defective refrigerated/Korea-US direct delivery items.
호박식혜가 더 맛있긴 한데, 이것도 많이
달지않고 고소하니 맛있네요!
말해뭐해요~ 품절아닌이상 매번 시켜먹는 아이템이에요! 적당히 달고 알도 알알이 잘 씹히고 또시켜 먹을거에요!
수정과 좋아하는 편은 아닌데 오랫만에 추석 겸 먹으려고 샀어요 근데 넘 맛있어서 금방 먹엇어요 별로 안 달고 맛있어요!
호박 맛이 진하게 느껴지면서 맛있어요! 가격만 부담 없으면 쟁여놓고 싶네요 ㅠㅠ
달달하고 살짝, 아주 조금 식혜 특유의 엿기름향이 나긴하지만 뒷맛이 깔끔하여서 또 주문헀어요.
진짜 첫 한입 먹자마자 안쓸수가 없어서 첫 리뷰 적어봅니다. 진짜 호박죽같은 호박의 부드러운맛과 식혜의 달달 시원한 맛이에요.... 당은 많지만 정말 너무 맛잇어서 안막아봣음 큰일날뻔햇네요.... ㅠㅠ 너무 맛잇어요