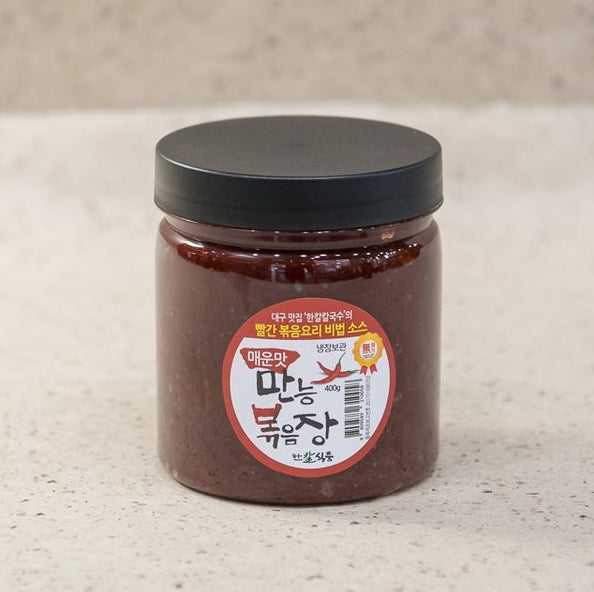 Daegu Spicy stir-fried sauce 400g
1 Day shipping
Free shipping on 1 Day shipping items over $169
[Hankal Food] Daegu Spicy stir-fried sauce 400g
 The secret sauce of the famous Daegu restaurant, "Hankal Kalguksu!"

 Sweet red pepper powder base is added to the golden ratio and is all -round sauce. 
Production and Distribution
How did you produce?
Daegu's famous restaurant, Hankal kalguksu, is served, we give you "spicy pepper bibim soy paste" to mix it with rice as a service menu.
  After eating, many customers are looking for a separate purchase of the online/offline market.
Manufacturing Process
This is different!
4 No -added well -being foods have not been used at all synthetic preservatives,  coloring rates, sweeteners, or fragrances. Only 500 per day are produced.  Only 500 per day are produced. It is less sweet compared to other products on the market. It was mixed with the optimal ratio of onions, garlic, and soy sauce.
How to Use
Stir -fried how to eat delicious!
1. Spicy noodles such as tteokbokki and jjamppong.
 If you have a all -round stir -fry, you can taste as much as a famous restraunt. You can make not only Tteokbokki but also jjampong and fried udon.

2. Bibimbap, bibim noodles instead of red pepper paste ~
 All -around fried stir -fried sauce is a seasoned seasoning with a golden ratio.   Bibim noodles are better to add more vinegar and oligosaccharide (sugar).

3. Spicy steamed/stewed dishes
 
 The sauce is important for spicy steamed  or fish such as steamed chicken, stewed kodari.
 You can solve it with one all -round stir -fry without having to prepare the ingredients necessary for seasoning other than basic ingredients.

California Proposition 65
WARNING: Consuming this product can expose you to chemicals including lead and cadmium which are known to the State of California to cause cancer and birth defects or other reproductive harm. For more information go to www.p65Warnings.ca.gov/food
 We have launched the famous soybean paste and all -round stir -fried in the kalguksu restaurant in Chilseong -dong, Daegu. It is a product that is produced through a difficult cooking process with a well selected good ingredient under a thorough hygiene management system.
Shipping Information
Refund Policy
Exchange or refund requests must be made within 7 days of receiving your product and should be initiated by contacting us through email (help@wooltariusa.com) or phone (310-933-8648) with a photo.
Please note that exchange or refund requests made on review boards or other platforms are not accepted.
A 30% restocking fee plus shipping charges apply for returns due to a change of mind, and refunds are not available for non-defective refrigerated/Korea-US direct delivery items.
땡초 비빔 된장을 너무 맛있게 먹어서 만능 볶음장도 구매했어요! 단맛 나는 볶음장은 안좋아하는 데 단맛없이 볶음장의 칼칼한 매운 맛이 너무 좋았어요! 무엇보다 만능 볶음장이라는 이름 답게 정말 만능적으로 사용하기 좋아요! 저는 소고기볶음 고추장도 해서 열무와 함께 열무비빔밥을 만들어 먹기도 하고 비빔 국수 양념으로 활용해서 맛있게 먹었어요! 다양한 요리에 사용하기에 편리하고 건강을 생각한 재료로 만들어져 있어서 매운 맛을 좋아하시는 분들에게 추천합니다~!
땡초 비빔 된장을 너무 맛있게 먹어서 만능 볶음장도 구매했어요! 단맛 나는 볶음장은 안좋아하는 데 단맛없이 볶음장의 칼칼한 매운 맛이 너무 좋았어요! 무엇보다 만능 볶음장이라는 이름 답게 정말 만능적으로 사용하기 좋아요! 저는 소고기볶음 고추장도 해서 열무와 함께 열무비빔밥을 만들어 먹기도 하고 비빔 국수 양념으로 활용해서 맛있게 먹었어요! 다양한 요리에 사용하기에 편리하고 건강을 생각한 재료로 만들어져 있어서 매운 맛을 좋아하시는 분들에게 추천합니다~!
땡초 비빔 된장을 너무 맛있게 먹어서 만능 볶음장도 구매했어요! 단맛 나는 볶음장은 안좋아하는 데 단맛없이 볶음장의 칼칼한 매운 맛이 너무 좋았어요! 무엇보다 만능 볶음장이라는 이름 답게 정말 만능적으로 사용하기 좋아요! 저는 소고기볶음 고추장도 해서 열무와 함께 열무비빔밥을 만들어 먹기도 하고 비빔 국수 양념으로 활용해서 맛있게 먹었어요! 다양한 요리에 사용하기에 편리하고 건강을 생각한 재료로 만들어져 있어서 매운 맛을 좋아하시는 분들에게 추천합니다~!
땡초 비빔 된장을 너무 맛있게 먹어서 만능 볶음장도 구매했어요! 단맛 나는 볶음장은 안좋아하는 데 단맛없이 볶음장의 칼칼한 매운 맛이 너무 좋았어요! 무엇보다 만능 볶음장이라는 이름 답게 정말 만능적으로 사용하기 좋아요! 저는 소고기볶음 고추장도 해서 열무와 함께 열무비빔밥을 만들어 먹기도 하고 비빔 국수 양념으로 활용해서 맛있게 먹었어요! 다양한 요리에 사용하기에 편리하고 건강을 생각한 재료로 만들어져 있어서 매운 맛을 좋아하시는 분들에게 추천합니다~!
처음에는 너무 매워서 삼짝 놀랐는데 계속 먹으니까 괜찮네요. 맛있는 매운맛이예요.