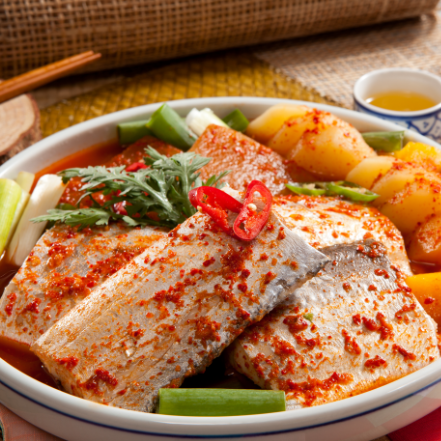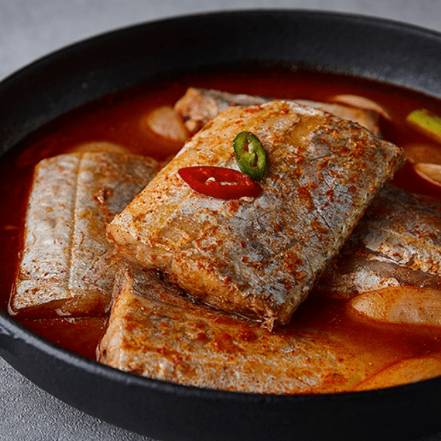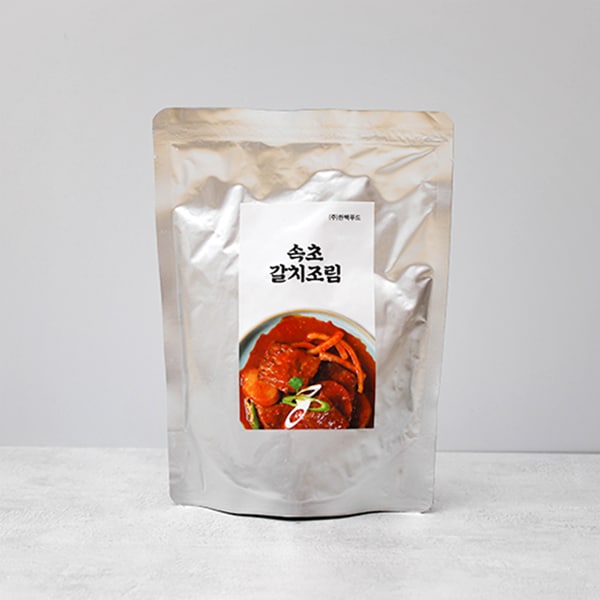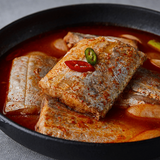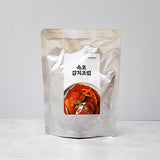 Sokcho Stewed Belt fish 700g
Lightning Fresh
Free shipping on Lightning Delivery items over $169
[Hanbaek Food] Sokcho Stewed Belt fish 700g
Sokcho Braised Cutlassfish is a deliciously simmered product that will appeal to your taste buds. Fresh cutlassfish are carefully selected, cleaned and cooked in a spicy way.
Manufacturing Process
Hanbaek Food, a famous seafood restaurant in Sokcho, the home of taste
It is a reliable product produced in a sanitary and safe state-of-the-art facility. It is made with 100% east coast red snow crab, and foreign substances are selected through the latest facilities and quenched to maintain the best freshness.
Nutritions
Nutritional Value of a belt fish
Belt fish are rich in protein and vitamins, contain a large amount of calcium, and are rich in collagen and elastin, which helps to regenerate the skin, improving skin aging and wrinkles.
How to Use
How to eat more deliciously
You can easily heat it up in the microwave, and if you boil it by adding potatoes, radishes, green onion sprouts, etc., it will be richer and more delicious.
California Proposition 65
WARNING: Consuming this product can expose you to chemicals including lead and cadmium which are known to the State of California to cause cancer and birth defects or other reproductive harm. For more information go to www.p65Warnings.ca.gov/food
| | |
| --- | --- |
| Allergy Info | Contains belt fish |
| Manufacturer | Hanbaek Food |
| Origin | Sokcho, Gangwon-do |
| Ingredients | Check the packaging |
430kcal in 350g
% Daily
Value*
Sodium 2050mg
89%
Total Carbohydrates 52g
19%
Sugar 18g
0%
Total Fat 4.5g
6%
Trans Fat 0g
Saturated Fat 1.05g
5%
Cholesterol 190mg
63%
Protein 46g
92%
* Percentage of Daily Values are based on a 2,000 calorie diet.

Hanbaek Food is a seafood processing company located in Sokcho, Gangwon-do. In order to make food that is sufficient to give to the loved ones, we produce products with cleanliness as the top priority in every process, from selecting ingredients to cleaning, processing, manufacturing, and selling.
Shipping Information
Refund Policy
Exchange or refund requests must be made within 7 days of receiving your product and should be initiated by contacting us through email (help@wooltariusa.com) or phone (310-933-8648) with a photo.
Please note that exchange or refund requests made on review boards or other platforms are not accepted.
A 30% restocking fee plus shipping charges apply for returns due to a change of mind, and refunds are not available for non-defective refrigerated/Korea-US direct delivery items.
양념이 좀 달지만 두부감자 추가해서 먹으니 맛있고 푸짐합니다.
달달하니 맛있어요~ 밥 반찬으로 먹기에 갈치 양도 충분하고 양념이 많아요!
갈치 반건조인가요 살이 부스러지지않고
양념도 맛있어요
따로 조리할꺼없이 그냥 솥에 넣고 양파랑, 깻잎, 감자 청량고추, 양파만 더 추가해서 먹었는데.. 남편이 너무 맛있다고 밥 두공기 뚝딱 해치우더 라구요.. 이것도 캠핑갈때 가지고 가면 딱 좋을꺼 같아요~
양념이 푸짐해서 무를 더 넣고 (생선 조림에 든 무를 더 좋아함) 조리니 너무 맛있어요.
근데 살짝 달아요.ㅠㅠ
그래도 미국 시골에서 갈치조림을 무 듬뿍 넣고 먹을수
있다는 것이 너무 행복해서 남은 국물이 아까워 무 더 넣고 양념 살짝 더 넣어 맛나게 먹었습니다.
재구매 하고 싶네요.ㅎㅎ
저녁 밥 반찬으로 한 끼 수월하게 생선조림을 먹었어요. 생선 토막이 작고 살이 별로 없었어요. 비린냬나 잡내는 없었구요.