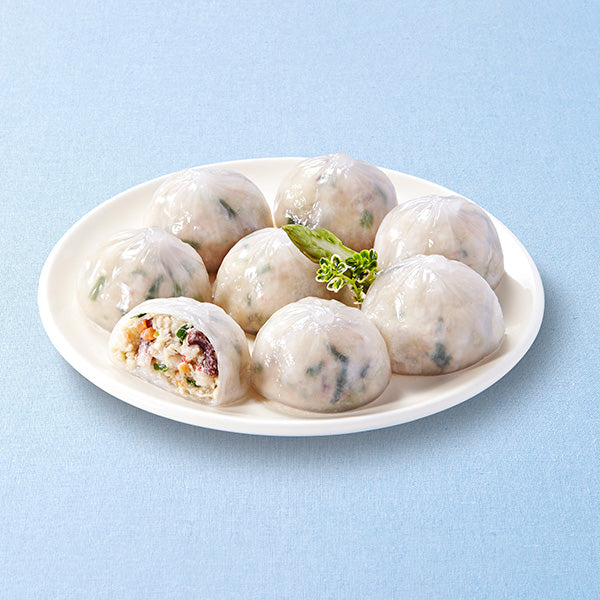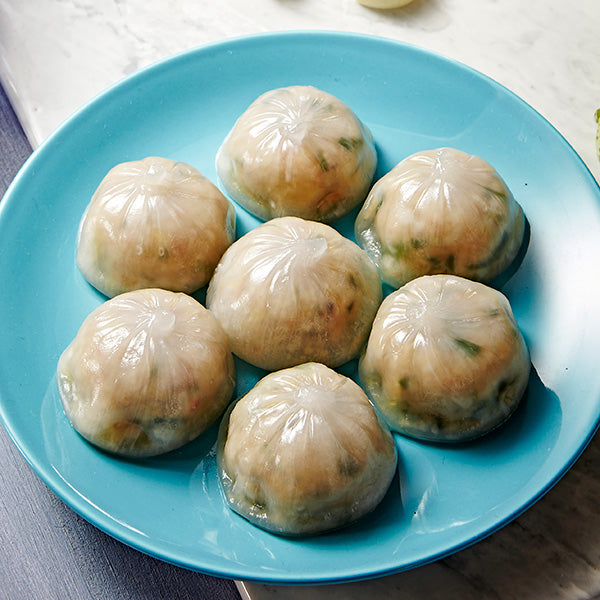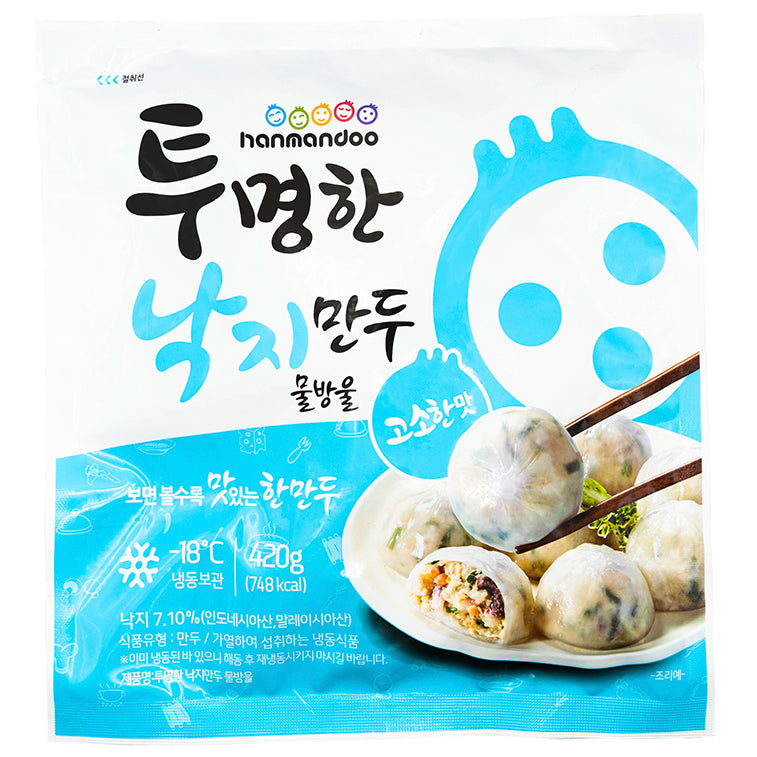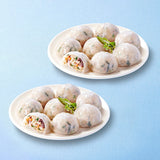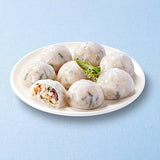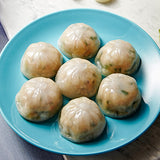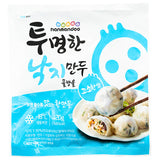 Transparent Octopus Dumplings 420g x 2
1 Day shipping
Free shipping on 1 Day shipping items over $169
[Hanmandoo] Transparent Octopus Dumplings 420g x 2
The transparent sloppy droplets are dumplings with fresh octopus and special sauce in thin and chewy potatoes.
Production and Distribution
Safe food production process
With 20 years of experience, Hanmandoo is equipped with state-of-the-art automation facilities, cold chain system throughout the entire process, and hygienic systems such as HACCP certification.
How to Use
Various ways to cook
When eaten in a hot pot or steamer, it has a moist taste, and when baked in an air fryer, it has a clean and savory taste. You can enjoy a crispy taste by lightly frying the oil in a frying pan.
Verified Quality
Korea Consumer Satisfaction Index 1st place food
Food safety management HACCP and food safety management system ISO22000 certified facility guarantees safe food, and the product was awarded the first place in the Korea Consumer Satisfaction Index for 2019-2020 due to continuous development and improvement of service quality.
California Proposition 65
WARNING: Consuming this product can expose you to chemicals including lead and cadmium which are known to the State of California to cause cancer and birth defects or other reproductive harm. For more information go to www.p65Warnings.ca.gov/food
| | |
| --- | --- |
| Allergy Info | Pork, soybean, shrimp, tomatoes, crab, eggs, wheat, shellfish (gul), beef, milk, chicken, squid |
| Manufacturer | Hanmandoo |
| Origin | Yangju-si, Gyeonggi-do |
| Ingredients | Food additives (modified starch, tapioca starch tank), pork (domestic acid), bean curd (American, Indonesian acid), coagulant (milk magnesium), salt, calcium chloride, magnesium chloride, onion (domestic acid), octopus (indonesia acid), starch processed products (potato starch), pork protein The fish pastes are as follows: shrimp, cucumber, fish paste (massal), green onion, pepper, dry radish, coconut, carrot, frozen egg white, sesame oil, brewing soy sauce, garlic, phosphate transfer starch, white sugar, purified salt, sauce (masssauce), sauce (salt extract), mixed seasoning foods (salt meat flavor), cooking maintenance products, Protein, complex seasoning foods (chicken V-damy), L-glutamate sodium (flavor enhancer), ginger, pepper powder, yeast extract (maxarom), food additive mixture (acid control), food additive mixture (Bibond), 5'- ribonucleotide or sodium (flavor enhancer), food additive mixture ( Black collar) |
300kcal per 140g
* 1 day nutrient
ratio to reference value
sodium 419mg
21%
35g carbohydrate
11%
1g saccharide
fat 15g
29%
0g transfat
1g saturated fat
7%
14mg of cholesterol
5%
protein 7g
13%
* The ratio (%) to the daily nutritional standard is 2,000 kcal, so it may vary depending on the individual's required calories.
Note : Do not refreeze
Storage Method : Keep frozen

Hanmandoo is a dumpling specialty company that has walked only one road for the past 20 years. The quality was recognized by winning the first place in the Korea Consumer Satisfaction Index for three consecutive years.
Shipping Information
Refund Policy
Exchange or refund requests must be made within 7 days of receiving your product and should be initiated by contacting us through email (help@wooltariusa.com) or phone (310-933-8648) with a photo.
Please note that exchange or refund requests made on review boards or other platforms are not accepted.
A 30% restocking fee plus shipping charges apply for returns due to a change of mind, and refunds are not available for non-defective refrigerated/Korea-US direct delivery items.
자주 먹는데 오늘도 역시 맛있네요 낙지도 씹히고 맛있어요
배고픈 밤에 세 명이서 아주 맛있게 잘 먹었어요
재주문해먹는 낙지 만두였는데요 전분 피라서 피가 얇고 쫀득해서 쉽게 서로붙고 찜기에 붙고…찌는 과정에서 신경써야하는 단점이 있지만 맛이 단점을 지웁니다
만두피가 정말 쫄깃해서 계속 주문해 먹고 있어요. 시골에 살아서 여기서 찾을 수 없는 흔치 않는 만두에요.