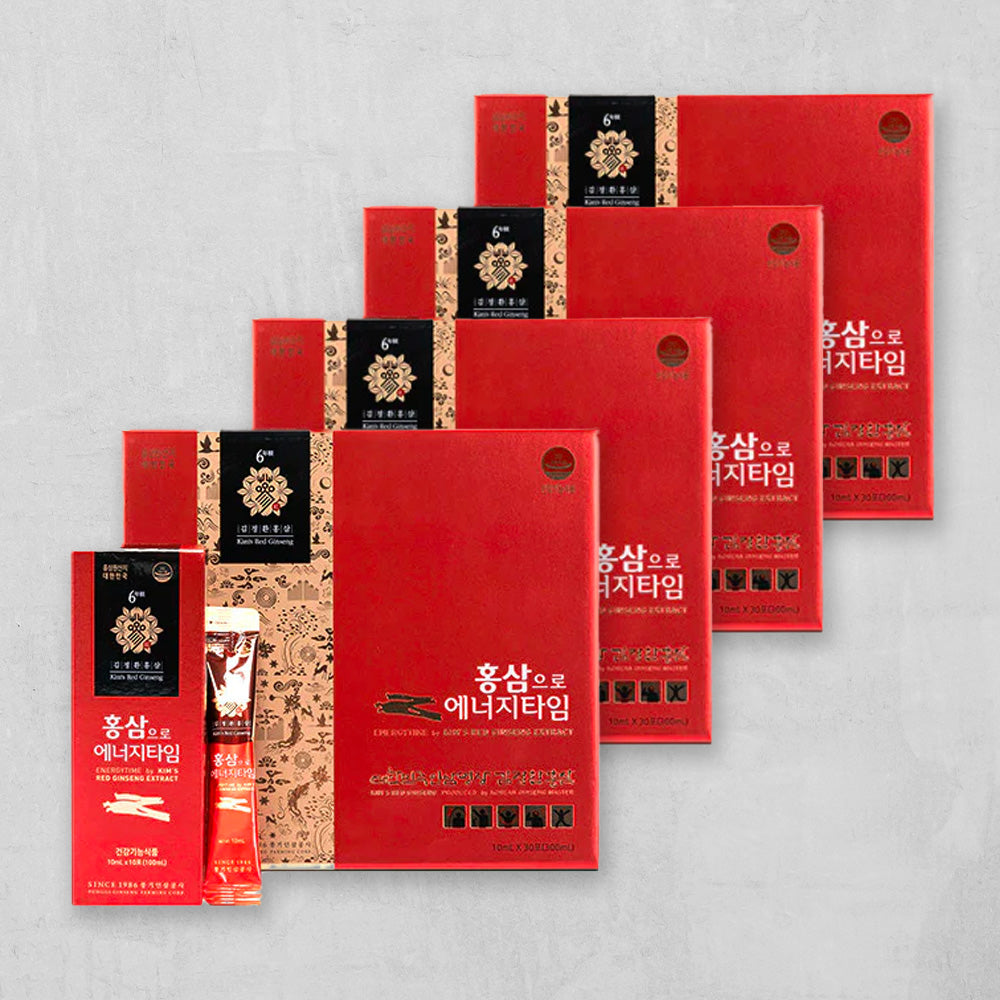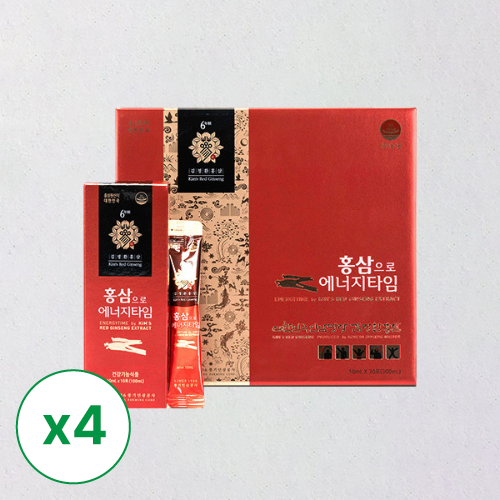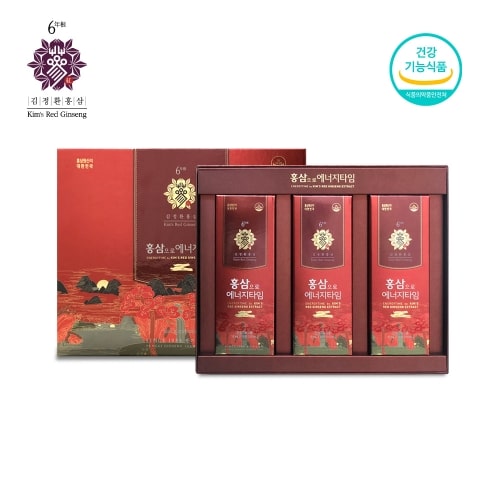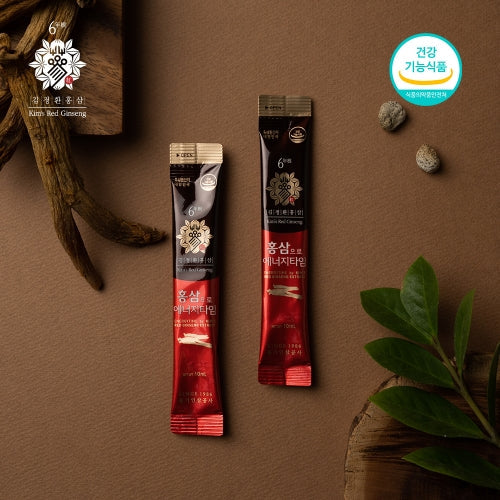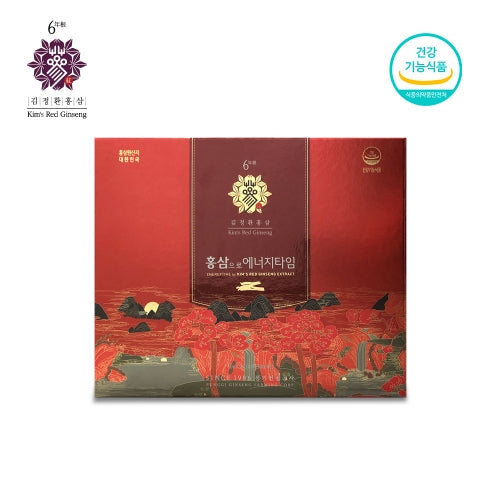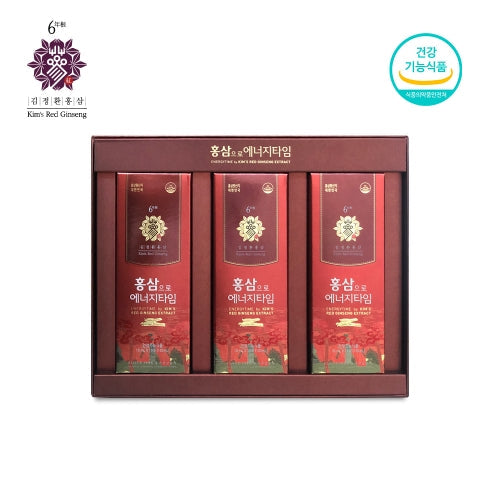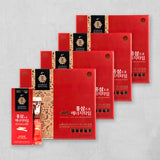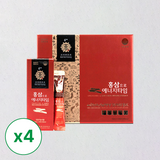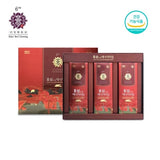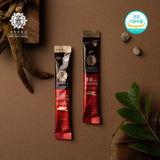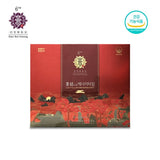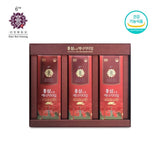 Ginseng Energy Time (10ml x 30 sticks) x 4 box_ Free shipping
Free Shipping
Enjoy free shipping regardless of purchased amount.
[KIM'S RED GINSENG] Ginseng Energy Time (10ml x 30 sticks)
Red Ginseng Energy Time is a daily package that can be easily consumed for the premium red ginseng concentrate extracted by the Korean ginseng master carefully grown and aged for 6 years of red ginseng. It is easy to carry, and the bitter taste of red ginseng is made to be eaten more by using the ingredients such as plant mixing concentrate.
Manufactured Environment
Red Ginseng from Punggi-eup, North Gyeongsang Province
Kim's Red Ginseng uses only the best 6-year-old fragrant ginseng grown in the clean environment of Sobaeksan-rok surrounded by strong fertile high-quality soil cultivated by the dense internal tissue of Punggi-eup, Gyeongsangbuk-do. These Punggi ginsengs were gifted to the Joseon royal family and are the origin of the world-renowned Goryeo ginseng.
How to Use
Simple Way to Take Care of Your Health
1. Prepare one sachet of Energy Time concentrate.
2. Press the cutting line and be careful that product does not leak out.
3. Consume before or after meals.
Premium Ingreidents
Premium 6-year-old Red Ginseng
This premium red ginseng extract is a result of repeated low-temperature extraction of the 6-year-old red ginseng grown by Korean artisans. Packed with ginsenosides, red ginseng extract boosts the immune system, relieves fatigue, and suppresses platelet aggregation, thereby improving circulation, memory function, and antioxidation.
California Proposition 65
WARNING: Consuming this product can expose you to chemicals including lead and cadmium which are known to the State of California to cause cancer and birth defects or other reproductive harm. For more information go to www.p65Warnings.ca.gov/food
| | |
| --- | --- |
| Allergy Info | Red ginseng |
| Manufacturer | Punggi ginseng corporation farming association corporation |
| Origin | Punggi-eup, gyeongsangbuk-do |
| Ingredients | Ingredients: Red ginseng concentrate (6 years old, 60% or more solids, 10mg/g of ginsenosides Rg1, Rb1, and Rg3 in Korea) 8.8%, Ingredients triple blend ratio: 6-year-old red ginseng (domestic) 100%: 70% red ginseng root, 30 red rice ginseng %), low sugar, plant mixed concentrate, purified water |
27kcal per 10ml
* 1 day nutrient
ratio to reference value
three milligrams of sodium
0%
7g carbohydrate
2%
1g saccharide
fat 0g
0%
0g transfat
0g saturated fat
0mg cholesterol
0%
protein 0g
* The ratio (%) to the daily nutritional standard is 2,000 kcal, so it may vary depending on the individual's required calories.
Note: 1. Be careful when taking medicines (diabetes drugs, blood anticoagulants). 2. If you have an allergic or idiosyncratic constitution, check the ingredients before consuming. 3. If you use water or contaminated tools directly on the product, be careful as there is a risk of deterioration. 3. If the inner cap is disposable and reused, it may cause contamination and deterioration of the product. 4. Do not throw or drop as there is a risk of damage.

Kim Jeong-hwan Red Ginseng is a '50-year-old, 6-year-old red ginseng product brand' created by the CEO of Poonggi Ginseng Corporation and Kim Jeong-hwan, a master ginseng master in Korea. We honestly strive for high-quality ginseng with the cultivation secrets passed down from three generations and the cultivation know-how of ginseng masters.
Shipping Information
Refund Policy
Exchange or refund requests must be made within 7 days of receiving your product and should be initiated by contacting us through email (help@wooltariusa.com) or phone (310-933-8648) with a photo.
Please note that exchange or refund requests made on review boards or other platforms are not accepted.
A 30% restocking fee plus shipping charges apply for returns due to a change of mind, and refunds are not available for non-defective refrigerated/Korea-US direct delivery items.
40대 전엔 홍삼을 푹푹 퍼 먹어도 좋은지 모르겠다던 남편이... 40대 중반이 되니 알아서 챙겨 먹어요. 4박스씩 묶음으로 초특급 대박 세일 할 때마다 쟁여 놓은지 이번이 3번째예요. 한국처럼 한의원 문턱이 낮은 것도 아니고 각족 보양식 구하기도 어렵고.. 홍삼으로 남편 건강 챙겨주고 있어요. 남편도 이거 먹은 날은 확실히 다르다고 그러더라구요. 한 포씩 쭉 짜서 먹기 편해요.
좋은 제품을 정말 좋은가격에 구매했어요. 너무 뿌듯해요~ 고마워요~^^
요즘 결혼준비하느라 너무 힘들었는데 하루에 하나씩 먹으면서 힘이 다시 살아나고있뜸