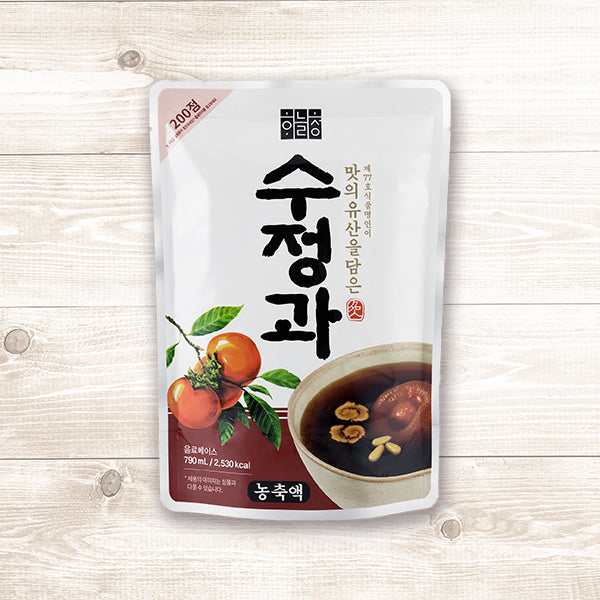 Sujeonggwa (Korean Cinnamon Punch) 790ml
Lightning Fresh
99 Delivery
Free shipping on Lightning Delivery items over $169
Free shipping on 99 Delivery items over $99
[Sky Office] Sujeonggwa (Korean Cinnamon Punch) 
790ml
Crystal and concentrate made for a long time in traditional way!
It is a product that is diluted with water according to the preference. It is easy to store and handle it, and it is not as sweet as it is made at home.
Production and Distribution
식품명인 만들어낸 수정과의 예술품!
대한민국 최초의 식혜명인 문완기 대표가 전통방식으로 만드는 제품으로. 국내산 곶감과 유기농 계피 등의 원재료로 만들었습니다. 전통방식의 장시간 당화과정을 거쳐 정성껏 만든 제품으로 은은한 단맛과 계피의 시원한 맛이 어우러져 질리지 않은 홈메이드 방식의 제품입니다.
Manufacturing Process
달거나 맵지않고 깊은 향이 개운한 맛!
너무달지도, 너무 맵지고 않은 계피의 알싸한 맛과 깊은 향이 잘 어우러진 제품으로, 잣이나 대추채 등을 동동 띄우거나 살얼음을 만들어 시원하게 즐겨도 훌륭한 영양간식이 됩니다.
Verified Quality
까다롭게 깐깐하게 만들었습니다!
하늘청의 제품들은 최신 HACCP 기반의 깨끗하고 안전한 시설에서 까다롭게, 깐깐하게 생산됩니다. 전통방식의 제조공정을 주문제작시설로 현대화시켜 전제품을 만들고 있습니다. 현재 미국, 일본, 중국, 호주, 캐나다등 전세계로 수출되고 있으며, 국내에서도 쿠팡과 마켓컬리에서 인기리에 판매되고 있습니다.
California Proposition 65
WARNING: Consuming this product can expose you to chemicals including lead and cadmium which are known to the State of California to cause cancer and birth defects or other reproductive harm. For more information go to www.p65Warnings.ca.gov/food
하늘청의 제품들은 대한민국 최초의 식혜명인 문완기 대표가 전통방식으로 만들어냅니다. 전통식품 품질인증을 받았으며 엄선된 100% 순수 국산 원료만 사용하여 전통방식으로 만들어냅니다.
Shipping Information
Refund Policy
Exchange or refund requests must be made within 7 days of receiving your product and should be initiated by contacting us through email (help@wooltariusa.com) or phone (310-933-8648) with a photo.
Please note that exchange or refund requests made on review boards or other platforms are not accepted.
A 30% restocking fee plus shipping charges apply for returns due to a change of mind, and refunds are not available for non-defective refrigerated/Korea-US direct delivery items.