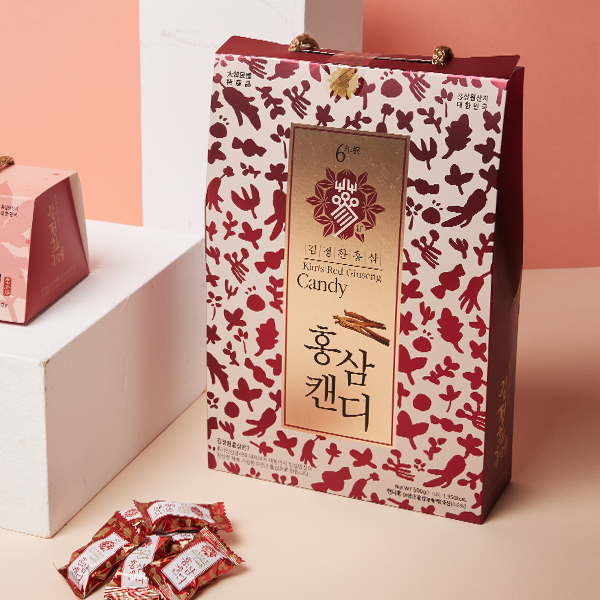 1 Day shipping
Ground shipping
Free shipping on 1 Day shipping items over $169
Free shipping on Ground shipping items over $99
[KIM'S RED GINSENG] GINSENG CANDY 500g
Kim Jung-hwan's Red Ginseng Candy is made with high-quality 6-year-old Punggi-eup red ginseng concentrate free of no sugar creating rich flavor, not too sweet and refreshing. Individually packaged with a variety of luxurious designs, this candy is perfect to enjoy daily and to give as a gift.
Manufactured Environment
Red Ginseng from Punggi-eup, North Gyeongsang Province
Kim's Red Ginseng uses only the best 6-year-old fragrant ginseng grown in the clean environment of Sobaeksan-rok surrounded by strong fertile high-quality soil cultivated by the dense internal tissue of Punggi-eup, Gyeongsangbuk-do. These Punggi ginsengs were gifted to the Joseon royal family and are the origin of the world-renowned Goryeo ginseng.
Production and Distribution
Long-time know-how of Kim Jung-hwan, the master of ginseng
Kim Jung-hwan, the master of ginseng, is responsible for the selection of plantation sites, cultivation, processing, and distribution of all of his red ginseng products. Cultivated with its own eco-friendly 'Yangjikmyo production technology,' each product is made to preserve and maximize the unique aroma and nutritional values of 6-year-old red ginseng. The Korean root undergoes repeated extraction using purified water and is distributed without human interaction for hygienic purposes.
Premium Ingreidents
Premium 6-year-old Red Ginseng
Made using carefully selected excellent 6-year-old fresh ginseng, this red ginseng extract contains a large amount of ginsenosides, a saponin ingredient unique to red ginseng.
California Proposition 65
WARNING: Consuming this product can expose you to chemicals including lead and cadmium which are known to the State of California to cause cancer and birth defects or other reproductive harm. For more information go to www.p65Warnings.ca.gov/food
| | |
| --- | --- |
| Allergy Info | Red ginseng |
| Manufacturer | Punggi ginseng corporation farming association corporation |
| Origin | Punggi-eup, gyeongsangbuk-do |
| Ingredients | Ingredients: starch syrup, refined sugar, red ginseng concentrate (the sum of ginsenosides Rg1, Rb1 and Rg3: 6.7mg/g, solids 65% or more, domestic) 0.4%, red ginseng powder (domestic) 0.15%, red ginseng flavor (synthetic flavoring), Herb flavor (synthetic flavoring agent), caramel color / Ingredients ginseng ratio: 70% red ginseng root, 30% red rice ginseng |
39 kcal per 10g
* 1 day nutrient
ratio to reference value
sodium 5mg
0%
10g carbohydrate
3%
saccharide 5g
fat 0g
0%
0g transfat
0g saturated fat
0mg cholesterol
0%
protein 0g
* The ratio (%) to the daily nutritional standard is 2,000 kcal, so it may vary depending on the individual's required calories.
Note: 1. If you have a specific constitution or an allergic constitution, check the ingredients before consuming. 2. If swallowed as it is, it may get caught in the throat, so be careful.

Kim Jeong-hwan Red Ginseng is a '50-year-old, 6-year-old red ginseng product brand' created by the CEO of Poonggi Ginseng Corporation and Kim Jeong-hwan, a master ginseng master in Korea. We honestly strive for high-quality ginseng with the cultivation secrets passed down from three generations and the cultivation know-how of ginseng masters.
Shipping Information
Refund Policy
Exchange or refund requests must be made within 7 days of receiving your product and should be initiated by contacting us through email (help@wooltariusa.com) or phone (310-933-8648) with a photo.
Please note that exchange or refund requests made on review boards or other platforms are not accepted.
A 30% restocking fee plus shipping charges apply for returns due to a change of mind, and refunds are not available for non-defective refrigerated/Korea-US direct delivery items.
This 홍삼캔디 tastes perfect and addictive. I bought only once because I am mostly on diet.
젤리도 좋고 이 캔디도 좋음. 그리 달지도 않고.
가족들은 약맛이 난다고 안 먹음.
다 내꺼!!!!
당뇨병 있는 사람 꼭 챙겨 다니면 좋을 듯.
그렇게 달지 않고 나는 아주 좋아요.
또 오더할려고.
그리 달지도 않고 괜찮아요. 우리 까다로운 아들도 좋아 합니다.
선물용이나 장거리 운전할때 한개씩 입에넣어 먹기 좋아요 홍삼 맛이랑 향이 은은합니다~
인삼향도 많이 가하지 않고 (은은한 맛) 사탕치고는 별로 달지 않아서 입이 심심할때 딱좋아요