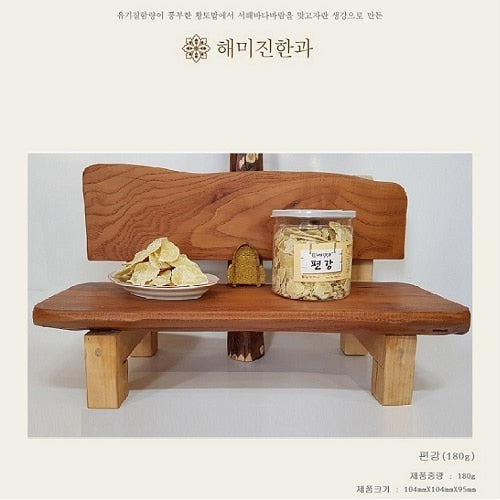 Lightning Fresh
99 Delivery
Free shipping on Lightning Delivery items over $169
Free shipping on 99 Delivery items over $99
[Hae Mijinhan Class] 180g
It is a product that uses ginger grown with the sea breeze of the West Sea. The sugar is sweet and sweet and aftertaste is a high -quality snack with a bitter taste of ginger.
Nutritions
The health benefits of ginger
Ginger is excellent for preventing colds, and it helps to prevent adult diseases such as arteriosclerosis and high blood pressure by excreting cholesterol. It also relieves arthritis, has antibacterial and anticancer effects.
Premium Ingreidents
Ginger, a specialty of Seosan
Ginger of Haemi Jin Hangwa, a special product of Seosan City, is a special raw material that is grown in a loess field rich in organic matter in the wind from the West Sea.
California Proposition 65
WARNING: Consuming this product can expose you to chemicals including lead and cadmium which are known to the State of California to cause cancer and birth defects or other reproductive harm. For more information go to www.p65Warnings.ca.gov/food
| | |
| --- | --- |
| Manufacturer | Haemijin Hangwa |
| Origin | Seosan-si, Chungcheongnam-do |
| Ingredients | 80% ginger (domestic) and 20% sugar |

Haemijin Hangwa's confectionary is made mostly of by hand, using the taste of our grandmothers and mothers's technique that have been passed down for a long time. We strive to make nutritious snacks that can feel the taste and taste of tradition in a food culture that is becoming westernized.
Shipping Information
Refund Policy
Exchange or refund requests must be made within 7 days of receiving your product and should be initiated by contacting us through email (help@wooltariusa.com) or phone (310-933-8648) with a photo.
Please note that exchange or refund requests made on review boards or other platforms are not accepted.
A 30% restocking fee plus shipping charges apply for returns due to a change of mind, and refunds are not available for non-defective refrigerated/Korea-US direct delivery items.
너무 달아요..설탕이 하도 많아서..설탕이 적은걸로 구매하고 싶어요
편강이 얇고 먹기 좋아 만족하신 고객님의 소중한 포토 리뷰,
300포인트 적립해드리겠습니다. 감사합니다.
바삭바삭한 편강을 맛있게 드셔주셔서 감사합니다.
고객님의 소중한 포토 리뷰에 감사드리며 300포인트 적립해드리겠습니다.
wooltari
생강 좋아해서 기대를 많이했는데 생각보다 많이 매워요. 이빨에 끼는것도 좀 불편하고...
저랑은 잘 안 맞아서 아쉽네요. 생강80%, 설탕20%로 만들어져서 성분은 깔끔하네요
수라편강 있었으면 좋겟어요..ㅡ지난번 산거는 너무 달아요
.수라편강 맛잇어요..너무 달지도 않고.근데 울타리몰에는 없네요