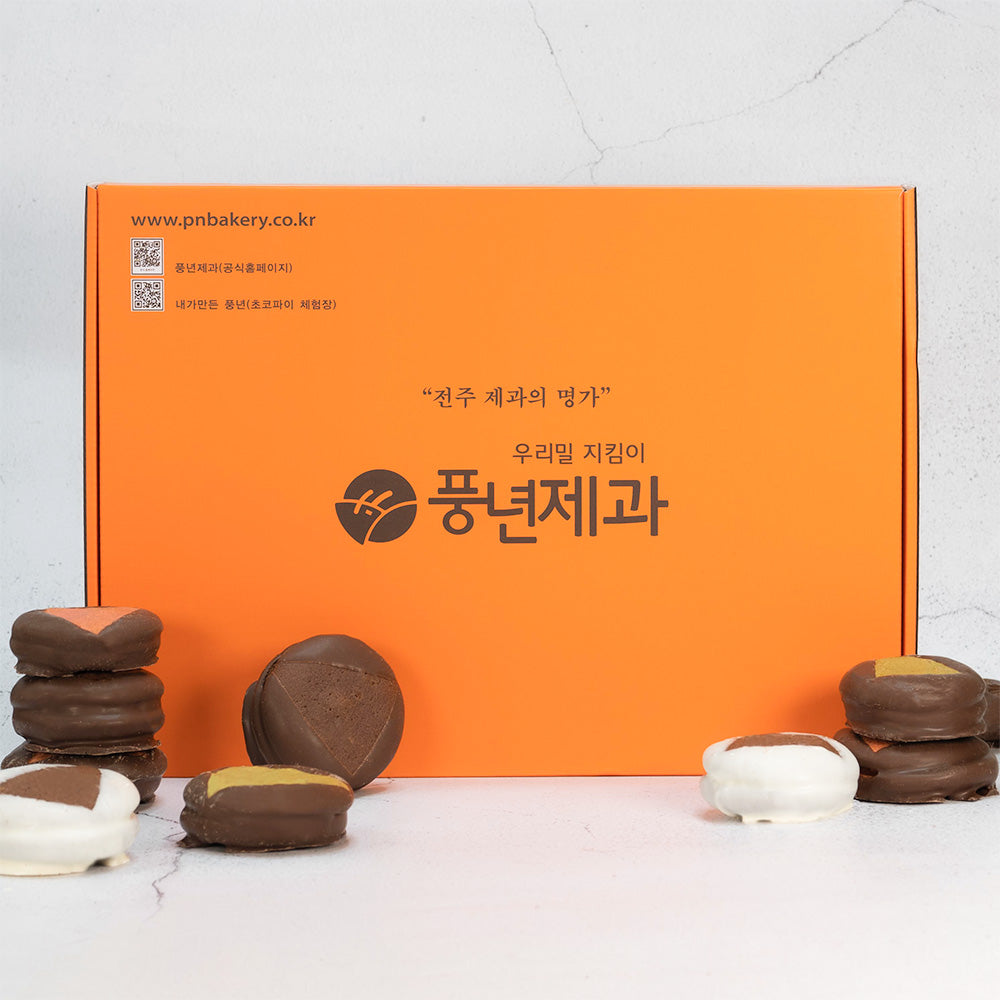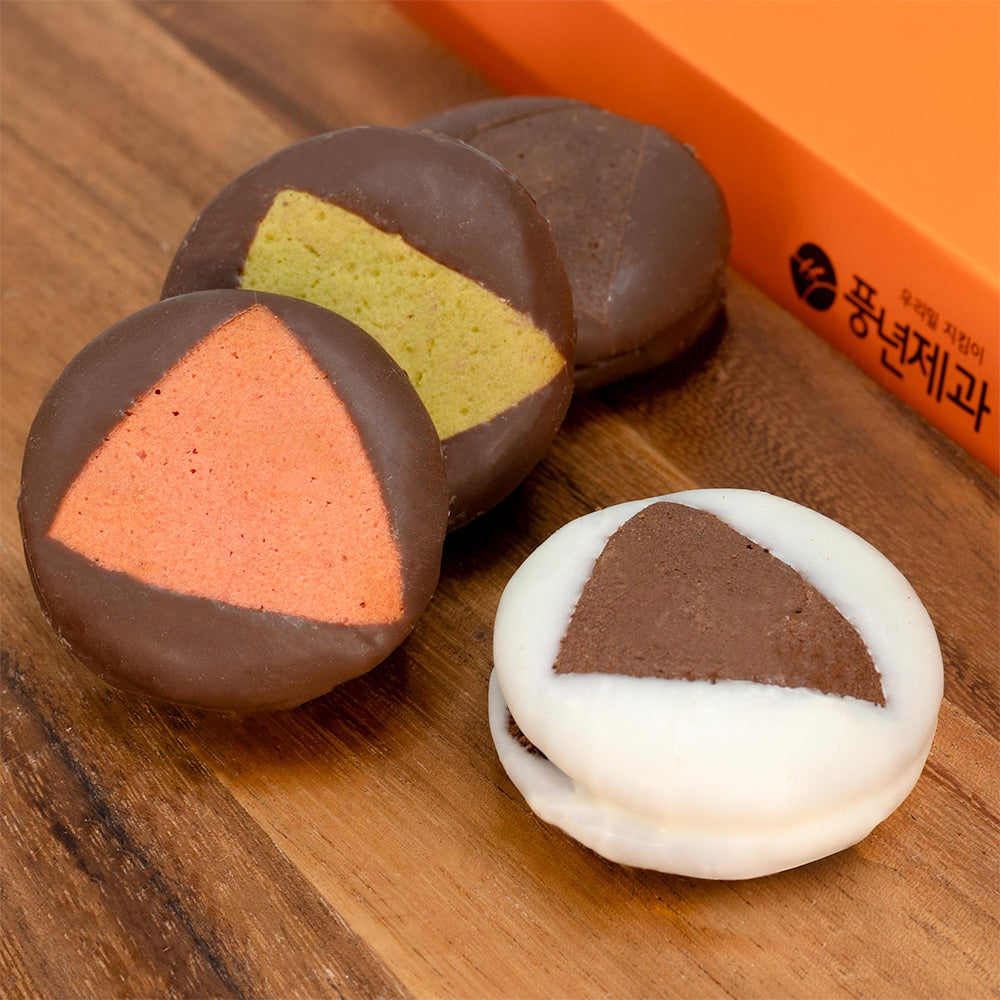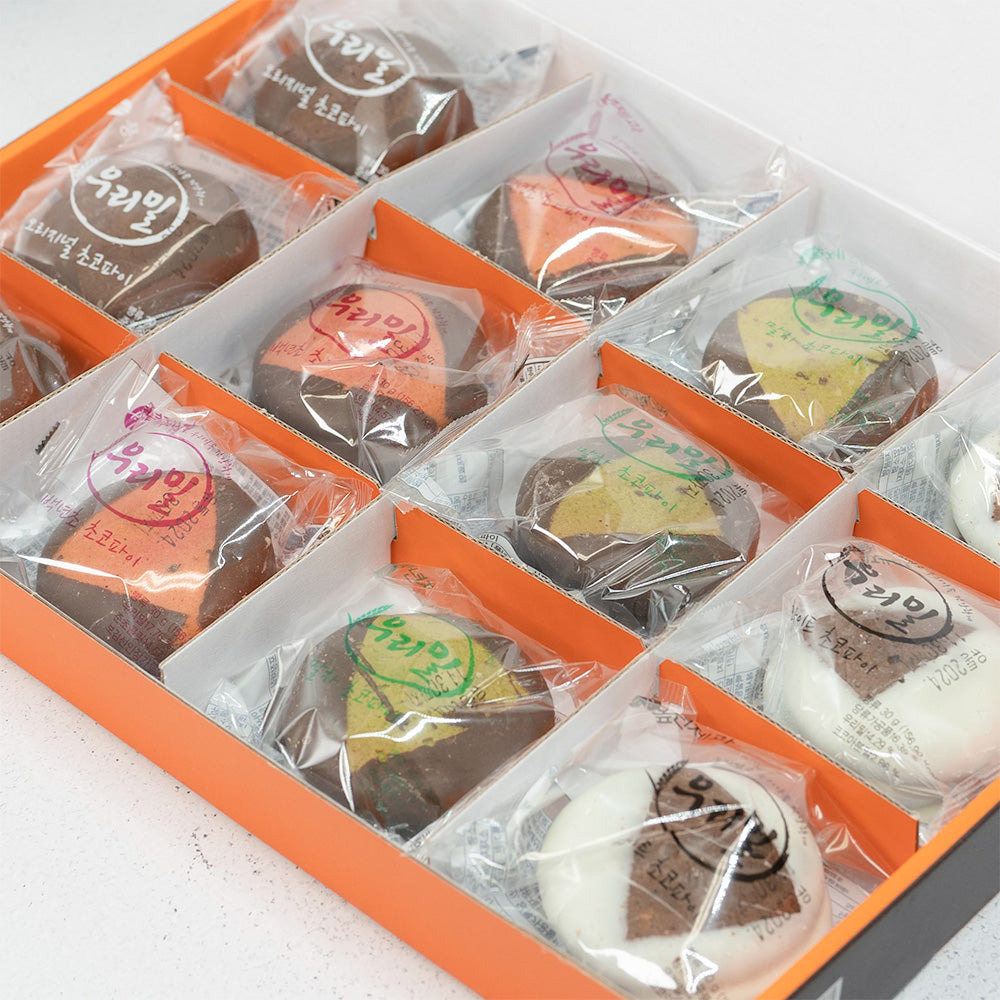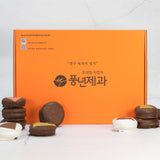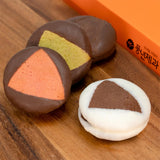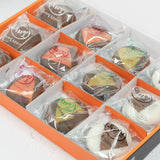 Korean Wheat Mini chocolate pie set (Original, White, Cactus, Cheese, Matcha) 12 pieces (360g)
1 Day shipping
Free shipping on 1 Day shipping items over $169
[Pungnyeonjegwa] Korean Wheat Mini chocolate pie set (Original, White, Cactus, Cheese, Matcha) 12 pieces (360g)
100% domestic Korean wheat, Jeonju specialty choco pie!
Introducing the pride of Jeonju, mini chocolate pie set of Jeonju Bakery Pungnyeon Confectionery.
It added a variety of flavors to the moist chocolate bread containing the secret of Pungnyeonjegwa. The chocolate bread is coated once more with chocolate to make it richer, and is filled with butter cream so it gives a softer texture.
Manufactured Environment
전통의 맛! 비교할 수 없는 맛!
전주 중앙동에서 문을 연 1969년, 그때부터 지금까지 전주와 꾸준히 함께 성장해 온 풍년제과는 현재 전주를 대표하는 제과점이 되었습니다.
대한민국 최초 부녀 제과 기능장이 빵을 만드는 곳이기도 한데요. 풍년제과 본점을 처음부터 운영해온 강동오 대표가 아빠이고, 제과경력 15년의 딸 강하나 팀장이 2020년 대한민국 제과기능장 자격을 취득해 대한민국 최초 부녀 제과기능장이 되는 역사를 새로 쓰게 되었습니다.
How to Use
보기만해도 군침도는 알찬 구성!
본 제품은 총 4종으로,
일반 3개+화이트 3개 + 말차 3개+백년초 3개로 이루어져 있습니다.
① 미니 수제 초코파이
기존 수제초코파이와 동일하게 우리밀 초코빵 속에딸기잼과 버터크림이 들어있고, 크기는 30g의 미니 사이즈입니다.
② 미니 화이트 초코파이
우리일 초코방에 화이트초콜릿을 코팅해 부드러우면서도 달달한 맛이 납니다. 초코방 속에는 딸기점과 버터크림이 들어 있습니다.
③ 미니 말차 초코파이
우리밀 초코빵에 녹차가루를 듬뿍 넣어 녹차의 쌉쌀한 맛과 초콜렛의 달달한 맛을 함께 느끼실 수 있습니다. 크림 또한 녹차크림이라 빵과 잘 어울립니다.
④ 미니 백년초 초코파이
우리밀 초코빵에 백년초 가루를 듬뿍 넣어 새콤하면서도 달달한 맛을 함께 느끼실 수 있습니다. 전반적으로 백년초와 같이 핑크색을 띄고 있고, 크림 또한 백년초크림으로 빵과 조화를 이룹니다.
❉ 초코파이는 배송 후, 냉동실에 보관해주세요. 실온에서 10~20분 정도 해동 후 드시면 더욱 맛있습니다.
차가운 우유나 아메리카노와 함께 드시면 진한 초콜릿과 어우러져 더욱 맛있는 초코파이를 드실 수 있습니다.
Premium Ingreidents
솔직한 재료, 건강한 맛!
풍년제과는 수입산이 아닌 100% 국내산 우리밀을 사용하여 수입밀로 만든 제품과는 비교할 수 없는 건강한 퀄리티를 자랑합니다.
California Proposition 65
WARNING: Consuming this product can expose you to chemicals including lead and cadmium which are known to the State of California to cause cancer and birth defects or other reproductive harm. For more information go to www.p65Warnings.ca.gov/food
Shipping Information
Refund Policy
Exchange or refund requests must be made within 7 days of receiving your product and should be initiated by contacting us through email (help@wooltariusa.com) or phone (310-933-8648) with a photo.
Please note that exchange or refund requests made on review boards or other platforms are not accepted.
A 30% restocking fee plus shipping charges apply for returns due to a change of mind, and refunds are not available for non-defective refrigerated/Korea-US direct delivery items.
남편과 저는 큰사이즈초코파이 먹고 아이들은 미니사이즈 초코파이 먹고 넘 맛있고 좋네요 ㅋ ㅋ ㅋ ㅋ ㅋ
아이들이 두손가득 초코파이 들고 먹는 모습을 보면 세상 귀여워요 ㅋ ㅋ 온가족이 맛있게 먹어서 매번 울타리몰에 재주문하는 풍년제과 진짜 맛나요 떡같은 질감을 싫어하는 외국인 친구들한테 선물하니 너무 좋아하네요 ㅋ ㅋ 어디에서 샀냐고 물어봐서 울타리몰이라고 소개해줬어요 울타리몰때문에 인싸되겠어요 ㅋ ㅋ
전주 한옥마을의 명물 풍년제과 한국으로 여행갔을때
처음 전주에서 맛보고 수제초코파이의 맛에 넘 맛있게 먹었던 기억이 ㅋ ㅋ 서울 압구정 겔러리아 본점에서 입점해서 진짜 자주 사먹었어요 이제는 미국에서도 손쉽게 울타리몰에서 사먹을수 있어서 넘 좋아요
한국에서 가족이 미국에 여행오면 꼭 풍년제과 초코파이 사오라고해서 언니가6박스씩 사왔었는데 이제는 무겁고 귀찮게 그럴필요가 없네요 ㅋ ㅋ ㅋ 말차가루햠량도 많이 들어가서 입에 베어무는 순간 은은하고 진한 말차맛과 향이 나면서 쌉싸름함에 한번 반하고 수제 딸기젬과생크림 초코의 조화에 두번 놀래요 진짜 끝내주네요 커피랑 먹으면 끝!!!오리지널 말년초 화이트 다맛있어요 한국은 치즈맛도 있는데 그구성도 넣어주세요 ㅋ ㅋ ㅋ 언제나 믿고 주문하는 울타리몰!! 일하다 당떨어질때 먹기 딱좋아요 ㅋ ㅋ ㅋ 미니사이즈라 아이들 간식으로 먹기에도 사이즈가 딱 좋아요 꼭 밖에 나갈때 가방에 챙겨 다니는 필수템 풍년제과 !!