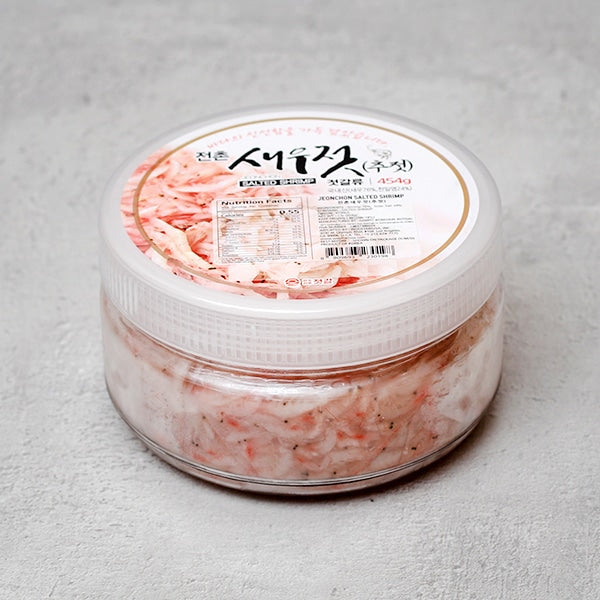 1 Day shipping
Free shipping on 1 Day shipping items over $169
Gampo Jeoncheon Salted Shrimp (Chujeot)

Gampo Jeoncheon Chujeot salted shrimp is a product that is aged using the shrimp caught in Fall at Korea's clean sea, this salted shrimp is called "Chujeot" in Korean. The Chujeot is tender, soft, large, plump and not too salty and is a Korean favorite, perfect to add to your cooking and kimjang kimchi. We store and age the Korean shrimp with Sinan sea salt without any chemical additives. 
Manufactured Environment
Gampo where turbulence and Korean waves intersect
Since ancient times, Gampo has been a place where turbulence and Korean waves intersect, so it is a place where many fisheries products with abundant catch and high quality are caught. We have good geographical conditions to produce salted seafood because we can get fresh ingredients, and we're producing good quality products with a certain amount of sunlight.
Manufacturing Process
Traditional salted seafood processing and ripening method
It is made using domestic lotus root-dispersed shrimp and Sinan cheonil salt and does not contain preservatives, pigments, or condiments during the processing process. After that, it is stored in a cold storage ripened naturally to make traditional salted seafood with excellent taste without fishy smell.
Premium Ingreidents
Lotus-dissolved shrimp, Shinan sun-salt
It is a mineral-rich food using fresh domestic shrimp and saline salt from Shinan Mountain. It is pure shrimp sauce that does not use artificial additives such as seasonings, preservatives, pigments, and sodium L-glutamate.
California Proposition 65
WARNING: Consuming this product can expose you to chemicals including lead and cadmium which are known to the State of California to cause cancer and birth defects or other reproductive harm. For more information go to www.p65Warnings.ca.gov/food
| | |
| --- | --- |
| Allergy Info | Contains crustacean |
| Manufacturer | Gampo Jeoncheon  |
| Origin | Yeongju city |
| Ingredients | Domestic - 76% shrimp, 24% sun salt |
Storage Method: Freezer storage

-Gampo is a place where warm and cold currents intersect, so catches are abundant and high-quality seafood is caught. Gampo Jeonchon Jeotgal, located here, has good conditions for producing salted fish because it can receive fresh ingredients and produces high-quality products with a constant amount of sunlight.
Shipping Information
Refund Policy
Exchange or refund requests must be made within 7 days of receiving your product and should be initiated by contacting us through email (help@wooltariusa.com) or phone (310-933-8648) with a photo.
Please note that exchange or refund requests made on review boards or other platforms are not accepted.
A 30% restocking fee plus shipping charges apply for returns due to a change of mind, and refunds are not available for non-defective refrigerated/Korea-US direct delivery items.
김치 담구느라 다 썻어요 ㅠ 한번에 쓰긴 아까웠는데 김장이 맛있게 되길 바라며… 색이 너무 곱던데 맛도 좋겠죠?!!
마트에서 새우젓 사면 항상 양이 많아서 다 못먹고 날짜가 지나서 버리곤 했어요. 버리고 나면 항상 족발먹을 때나 호박나물 할때 필요해서 또 사게되더라구요. 울타리에서 소분되어있는 새우젓 보자마자 이게 딱 저한테 필요한 새우젓이다하고 바로 주문했어요!! 한번 먹을 양만큼 소분되어 있어서 깔끔하게 한팩씩 먹기 너무 좋아요ㅠㅠ 울타리에서 주문한 족발과 함께 맛있게 너무 잘 먹었습니다! 새우젓 평소에 많이 쓰지 않는 분들에겐 이것만큼 좋은 것이 없네요~~!
이 한국산 새우젓(추젓) 소포장은 낱개 포장이라 사용하기 정말 편리해요! 무엇보다도 냉동실 공간을 별로 차지하지 않아서 정말 좋은 잇템이에요! 감기증상이 있어서 콩나물, 황태, 고추, 생강, 마늘, 수란을 넣어 끓인후 새우젓을 얹어 시원한 맛을 냈죠! 깍두기 국물을 넣어 밥말아 먹으니 황태해장국이네요! 새우젓넣은 황태해장국 먹고 감기 싹 풀렸음해요!
가을에 잡아서 추젓이라고 하는데 오월에 잡은 오젓이 가격은 비싸지만 맛은 더 좋은거같아요