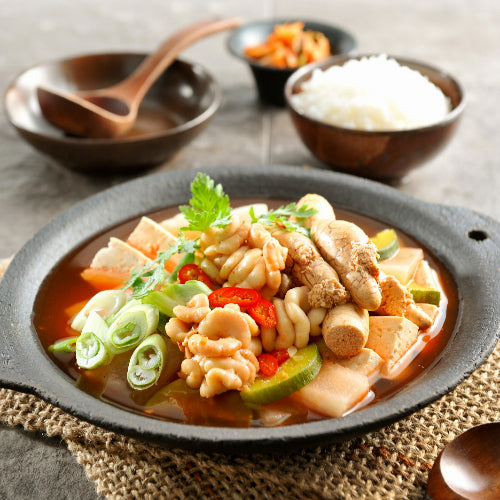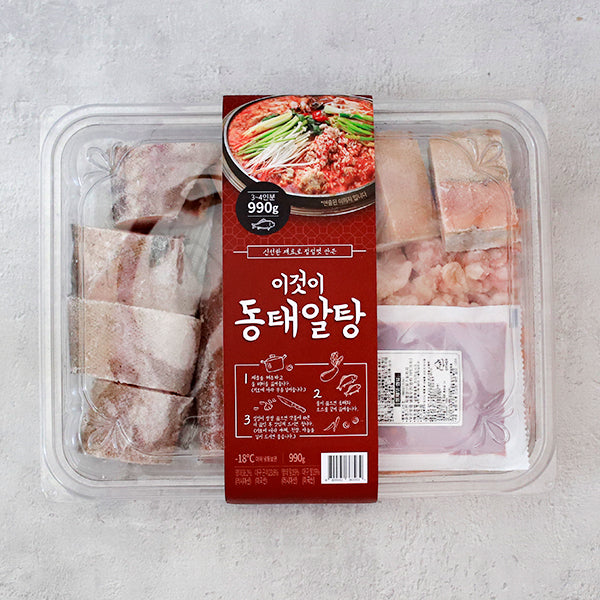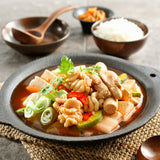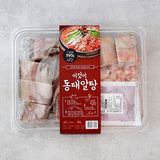 frozen pollack soup kit 990g
1 Day shipping
Free shipping on 1 Day shipping items over $169
[Milky Way Mountain] This is Dongtae Altang Milkit 990g
Fresh Gon -yi is a rich Dongtae Altang!
Easy to cook the spicy and cool dynamics at home. Fresh pollock and Daegu Gon, Daegu eggs and pollock eggs can be cleaned up to cook a lot of hot water. The delicious seafood soup seasoning will give you a deep, broth of broth.
Manufacturing Process
With more than 50 years of history, the master of the fisheries industry, Eunha Fisheries!


 Eunha Fisheries has strict hygiene management within HACCP and Costco Audit certified facilities and produces fresh and safe products through advanced equipment.
How to Use
The composition information of the frozen pollack soup kit!

Frozen pollack, pollack roe, and goni are neatly packed in a plastic tray.

It is cut into big pieces to be easy to eat, and you can the goni in the last step and boil it for less than 5 minutes.
It has a lot of top quality goni, so it doesn't ger scattered even after boiling for a long time, so the texture and density are excellent.

If you add spring onion or radish and boil it with liquid soup, you will get a great frozen pollack soup as good as any seafood stew restaurant menu.

California Proposition 65
WARNING: Consuming this product can expose you to chemicals including lead and cadmium which are known to the State of California to cause cancer and birth defects or other reproductive harm. For more information go to www.p65Warnings.ca.gov/food
 In the early days, Eunha Susan tried to build infrastructure and secure distribution networks based in Busan and Gyeongnam, and later expanded its base to large cities nationwide with a strategy to expand sales of large distribution marts.In the 2010s, it has grown into a large fisheries company with annual sales of 100 billion units due to the expansion of overseas global sourcing and distribution networks.Now, Eunha Fisheries is designing its future as a global leader by building a marine product platform that encompasses both domestic and foreign countries.
Shipping Information
Refund Policy
Exchange or refund requests must be made within 7 days of receiving your product and should be initiated by contacting us through email (help@wooltariusa.com) or phone (310-933-8648) with a photo.
Please note that exchange or refund requests made on review boards or other platforms are not accepted.
A 30% restocking fee plus shipping charges apply for returns due to a change of mind, and refunds are not available for non-defective refrigerated/Korea-US direct delivery items.
알이랑 곤이가 너무 실하게 들어있어서 좋아요. 동태 자체는 좀 질기지만 나머지 내용물이 실해서 그것만으로도 주문할만 해요.
된장, 무, 쑥갓 넣고 푹 끓여 먹으니 이틀은 맛있게 먹었네요.
재료가 실하고 국물이 시원해요 무랑 야채 추가하면 좋아요
국물맛좋고 고니도 식감좋고 요즘같이
쌀쌀해진 날씨에 딱입니다.
완전 추천!!! 안에 알도 알차고 동태도 살이 꽉찼어요~~ 저는 야채도 같이 들어있는쥴 알았는데.. 양념과 동태 알, 애..이렇게 들어있어요.. 무,파 양파와 된장 한스푼 그리고 다진마늘과 약간에 생강넣었더니 너무 맛있어요~~~ 만들고 나니 푸짐하고 msg맛이 아니라 국물이 정말 진하고 맛났어요~~
손쉽게 알탕을 먹을수있어서 간편하고 편리해요!
재구매할거예요 😊
생선과 내장도 신선하고 양도 많아서 두번에 나눠 조리해도 될만큼이고 맛도 좋아서 정말 강추합니다
무 야채 넣고 끓였는데 시원하고 얼큰하니 맛좋어요. 추천해요.