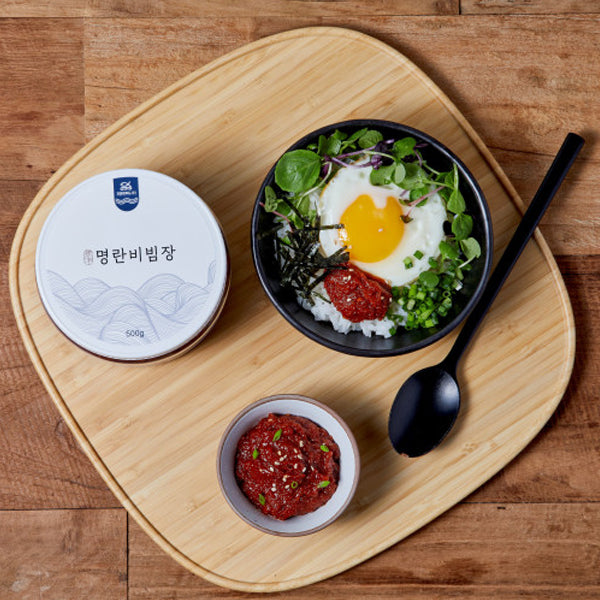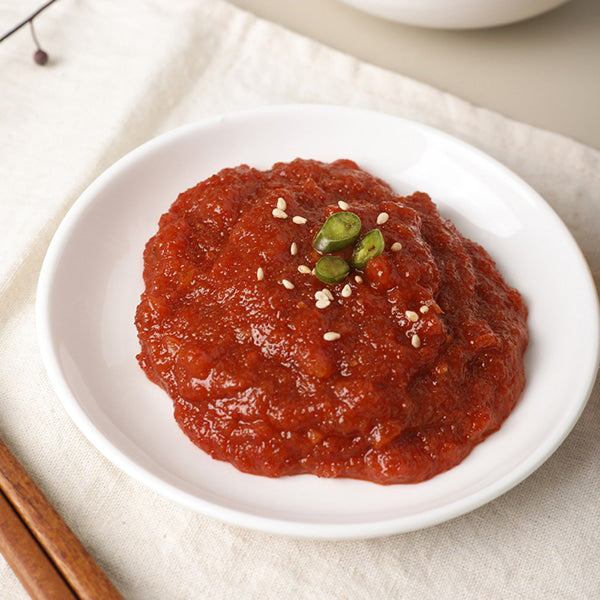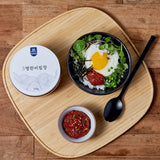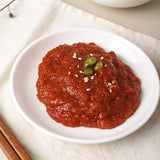 Gangwon Myeong-nan-bi-bim-jang (Cod Roe Mix) 500g
1 Day shipping
Free shipping on 1 Day shipping items over $169
[Jinyang Seafood] Gangwon Myeongnanbibimjang 500g
Jinyang Seafood Gangwon Myeongnanbibimjang 500g is a fresh spicy bibimbap that has a high -quality ripening bibimbap with a harmonious time with fresh spicy eggs, sweet and onions, and spicy sweetness of cheongyang pepper.
Production and Distribution
Strict and hygienic production and distribution process
At a marine product manufacturing company in Sokcho, Gangwon-do, products of Jinyang Seafood are made with pride using traditional methods practiced consistently for the past 40 years and safely produced, packaged, and delivered straight to your door.
How to Use
Simple way to enjoy Salted Pollack Roe Bibimjang
With just one spoonful of this one product, rich flavors can be added to pasta, tteokbokki, pollack mayo bibimbap, ramen, and stews,
Verified Quality
HACCP, FDA Verified
The trusted Jinyang Sea Food's Premium Mulhoe is verified by the HACCP and U.S. FDA facilities.
California Proposition 65
WARNING: Consuming this product can expose you to chemicals including lead and cadmium which are known to the State of California to cause cancer and birth defects or other reproductive harm. For more information go to www.p65Warnings.ca.gov/food
| | |
| --- | --- |
| Manufacturer | Jinyang Sea Food Co., Ltd. |
| Origin | Sokcho city of gangwon-do |
| Ingredients | 74.2% of seasoned salted fish [Myeongran 83.2% (Russian), re-made salt 3.5%, red pepper powder 5% (Chinese), garlic 3.5% (domestic), sugar 4%, sodium L-glutamate 0.8%, garlic 9.7%, red pepper paste 8.1%, Cheongyang red pepper 3.2%, sugar 3.2%, onion 1.6% |
Storage Method: Refrigerator storage

Jinyang Seafood Co., Ltd. is a seafood manufacturing and processing company located in Sokcho, Gangwon-do. Since its opening in 1981, for 40 years, it has consistently maintained the tradition of the original Jinyang Sashimi restaurant by preserving its unique taste with quality ingredients.
Shipping Information
Refund Policy
Exchange or refund requests must be made within 7 days of receiving your product and should be initiated by contacting us through email (help@wooltariusa.com) or phone (310-933-8648) with a photo.
Please note that exchange or refund requests made on review boards or other platforms are not accepted.
A 30% restocking fee plus shipping charges apply for returns due to a change of mind, and refunds are not available for non-defective refrigerated/Korea-US direct delivery items.
양이 생각보다 많아요 ㅋㅋ 밥에 슥슥 비벼 먹기도 너무 좋고 집에 이런 반찬 한 가지쯤은 있었음 싶을 때 딱 먹기 좋은 비빔장이에요
대충 명란 살짝 넣고 양념만 많은게 아니라 진짜 명란이 가득 들어있어요! 이 가격에 이게 가능한가 싶을 정도로 명란이 가득가득. 울타리몰에서 파는 제품중에 가장 가성비갑 제품이 아닐까 싶어요. 일반 젓갈처럼 밥위에 올려먹어도 맛있고 쌈장처럼 고기 위에 올려먹어도 맛있어요.한통씩 주변에 선물하기도 좋아요.
입맛 없을때 야채넣고 쓱싹쓱싹 비벼먹으면 딱이에요
명란젓갈 참 좋아하는데 가격이 만만치않고 맛도 보장 할 수 없어 자주 구매하기 어려운데, 이 제품은 가격대 비 맛도 좋고 갓지은 밥에 비비면 히야~~ 살짝 매콤하 면서도 알이 씹히는듯 아닌듯 넘 꿀맛이라 ㅋㅋ 밥도둑이 따로없네요!!
명란젓갈 참 좋아하는데 가격이 만만치않고 맛도 보장 할 수 없어 자주 구매하기 어려운데, 이 제품은 가격대 비 맛도 좋고 갓지은 밥에 비비면 히야~~ 살짝 매콤하 면서도 알이 씹히는듯 아닌듯 넘 꿀맛이라 ㅋ ㅋ 밥도둑이 따로없네요!!
오랜만에 주문했더니 패키지 디자인이 바뀌었네요. 바뀐게 훨씬 고급스럽고 예쁜거 같아요. 예전보단 가격이 오르긴했지만 여전히 양과 퀄리티에 비해 훌륭한 가격입니다. 아마도 터진 명란을 이용해서 만드는게 아닌가 싶어요. 그렇지 않고서야 이렇게 푸짐하게 명란이 들어갔는데 이 가격일 수가 없겠죠. 그만큼 명란이 정말 푸짐하게 들어가있어요. 밥에 넣고 비벼먹어도 맛있고 고기 구워먹을때 쌈장 대신 고기 찍어서 먹어도 완전 맛있어요. 강추합니다.