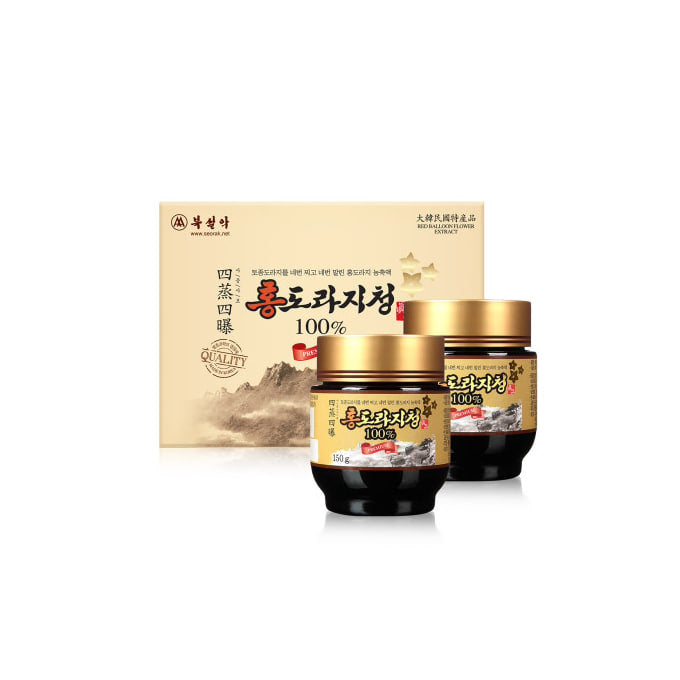 [BukSeolak] HONG DORAJI CHEONG(BALLOON FIOWER EXTRACT) (150g x 2 bottles)
Lightning Fresh
99 Delivery
Free shipping on Lightning Delivery items over $169
Free shipping on 99 Delivery items over $99
[North Seolak] HONG DORAJI CHEONG(BALLOON FIOWER EXTRACT)
The active ingredient is a Hongdoraji cheong that makes it easy for everyone to eat by enhancing the bellflower's unique arin taste and sour taste. Only domestic indigenous dorada was used as a colorless, preservative, martial arts and infinite medicine.
Manufacturing Process
Manufactured with long-term know-how and low-temperature method
After decoction of 3-year-old bellflower through 30 years of boiling know-how, it is extracted and concentrated using a low-temperature method to contain the active ingredients of bellflower in a well-balanced manner and the absorption rate is fast.
How to Use
How to drink red bellflower
Pour 1 to 2 tablespoons of red bellflower in a teacup, pour warm water, stir well to avoid lumps, and drink. Bukseorak's red bellflower dissolves well in lukewarm water, so you can enjoy it at a temperature that suits your taste.
Premium Ingreidents
Red bellflower made using sandpaper
It is a red bellflower made by grafting the method of making red ginseng to the method of steaming ginseng four times and drying it four times on the bellflower paper.
Exclusive Contract
America exclusive brand
Bukseorak products produced in Inje-gun, Gangwon-do are the American exclusive brand of Wooltari Mall.
California Proposition 65
WARNING: Consuming this product can expose you to chemicals including lead and cadmium which are known to the State of California to cause cancer and birth defects or other reproductive harm. For more information go to www.p65Warnings.ca.gov/food
| | |
| --- | --- |
| Allergy Info | Bellflower |
| Manufacturer | Bukseorak |
| Origin | Inje-gun, Gangwon-do |
| Ingredients | 100% domestic bellflowers (70% solids) |

For the past 29 years, Bukseorak has been recognized as a local company through its regional specialties such as Hwangtae, Bellflower, and Injin Mugwort. Located in Bukseorak of the Seoran Mountains, which is characterized by its rough and steep terrain, 'Bukseorak' finds wild herbs, such as rare medicinal herbs created by nature like Korean red ginseng, and detoxifies them and present them to customers.
Shipping Information
Refund Policy
1. Exchanges and refunds can be requested within 7 days of receiving the product.
2. For exchange or refund request, please contact us through email(help@wooltariusa.com) & phone (310-933-8648) with a photo.
3. If you request an exchange or refund on other boards, such as a review board, exchange or refund is not possible.
4. For simple change of mind, the shipping cost and 30% of the product price will be charged as a restock fee for returns.
5. Refrigerated delivery products and Viscose Rayon products cannot be exchanged or refunded only if there is no defect in the product.
기침이 심한 부모님에게 드릴선물로 포장도 너무 고급스럽게 잘 되어있습니다.
wooltari
너무 만족해요! 맛도 진하고 도랒 특유의 쓴맛도 거의 없으면서 한약 맛처럼 건깅한 맛입니다. 꿀 약간 타서 애들한테조 주니 잘 마시네요.. 특히 요즘 목이 칼킬하고 마른 기침 나올때 타서 마셔주니 너무 좋아요.. 커피에도 약간 타서 먹으니 엄청 고급진 커피 맛이 납니다! 포장도 고급져서 선물용으로 딱이어요!
wooltari
보통 목감기 걸리려고 목이 조금 간지럽거나 아파올 때는 항상 도라지환을 몇 번 먹고 바로 괜찮아졌었는데 ~ 한국에서 가져온 도라지환이 다 떨어져서 홍도라지청을 구매해 봤습니다. 물에 타기 전에 도라지청을 조금 먹어봤는데 달달하니 맛있어요! 중간 스푼 크기로 한스푼 물에 타서 마셨는데 ~ 물에 섞으니 단맛은 완전 없어지고 도라지 맛만 나네요. 맛있게 마시려면 꿀 좀 타서 마시면 좋을 것 같아요.
wooltari
포장이 참 고급지고 이쁘네요. 약으로 먹는거치고는 맛은 괜찮아요. 울타리에서 판매하는거니까 품질은 믿고 먹습니다.
wooltari
정말 걸죽하고 진합니다.
차로마셔보니 한약맛같기도 하고..
좀 쓰긴한데 꿀섞어먹으면 괜찮아요.
건강해지는맛!
wooltari
목이 따끔 거리고 아플때 도라지차로 마시니 나쁘지 않네요. 직접 도라지를 삶아서 꿀타서 먹었던거 보다 더 쓴맛도 없고 괜찮아서 아이들이 곧잘 마시네요. 혹시나 하고 샀는데 역시나 괜찮네요. 감사합니다.
wooltari
기관지가 약한 아이가 있어서 도라지를 꾸준히 먹고 있어요. 원래는 도라지청 100% 를 먹었는데 품절이라 홍도라지를 구매해 보았어요. 저희는 주전자에 물을 많이 끓여 도라지청 크게한스푼 넣어 물처럼 마셔요. 도라지차로 먹고 남은건 식혀서 냉장고에넣고 시원하게 마시면 좋고요. 홍도라지청이 조금 단맛이 살짝 있고 쓴맛은 덜한거 같아서 아이들도 잘먹고 있어요.
wooltari
그냥 떠서 먹어봤는데 정말 진합니다.
북설악 제품중 구시다를 좋아하는데 도라지청도 청이라고 하기보다는 원액에 가까운 진한 맛입니다.
요즘 계절이 바뀌면서 목이 칼칼했는데 도라지청을 차로 만들어서 먹어야겠어요.
wooltari
한 스푼씩 아이들에게 매일 먹이고 있는데 쓰지않아서 그냥 바로도 잘 먹더라고요. 감기 예방과 면역력 증강을 위해 매일 먹기 편리한 제품입니다. 포장도 깔끔해서 선물용으로도 딱입니다.