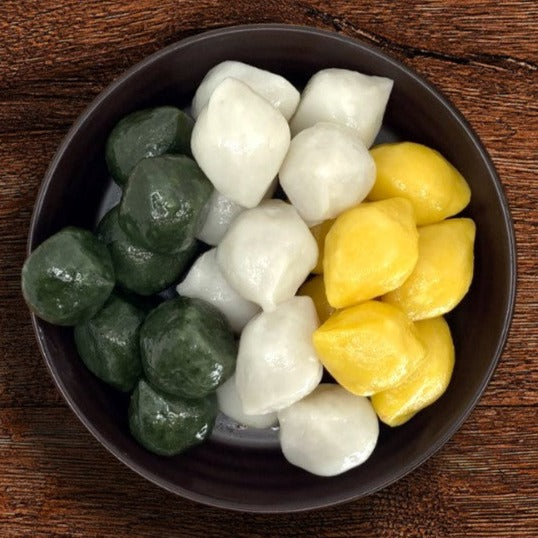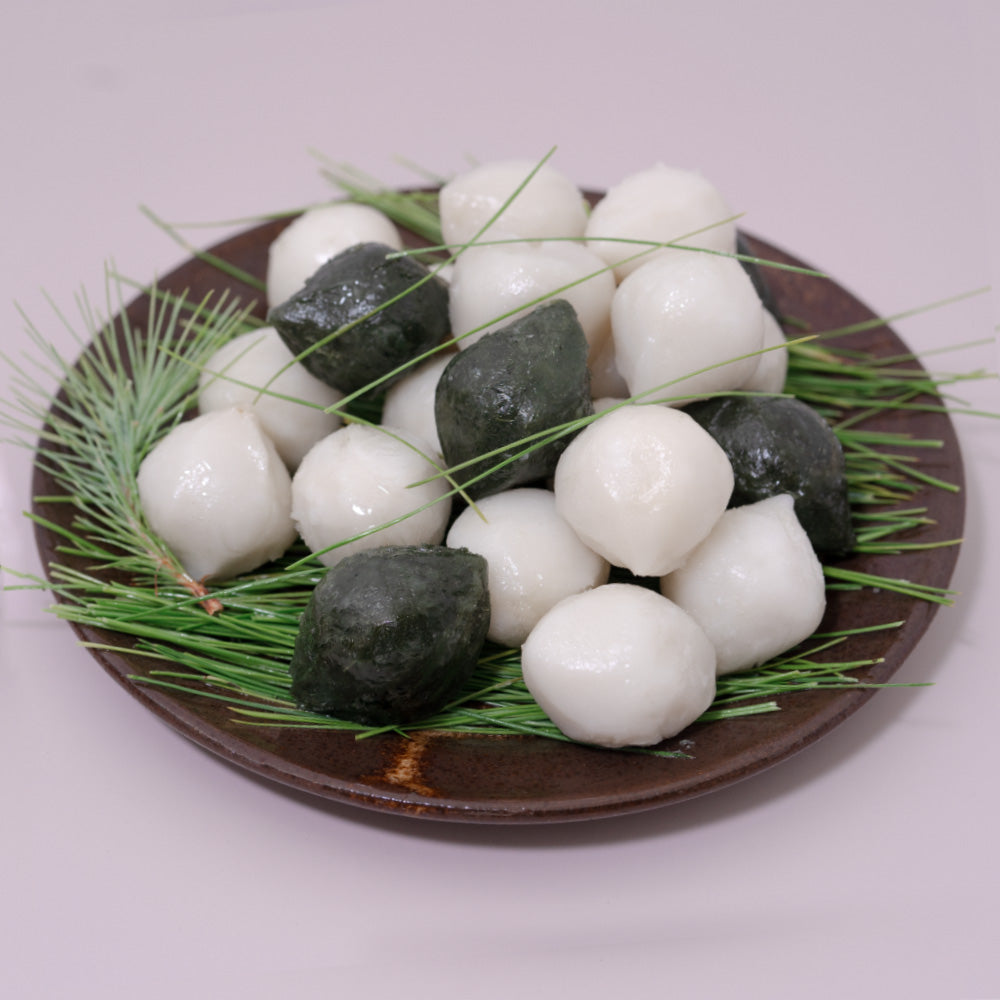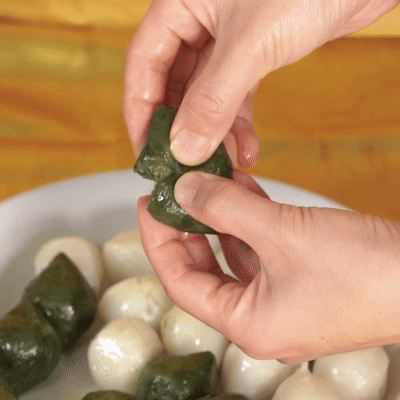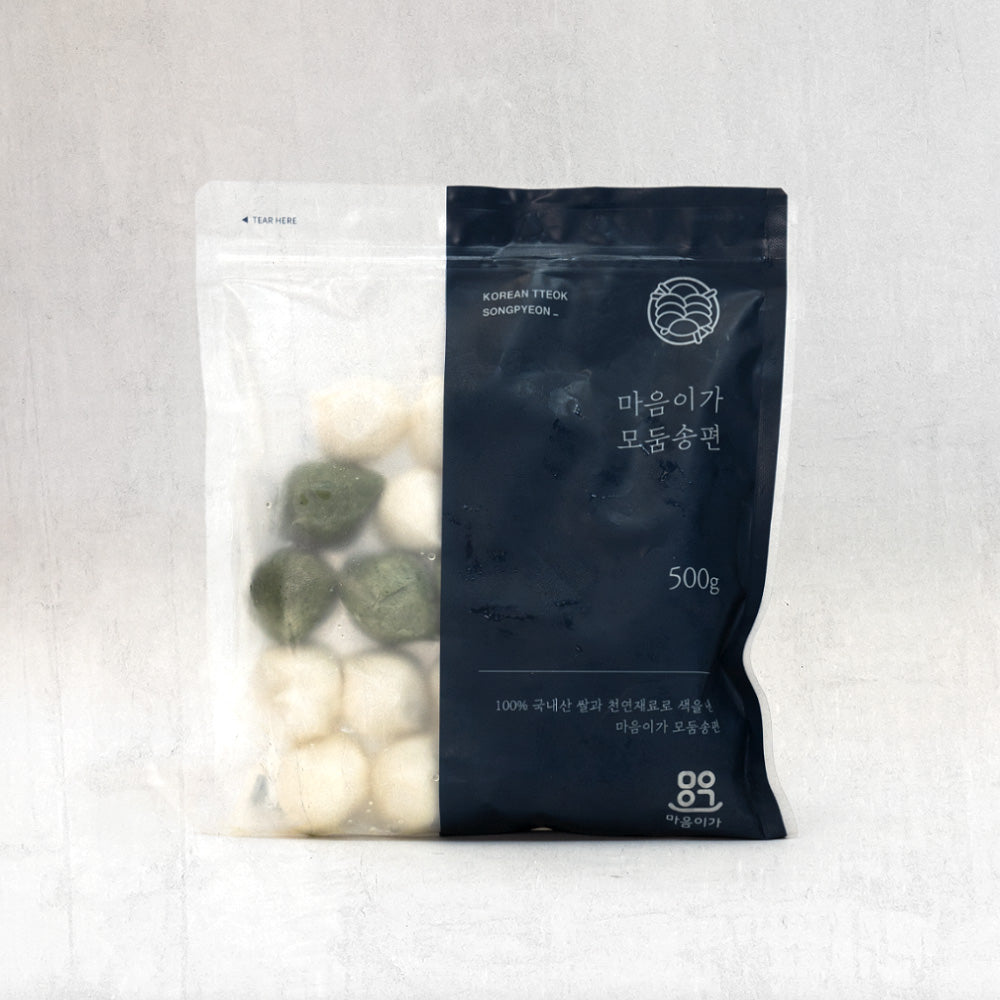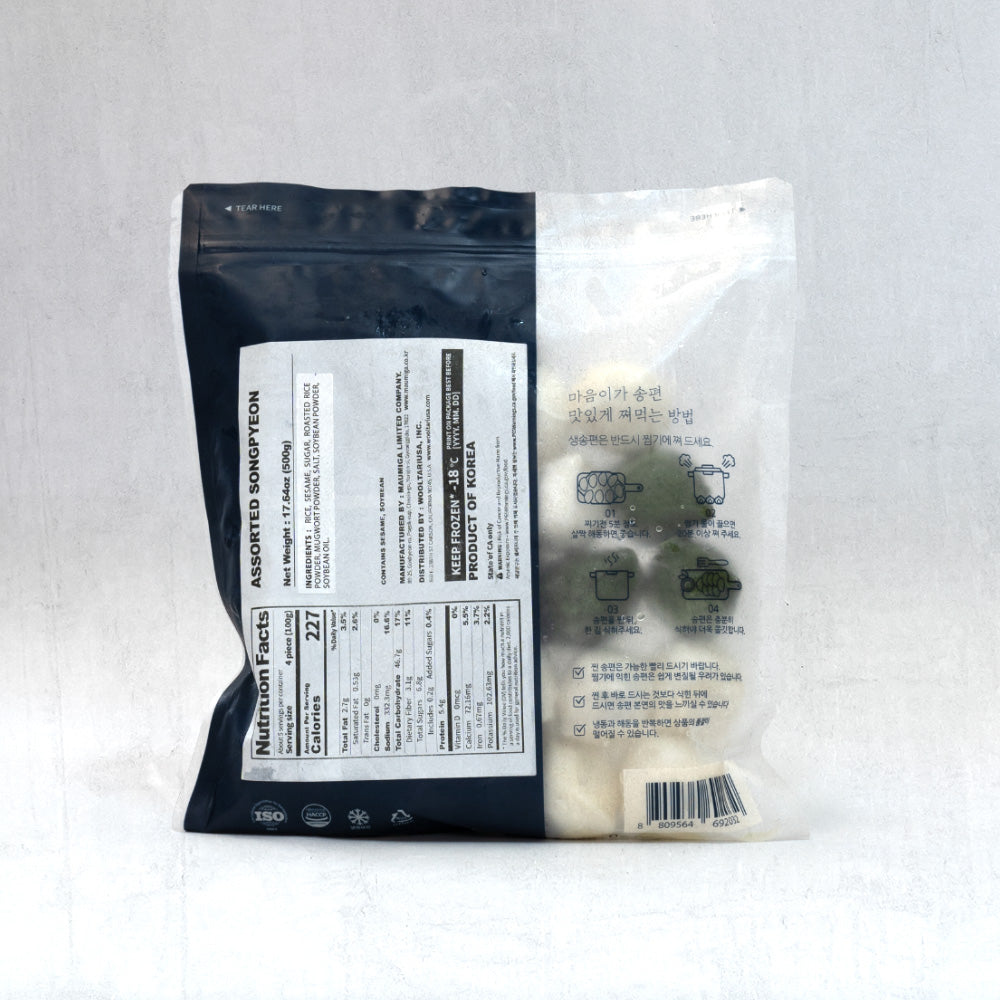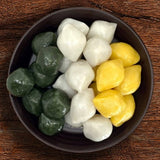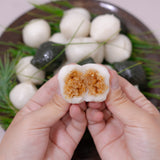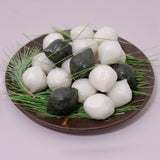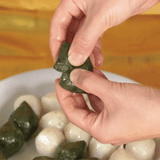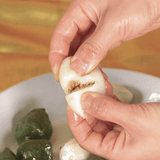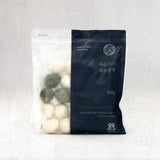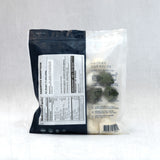 1 Day shipping
Free shipping on 1 Day shipping items over $169
[Maeumiga] Assorted Songpyen 500g 
Chewy Assorted Songpyen!
Carefully crafted with love, these chewy and moist rice cakes come in three delightful flavors.
Experience the joy of a single bite as rich taste. Perfectly portioned for your convenience, they are ideal for snacking or sharing with loved ones. 
❉ All of Maeumiga's rice cake products are in partnership with Wooltari Mall and the US distributor.

Manufactured Environment
흰송편, 쑥송편
흰송편과 쑥송편에는 달콤하고 고소한 참깨소가 들어가 있습니다.
손으로 한 번 더 치대어 고유의 찰기를 살렸는데요. 쫀득한 식감과 씹을수록 고소하고 달콤한 맛에 어르신이나 아이들의 영양간식으로도 매우 좋습니다.
Manufacturing Process
위생적이고 안전하게 생산했습니다!
마음이가의 모든 떡 제품들은 철저한 품질, 위생, 이물 관리와 금속 검출기를 거쳐, 식품안전 관리 HACCP 기준의 꼼꼼한 공정과 노하우를 바탕으로 안심하고 먹을 수 있는 건강한 떡을 만듭니다.
지난 2021년 떡 제조 업계 1호로 SMART HACCP 인증을 받아 모든 제품이 위생적이고 안전하게 생산됩니다.
How to Use
보관과 취급이 간편합니다!
지퍼백 포장으로 되어있어 필요할 때마다 꺼내 드시기 좋고, 한두 개만 드셔도 제법 포만감이 있어 간식이나 식사대용 또는 접대용으로 아주 좋습니다.
California Proposition 65
WARNING: Consuming this product can expose you to chemicals including lead and cadmium which are known to the State of California to cause cancer and birth defects or other reproductive harm. For more information go to www.p65Warnings.ca.gov/food

마음이가는 "굳지 않는 떡 제조 기술" 도입으로 전통적인 떡을 현대적인 입맛에 맞게 재해석한 떡을 생산하는 브랜드로 울타리몰에서 최고의 사랑을 받고 있습니다.
Shipping Information
Refund Policy
Exchange or refund requests must be made within 7 days of receiving your product and should be initiated by contacting us through email (help@wooltariusa.com) or phone (310-933-8648) with a photo.
Please note that exchange or refund requests made on review boards or other platforms are not accepted.
A 30% restocking fee plus shipping charges apply for returns due to a change of mind, and refunds are not available for non-defective refrigerated/Korea-US direct delivery items.
쫀득한 식감과 고소한 참깨소가 한입 가득 맛있습니다 얼마전 칼리지 다니는 학생이 인터네셔널 학생들만 파티를 하는데 각 나라의 음식을 한가지씩 가져와 설명하면서 나누는 시간을 갖게 되었습니다 한국의 음식으로 소개할 대표적인 것이 많지만 만들기 쉽게 먹기도 좋은 송편을 추천했어요 찜기에 찌는 수고가 있기해도 참기름 발라 한국전통 목기쟁반에 담아 보냈더니 인기짱이었답니다 이번 여행중에도 송편으로 점심을 먹었습니다 야외에서 음료와 곁들여 먹으니 송편의 맛이 더욱 좋네요 명절 때가 아니어도 언제든지 간편하게 먹을 수 있고 선물하기도 좋습니다 송편을 직접 만들어 먹으면 좋지만 이제 추억이 되어 버린 명절 분위기가 마음이가 송편으로 조금이라도 살아나는 기분입니다
송편 먹기 힘들었는데 이렇게라도 맛을 보게 되어 기뻐요