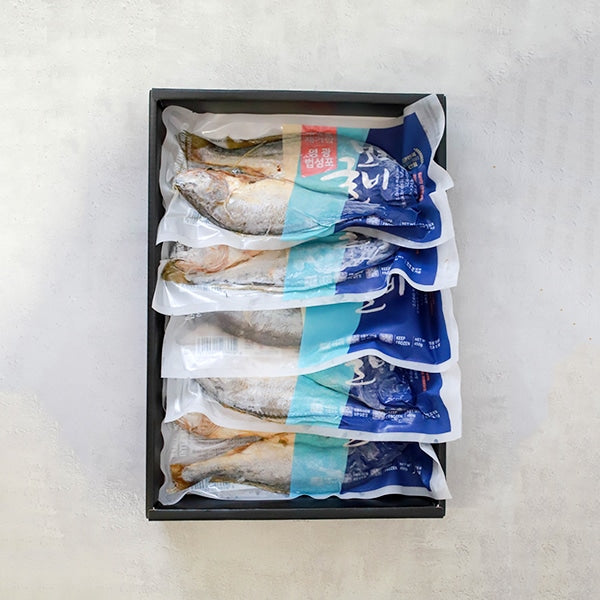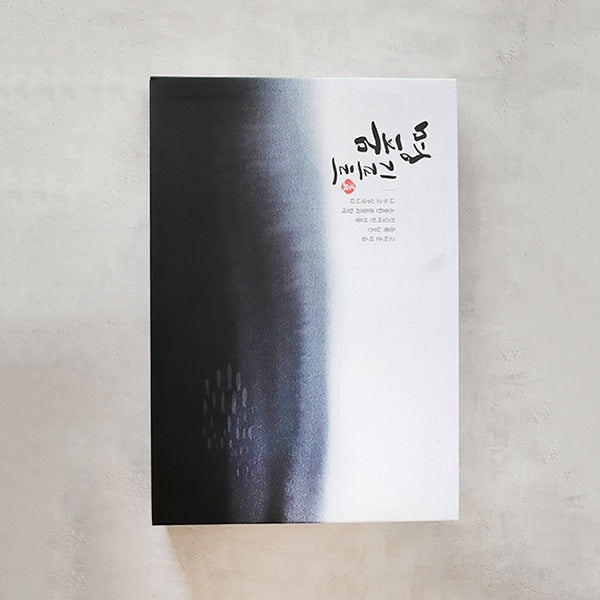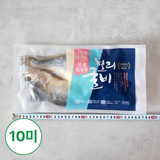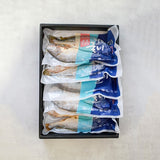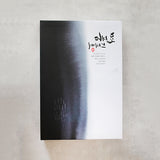 [Yoo-Myeong] Yeonggwang Po Barely corvina with internal removed 2pk (Gulbi) (450g)*5
Lightning Fresh
Free shipping on Lightning Delivery items over $169
[Famous Fisheries] Yeonggwang Po -Bori Gulbi 10 -unusual Set (450g x 5 pack)
It is a barley gulbi that is aged with natural sea breeze of Yeonggwang -gun's legalpo and dried hygienically.
* Operations: Hwanghae, China
* Processing (Deokjang): Glory
Production and Distribution
Products directly produced and managed by oyster craftsmen
Authentic Yeonggwang Gulbi produced with great care by a dried yellow croaker expert Bae Hyun-jin. in Beopseongpo, Yeonggwang-gun, Jeollanam-do, South Korea.
Manufacturing Process
Natural environment with sincerity
It is dried by the gentle breeze of the West Sea, which is a special natural environment unique to Beopseongpo, which has excellent drying conditions. After that, it is aged for 1 to 2 years, salted with 100% Korean sun-dried salt and dried in the sea breeze. All the internal organs are safely removed, so it is convenient to eat and has plenty of flesh.
How to Use
How to eat more deliciously
Busegulbi is easier to eat when the scale and the fins are removed and boiled. To do this, soak in boiling water for about 30 minutes, then turn on the water in the sink and peel off the scales to remove the scales.
California Proposition 65
WARNING: Consuming this product can expose you to chemicals including lead and cadmium which are known to the State of California to cause cancer and birth defects or other reproductive harm. For more information go to www.p65Warnings.ca.gov/food
| | |
| --- | --- |
| Manufacturer | Famous fisheries |
| Origin | Yeonggwang-gun, Jeollanam-do |
| Ingredients | barley gulbi |
Storage Method: Freezer storage

Famous Fisheries is located in Beopseongpo, Yeonggwang, the origin of oysters. It is a brand that started the processing and production of Yeonggwang oyster in the early 1990s, and has grown with the birth and growth of Yeonggwang oyster.
Shipping Information
Refund Policy
1. Exchanges and refunds can be requested within 7 days of receiving the product.
2. For exchange or refund request, please contact us through email(help@wooltariusa.com) & phone (310-933-8648) with a photo.
3. If you request an exchange or refund on other boards, such as a review board, exchange or refund is not possible.
4. For simple change of mind, the shipping cost and 30% of the product price will be charged as a restock fee for returns.
5. Refrigerated delivery products and Viscose Rayon products cannot be exchanged or refunded only if there is no defect in the product.
아직 먹지는 못했는데 크기는 크네요. 기대됩니다.
맛있는 보리굴비를 좋은 가격에 구입해서 행복해요.
맛있는 보리굴비를 좋은 가격에 구입헤서 좋아요.
아이가 너무너무 잘 먹었어요. 감사합니다 :)
유명수산 영광보리 굴비 특대 450g
(내장을 제거한 보리굴비 2미)
비린 내가 나긴 하지만, 찐보리굴비만큼 맛있게 먹었어요. 설 명절을 설날답게 해 준 굴비였습니다. 재구매 의향, 있습니다.